---
---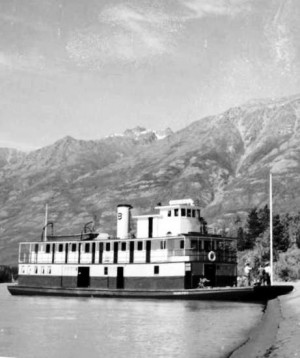 Date produced: 1935
Filmmaker(s):
Description:
"Mainly shows trip(s) up the Stikine by riverboat and placer mining activity [nearby]. Includes: waterfront view of Wrangell, Alaska; views of and from riverboat Hazel B No. 2 going upriver; the Three Sisters (islands in the river); riverboat at Telegraph Creek and barge at Dease Lake, and local activity; forest fire & fire-fighting; shots of Fokker F-11AHB flying boat designated CF-AUV (at dock and taking off) and a Fairchild floatplane; aerial shots in the vicinity; wreckage of aircraft CF-AUV (which crashed at McDame Lake, 13 July 1935); general scenery and wildlife. The placer mining footage, which is interspersed, includes shots of a small mining camp, sluice works, panning, hydraulic monitor operation, jerry-built mining equipment in use, etc. [The footage] was shot [ca. 1933-35] by Joseph J. Jackson, whose company "Three J's Placer Mines, Inc." prospected near the confluence of Thibert Creek with Dease Lake in [the years 1931-35]." (BC Archives)


---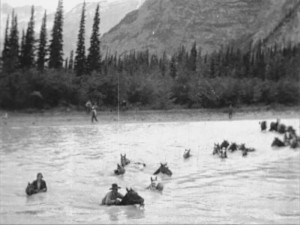 Date produced: 1931
Filmmaker(s):
Description:
"Shows an expedition through northeastern British Columbia by Mary Gibson Henry, Pennsylvania botanist and plantswoman. Mrs. Henry was interested in the legendary "Tropical Valley" of northern B.C., where the warmth of hot springs supposedly fostered vegetation not otherwise found in the region. The film was shot in the summer of 1931, during the first of four such journeys she made in the period 1931-1935. Mrs. Henry was accompanied by her husband, Dr. J. Norman Henry; four of her children; topographer Knox McCusker (of the Dominion Topographical Surveys Branch); Dr. B.H. Chandler, a surgeon friend; and outfitter S. Clark, as well as various wranglers. The second and third reels of this three-reel film show the party of 16 travelling by pack-train, crossing rivers, caching food, and fishing, as well as some camp scenes. At an encampment of "Grand Lake Indians" on the Tetsa River, they engage Charlie Macdonald, the chief's son, to guide them to Toad Hot Springs on the Toad River, but they do not proceed north to Liard Hot Springs. On the return trip south, stops include St. Paul's Lake, Henry River, and Lake Mary and Lake Josephine [named after the Henry's daughters]; these place names do not seem to have become official. Following the Peace River, they arrive at Hudson's Hope (having travelled 800 miles in 79 days), and continue down river to Taylor Flats." (BC Archives)

The title given above is a supplied title based on the film contents. The actual title of the film is unknown, since it survives as reels 2 and 3 of 3 -- and the actual title and credits (if any) would likely have been at the start of reel 1.
---
Date produced: 1949
Filmmaker(s):
Description:
"This film shows pictographs on Drum Island, Nett Lake and spirit houses at Kathio, Mille Lacs. Also includes footage showing Ojibwe games (stick game, moccasin game and bowl game) played at the 1949 Territorial Centennial at Itasca State Park and a pow-wow at Lake Calhoun during the 1949 Minneapolis Aquatennial." Minnesota Historical Society.
---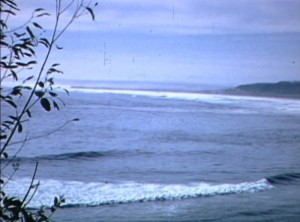 Date produced: 1957
Filmmaker(s):
Description:
Travelogue that visits tourist destinations across several countries in South America.
---
Date produced:
Filmmaker(s):
Description:
"Un-staged documentary footage shot and edited by Sallie Wagner. Sallie's description of the film: 'Shorty Boys, Little Shorty building a hogan, Crip Chee and his hogan, grandson in doorway. Blackrock in front of hogan, Tchindi, Rose Martin doing laundry, cooking shelter at squaw dance, Hosteen Glish getting water, Bent Knee getting wood, Hosteen Glish making a canoe out of a log, Hosteen Glish's granddaughter weaving, digging yucca root for soap, Navajo washing her hair, Hosteen Glish making a cradle board'." New Mexico State Archives.
---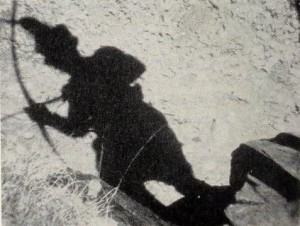 Date produced: 1950
Filmmaker(s):
Description:
"In The Barrier, Glen H. Turner, Maxim Award winner in 1949 with One Summer Day, shows that the excellence of that production was no happy accident. Although the two films are as different as night and day, both are instinct with the same qualities of creative imagination and true understanding of the movie medium. This year's production, as we understand it, is bi-lingual in its message. On the screen Mr. Turner tells a robust adventure tale, in which a wandering western horseman, attacked by unfriendly Indians, has to fight his way out of their clutches and (even more menacing) over the heart-stopping challenge of a great stone barrier to his freedom. Around this screen action, and carried by the narrative, the producer also draws a frame of universal reference to all of life's challenging struggles. Pictorially, the acting of the horseman is powerful and convincing, while Turner's camera treatment of his adventures creates a spine-chilling sense of danger and drama. Especially effective is the producer's handling of the Indians, whose menacing presence is suggested only — by moving shadows, braceleted brown arms or moccasined stealthy feet." Movie Makers, Dec. 1950, 466.
---
Date produced: 1937
Filmmaker(s):
Description:
"Like the title, it is really 'Beyond Manila.' It takes the follower into a country that has been little photographed, one part of that territory being the land of the Igorrote, in Northern Luzon. There is much to be seen of the people, the way they dress and live and work. There's abundant scenic beauty in the Philippines. We see many evidences of it in the pictures here shown of mountain and plain—of stream and waterfall. The natives, too, are real workers, women as well as men." American Cinematographer, Jan. 1939, 16.
---
Date produced: 1938
Filmmaker(s):
Description:
"B&W: views of Arrow Lakes scenery from a sternwheeler; arrival; the "Minto" at dock. Two men travelling by packhorse in the Lardeau. The steam tug "Beaton". Sequence on gold mining in the Cariboo, with footage of a hydraulic mining operation. COLOUR: Vancouver; Lions Gate Bridge and Stanley Park approach; city skyline. Trip on the steamship S.S. "Catala": views at sea; approaching settlement; people meeting the boat; log boom and sawmill adjacent to the dock. Alert Bay: views of village, store, homes, etc.; Indian children at play; schoolgirls in red sweaters [from St. Michael's Indian Residential School]; steamboat arriving; many shots of totem poles, graveyard, etc. Fishing fleet in harbour, preparing nets, and heading out to sea. Fishboat crew hauling in net full of thrashing salmon, and brailing them onto boat. Other fishboats setting their nets, hauling in salmon. Fishboat crew unloading salmon onto conveyor; shots of cannery wharf, female cannery workers. Savary Island: family vacation scenes; lodge; children at play; adults playing golf on beach at low tide; departing on a boat trip." (BC Archives)
---
Date produced: 1939
Filmmaker(s):
Description:
"This film shows the Kegg family stripping basswood and birch barks and using the bark to make baskets and canoes." Worldcat.org
---
Date produced: 1960
Filmmaker(s):
Description:
"1 View of small plane at an airport. 2 View of dinghy in a harbor at the Great Salt Lake. 3 Views of shoreline and boat moving through the Great Salt Lake. 4 Views of the west coast of Central America, dolphins leading the boat, fishing, Santa Cruz, local inhabitants, cliff diving and a vacation resort." University of Utah Marriott Library.
---
Total Pages: 5