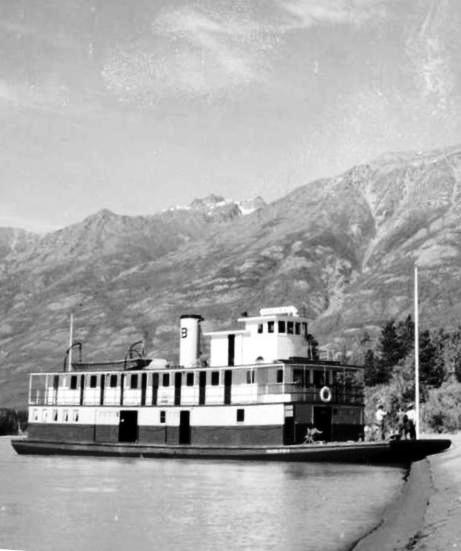 Identifier:
AAAA2798 (Source: http://search-bcarchives.royalbcmuseum.bc.ca/stikine-river-placer-mining-and-travel-1930s-parts-1-to-4)
Date produced: 1935
Filmmaker(s):
Languages:
English
Duration:
00:50:00
Length:
4 reels, ca. 1,350 ft.
Format:
16mm
Colour:
B&W
Sound Notes:
Silent
Awards/Recognition:
Although it's only roughly organized and lacks a title proper and inter-titles, Jackson's remarkable Stikine-Cassiar footage merits consideration as a completed amateur film because of its extensive and comprehensive documentation of Jackson's activities in the region. Geography, settlements, river and air travel, prospecting, and fire-fighting are each treated in some detail, created a rounded picture of life in this place and at this time. (D.J. Duffy)
Description:
"Mainly shows trip(s) up the Stikine by riverboat and placer mining activity [nearby]. Includes: waterfront view of Wrangell, Alaska; views of and from riverboat Hazel B No. 2 going upriver; the Three Sisters (islands in the river); riverboat at Telegraph Creek and barge at Dease Lake, and local activity; forest fire & fire-fighting; shots of Fokker F-11AHB flying boat designated CF-AUV (at dock and taking off) and a Fairchild floatplane; aerial shots in the vicinity; wreckage of aircraft CF-AUV (which crashed at McDame Lake, 13 July 1935); general scenery and wildlife. The placer mining footage, which is interspersed, includes shots of a small mining camp, sluice works, panning, hydraulic monitor operation, jerry-built mining equipment in use, etc. [The footage] was shot [ca. 1933-35] by Joseph J. Jackson, whose company "Three J's Placer Mines, Inc." prospected near the confluence of Thibert Creek with Dease Lake in [the years 1931-35]." (BC Archives)


Resources:
Dennis J. Duffy, "BC Adventures with the Millionaire Kid," unpublished text of lecture to Friends of the BC Archives, Victoria, BC, April 15, 2018.
Locations:
Dease Lake, BC (Filming)
McDame Lake, BC (Filming)
Stikine River, BC (Filming)
Telegraph Creek, BC (Filming)
Thibert Creek, BC (Filming)
Wrangell, AK (Filming)
Subjects:
Genre:
Form:
Tags:
Repository:
BC Archives Moving Images Collection, Royal BC Museum
Video Link:
---