---
---
Date produced: 1939
Filmmaker(s):
Description:
"Dramatized documentary: Depicts life in the Belgian Congo and French Cameroons." National Archives.
---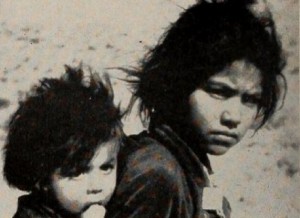 Date produced: 1947
Filmmaker(s):
Description:
"In Dineh, Henry E. Hird. whose broad sympathies have brought his talents to bear upon so many unselfish projects, has taken up an effective cudgel in behalf of the Navajo Indians in the United States. Dineh, "The People," is the Navajo word for their tribe. Mr. Hird went to the Navajo country with the simple purpose of making a record film of that proud and self reliant Indian people. From what he saw there and from his conversations with many Indian citizens, he became convinced that now, if ever, the Navajos need understanding and practical aid. His film, therefore, not only accomplishes his primary aim — of recording an interesting racial group — but, in scenes and particularly in narrative, it pleads the economic and social case of the Navajos. Mr. Hird's cinematography is of very high order, as is usual in his films. His continuity is intelligent and interesting, and his narrative is a fine plea for a worthy segment of the citizenship of the United States." Movie Makers, Dec. 1947, 514.
---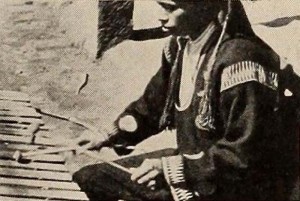 Date produced: 1938
Filmmaker(s):
Description:
"Opening with a superb trick title in Kodachrome, Guatemalan Rainbow, by the late Ripley W. Bugbee and Robert W. Crowther, carries the audience on an ocean voyage from New York City to the mountain villages of Guatemala, where Mayan mysteries are still celebrated and where the world is a riot of indescribable color. No sequences of the leisure and pleasure of shipboard life have excelled those in this picture. Dexterously, the ritual of afternoon tea was captured with the same finish as if the scenes had been directed in a studio. Active sports and lazy afternoons are recalled in the picture with idyllic beauty. After several minutes of rather less interesting and distinguished footage, the production reaches another high in the presentation of the descendants of the Mayans, whose markets, customs and religious observances are dramatically and expertly chronicled. The whole is accompanied by a satisfactory musical setting." Movie Makers, Dec. 1938, 619.
---
Date produced: 1939
Filmmaker(s):
Description:
"Contrasts life in Belgian Congo under Belgian colonial government to that of tribal rule." National Archives.
---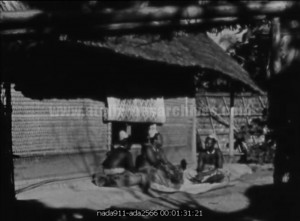 Date produced: 1941
Filmmaker(s):
Description:
"On an actual Protestant missionary who brought Christianity, education, and medical aid to an illiterate, pagan tribe in the Belgian Congo." National Archives.
---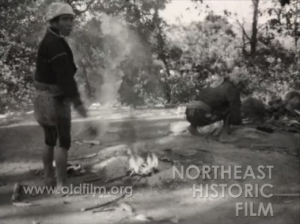 Date produced: 1932
Filmmaker(s):
Description:
The film depicts Mayan rites in 1930's Guatemala along with intertitles describing the destruction of Mayan temples by conquerers and the performance of traditional ceremonies at the steps of churches.
---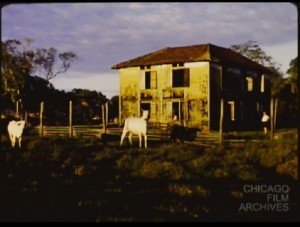 Date produced: 1957
Filmmaker(s):
Description:
"2 part edited travelogue film of the people and customs encountered in towns along the Amazon River in South America. Part one includes landscapes, a variety of housing from towns to shacks along the river, people selling goods, trapping and selling exotic animals, herding cattle, boating, and a religious ceremony." Chicago Film Archives.
---
Date produced: 1940
Filmmaker(s):
Description:
"This film shows Ojibwe women at Squaw Point, Leech Lake tanning hides and making moccasins decorated with beadwork and an Arikara or Hidatsa woman at Fort Berthold, North Dakota tanning cow hide and doing quillwork on clothing." Minnesota Historical Society.
---
Date produced: 1948
Filmmaker(s):
Description:
"Oolichan fishing; the preparation and rendering of oil from oolichans by the Kwakiutl [First Nation]." (Camera West)

The oolichan or eulachon, sometimes known as the "candlefish," provides an oil or grease which is a historic dietary staple of the First Peoples of the Pacific Northwest.
---
Date produced: 1949
Filmmaker(s):
Description:
"Marine mammals of the Pacific Coast: sea lions, sea otters, fur and harbour seals, porpoises, killer whales. Also: Indian whaling techniques; whaling ship Westwhale; processing of whale carcasses at Coal Harbour whaling station." (BC Archives)

Film includes some footage provided to Dr. Carl by the Western Whaling Corporation.
---
Total Pages: 5