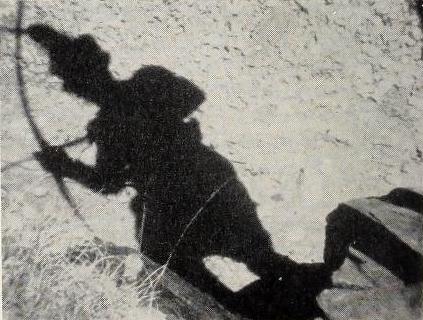 Identifier:
AV 16MMP 16 (Source: Church History Library)
Date produced: 1950
Filmmaker(s):
Languages:
English
Length:
800 ft
Format:
16mm
Colour:
Kodachrome
Sound Notes:
Magnetic
Sound:
With music, narrative and sound effects on wire.
Awards/Recognition:
ACL Ten Best 1950
Description:
"In The Barrier, Glen H. Turner, Maxim Award winner in 1949 with One Summer Day, shows that the excellence of that production was no happy accident. Although the two films are as different as night and day, both are instinct with the same qualities of creative imagination and true understanding of the movie medium. This year's production, as we understand it, is bi-lingual in its message. On the screen Mr. Turner tells a robust adventure tale, in which a wandering western horseman, attacked by unfriendly Indians, has to fight his way out of their clutches and (even more menacing) over the heart-stopping challenge of a great stone barrier to his freedom. Around this screen action, and carried by the narrative, the producer also draws a frame of universal reference to all of life's challenging struggles. Pictorially, the acting of the horseman is powerful and convincing, while Turner's camera treatment of his adventures creates a spine-chilling sense of danger and drama. Especially effective is the producer's handling of the Indians, whose menacing presence is suggested only — by moving shadows, braceleted brown arms or moccasined stealthy feet." Movie Makers, Dec. 1950, 466.
Resources:
This film is a part of the Glen H. Turner motion picture collection held by the Church History Library at the LDS Church (Salt Lake City, Utah).

Dr. Leon Dallin's score and musical sketches for the film are a part of the Leon Dallin Collection held by the Sibley Music Library.
Subjects:
Genre:
Form:
Repository:
Glen H. Turner motion picture collection, Church History Library (LDS Church)
Screenings:
Screened by the Hartford Cinema Club in 1950: Hartford, CT
Screened by the Metropolitan Motion Picture Club in 1951: New York City, N.Y.
---