---
---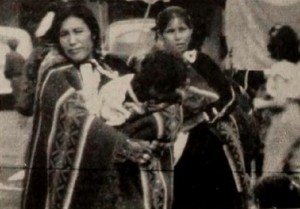 Date produced: 1947
Filmmaker(s):
Description:
"Edward F. Cross covered an extensive territory of national parks and vacation spots in the Southwest and Western sectors of the United States and has brought back an attractively filmed record of his tour. Unique rock formations have been pictured from well chosen vantage points to make the most of light and shadow. This Land of Ours is climaxed by particularly colorful units in a rodeo's grand parade and a dexterous camera handling of Indian dances. A full narrative indicates careful research to supplement the scenes on the screen." Movie Makers, Dec. 1947, 539.
---
Date produced:
Filmmaker(s):
Description:
"Un-staged documentary footage shot and edited by Sallie Wagner. Sallie's description of the film: 'Trading post at Wide Ruins, "Trader Burnt Hat" - Bill Lippincott, Sallie, Antoinette Badgley - mother, baby, Sallie, group of three left to right - Gaddy, John Joe, and ? , Tom Big Gun - raising his arm quickly Hosteen Belahi. Little Woman - captive of [Kit] Carson [survived the Long Walk and Navajo incarceration at Ft. Sumner], John Joe's wife (gold skirt) and daughter, Mary Toddy and John Toddy, young children, Joe Toddy, Nashoshi Begay, Paul Jones in trading post trading with Bill Cousins, wife and child of Tom Big Gun, Lukachuka - also captive of Carson (Blackrock's brother - both medicine men). Navajo Refugee Site "Kinazin" (which means Standing House) near Wide Ruins, Pat Norton inside "Kinazin" ruins, Cliff Ruin in Canyon del Muerto, ceremonial jar washed out by rain, Bill Lippincott - Elvin Jonas and Jack Norton excavating the pot, climbing cliff at Canyon de Chelly - Larry Bell and Doyle Mulligan, Sallie and Bill looking at pictographs below Wide Ruins, pictographs near spring north of trading post, Navajo Fence at Wide Ruins, numerous sunsets'." New Mexico State Archives.
---
Date produced: 1939
Filmmaker(s):
Description:
"Documentary: Depicts experiences of a new missionary as he gains self-confidence in his work in the Belgian Congo where the people are suspicious and only slowly accept the mission." National Archives.
---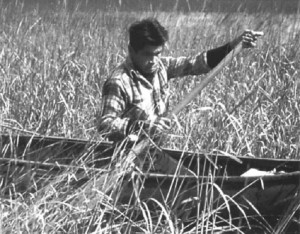 Date produced: 1940
Filmmaker(s):
Description:
"Shows a traditional wild rice harvest, including parching, threshing or jigging by foot power, and fanning. Participants are the John Chicag family and Gerald Strong." Minnesota Historical Society.
---
Total Pages: 5