---
---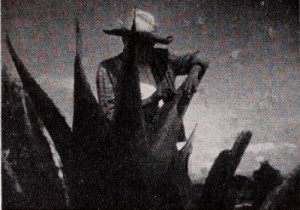 Date produced: 1948
Filmmaker(s):
Description:
"Alan Probert has confined his study of Mexico to the primitive Otomi Indians. With startling clarity and a fine cinematic eye for detail, he presents the tribal group in a series of sketches that reveal the age old customs of their forefathers still in daily use — sowing and reaping, spinning and weaving, trading and worshipping. Remnants Of The Past is an expertly filmed factual account of the subject, which would have gained considerably from greater unity and a stronger ending." Movie Makers, Dec. 1948, 494.
---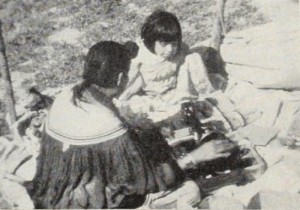 Date produced: 1949
Filmmaker(s):
Description:
"Florida's colorful Seminole Indians, who never have taken kindly to the white man's rule, generally are no more responsive to visiting filmers. Thus it is a rare and rewarding pleasure when an understanding amateur cameraman gains both their confidence and their cooperation. Such is the stimulating accomplishment of Elmer W. Albinson in his picture called simply Seminole Indians. Among the film's outstanding achievements are its detailed studies of the Indians' arts and crafts, its exceptional work in ultra closeups, and its pictorial probing of the Indian character and customs. An extraordinarily good musical score enhances the appeal of this informative ethnic documentary. The picture needs, however, a somewhat stronger ending, the present one impressing these reviewers as artistically indecisive." Movie Makers, Dec. 1950, 466.
---
Date produced: 1939
Filmmaker(s):
Description:
"Documentary: Illustrates plight of leprosy victims before and after the opening of the Bibanga Leper Camp by missionaries." National Archives.
---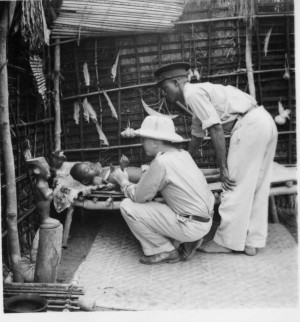 Date produced: 1939
Filmmaker(s):
Description:
"The Story of Bamba is a drama filmed in Africa by Ray L. Garner for the Harmon Foundation in New York. This reviewer calls the production a film drama advisedly, for, although it is made as a report of the medical work of a missionary group in Africa, the picture is, in itself, an entertaining photoplay. The boy, Bamba, is the nephew of the tribal witch doctor who cures sickness with his fetishes. Bamba is to become the medicine man's successor, but he falls ill with the fever and is deserted by the tribe when they hurriedly flee their village to rid themselves of a plague. Rescued and cured by the native representative of the missionary medical center, Bamba is sent to school so that he too, can cure in the white man's way. An adult, he returns to his own tribe, where he meets and finally overcomes the resistance of his uncle. Thus, the plot unfolds clearly and entertainingly, yet the story does not interfere with a complete exposition of the medical work of missionaries. Skillful handling of native actors is apparent in every scene, for there is scarcely an unconvincing piece of business in the whole film. Camera treatment is matter of fact but adequate." Movie Makers, Dec. 1939, 637.
---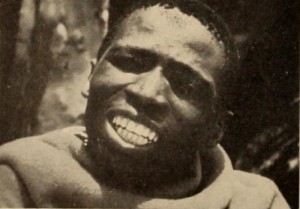 Date produced: 1949
Filmmaker(s):
Description:
"Through the eyes and experiences of Matsela, a statuesque native of Basutoland, South Africa, Lewis Lewis reveals a stirring story of the triumph of modern agricultural science over the warring elements of nature. The account of how Matsela and his people all but perish in the dust bowl created by malevolent storms and drought, how he studies under a government program of soil reclamation and triumphantly puts his new training to work, provides an absorbing drama and an enlightening document on one of the world's grave problems. Although dealing with literal facts, Mr. Lewis dramatizes the incidents in his story with telling skill. Superb camera work and an attractive variety of viewpoints aid the dramatic effect, while a fascinating score of native songs further enhances the presentation. Save as a scientific record, the film is somewhat overlong, with the second of three 900 foot reels regrettably slow paced after the swift excitement of the opening chapter." Movie Makers, Dec. 1949, 455.
---
Date produced: 1939
Filmmaker(s):
Description:
"Shows maple sugar making, including collecting the maple sap, boiling the sap down to make syrup and beating it to make sugar cakes. Participants are the Martin Kegg and Day families and the camp site is on the west shore of Lake Mille Lacs on Sherman Point." Minnesota Historical Society.
---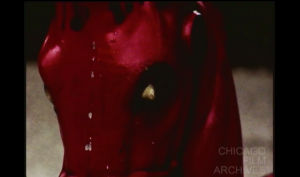 Date produced: 1971
Filmmaker(s):
Description:
"Student film made at the School of the Art Institute of Chicago set to "Sugar Mountain," a song by Canadian folk rock singer and composer Neil Young." Chicago Film Archives
---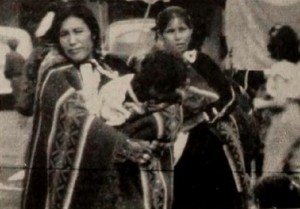 Date produced: 1947
Filmmaker(s):
Description:
"Edward F. Cross covered an extensive territory of national parks and vacation spots in the Southwest and Western sectors of the United States and has brought back an attractively filmed record of his tour. Unique rock formations have been pictured from well chosen vantage points to make the most of light and shadow. This Land of Ours is climaxed by particularly colorful units in a rodeo's grand parade and a dexterous camera handling of Indian dances. A full narrative indicates careful research to supplement the scenes on the screen." Movie Makers, Dec. 1947, 539.
---
Date produced:
Filmmaker(s):
Description:
"Un-staged documentary footage shot and edited by Sallie Wagner. Sallie's description of the film: 'Trading post at Wide Ruins, "Trader Burnt Hat" - Bill Lippincott, Sallie, Antoinette Badgley - mother, baby, Sallie, group of three left to right - Gaddy, John Joe, and ? , Tom Big Gun - raising his arm quickly Hosteen Belahi. Little Woman - captive of [Kit] Carson [survived the Long Walk and Navajo incarceration at Ft. Sumner], John Joe's wife (gold skirt) and daughter, Mary Toddy and John Toddy, young children, Joe Toddy, Nashoshi Begay, Paul Jones in trading post trading with Bill Cousins, wife and child of Tom Big Gun, Lukachuka - also captive of Carson (Blackrock's brother - both medicine men). Navajo Refugee Site "Kinazin" (which means Standing House) near Wide Ruins, Pat Norton inside "Kinazin" ruins, Cliff Ruin in Canyon del Muerto, ceremonial jar washed out by rain, Bill Lippincott - Elvin Jonas and Jack Norton excavating the pot, climbing cliff at Canyon de Chelly - Larry Bell and Doyle Mulligan, Sallie and Bill looking at pictographs below Wide Ruins, pictographs near spring north of trading post, Navajo Fence at Wide Ruins, numerous sunsets'." New Mexico State Archives.
---
Date produced: 1939
Filmmaker(s):
Description:
"Documentary: Depicts experiences of a new missionary as he gains self-confidence in his work in the Belgian Congo where the people are suspicious and only slowly accept the mission." National Archives.
---
Total Pages: 5