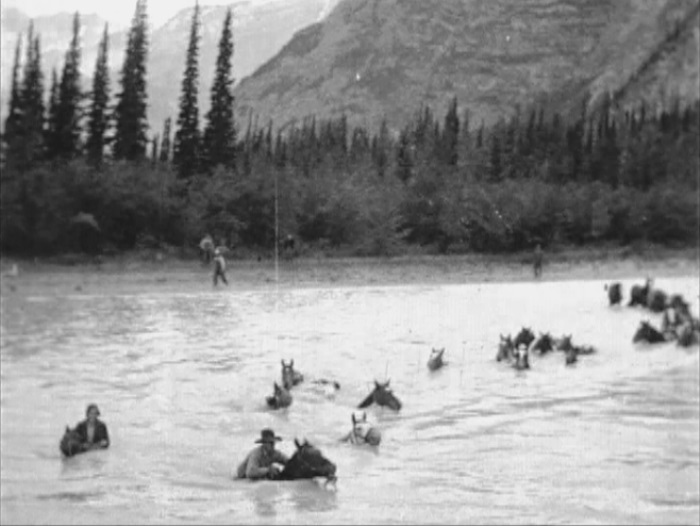 Identifier:
AAAA5265 (Source: http://search-bcarchives.royalbcmuseum.bc.ca/tropical-valley-expedition)
Date produced: 1931
Filmmaker(s):
Production credits:
Country of Production:
United States
Languages:
English
Duration:
00:23:00
Length:
[extant version: 2 of 3 reels, 35 mm]: ca. 1,425 ft
Format:
35mm
Colour:
B&W
Sound Notes:
Silent
Awards/Recognition:
BC Archives list of titled amateur films.
Description:
"Shows an expedition through northeastern British Columbia by Mary Gibson Henry, Pennsylvania botanist and plantswoman. Mrs. Henry was interested in the legendary "Tropical Valley" of northern B.C., where the warmth of hot springs supposedly fostered vegetation not otherwise found in the region. The film was shot in the summer of 1931, during the first of four such journeys she made in the period 1931-1935. Mrs. Henry was accompanied by her husband, Dr. J. Norman Henry; four of her children; topographer Knox McCusker (of the Dominion Topographical Surveys Branch); Dr. B.H. Chandler, a surgeon friend; and outfitter S. Clark, as well as various wranglers. The second and third reels of this three-reel film show the party of 16 travelling by pack-train, crossing rivers, caching food, and fishing, as well as some camp scenes. At an encampment of "Grand Lake Indians" on the Tetsa River, they engage Charlie Macdonald, the chief's son, to guide them to Toad Hot Springs on the Toad River, but they do not proceed north to Liard Hot Springs. On the return trip south, stops include St. Paul's Lake, Henry River, and Lake Mary and Lake Josephine [named after the Henry's daughters]; these place names do not seem to have become official. Following the Peace River, they arrive at Hudson's Hope (having travelled 800 miles in 79 days), and continue down river to Taylor Flats." (BC Archives)

The title given above is a supplied title based on the film contents. The actual title of the film is unknown, since it survives as reels 2 and 3 of 3 -- and the actual title and credits (if any) would likely have been at the start of reel 1.
Resources:
"Party to Seek Semi-Tropical Valleys in B.C.", Winnipeg Evening Tribune, 1931-06-29, p. 9
"Audience is Told of Unusual Trip in Northern B.C.", Ottawa Journal, 1935-05-23, p.26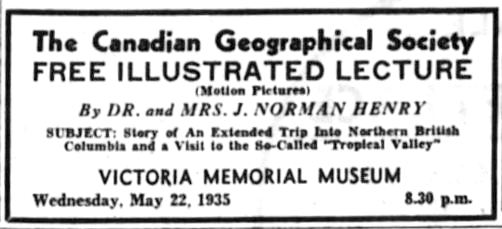 V.C. Brink & R.S. Silver, "Mary Henry...," BC Historical News (Winter 1996-97), pp. 16-19.
Liz Crocker, "An Old Film Finds a New Audience: The Story of Mary Gibson Henry's Tropical Valley Expedition Film," Learning Portal, Royal BC Museum, 2015.

Locations:
Graham River, BC (Filming)
Hudson Hope, BC (Filming)
Mount Mary Henry, BC (Filming)
Peace River, BC (Filming)
Taylor, BC (Filming)
Tetsa River, BC (Filming)
Toad River, BC (Filming)
Toad Hot Springs, BC (Filming)
Subjects:
Genre:
Form:
Tags:
Repository:
BC Archives Moving Images Collection, Royal BC Museum
Screenings:
May 22, 1935: Mary Gibson Henry and her husband screened the 3-reel film for the Canadian Geographical Society at the Victoria Memorial Museum (Ottawa Journal, 1935-05-23, p.26): Ottawa, Ontario
Viewing Notes:
Some physical evidence in the film edge markings suggests that it was originally shot in the 28mm format (or perhaps 16mm?), and was blown up to 35mm to make prints for theatrical exhibition. (D.J. Duffy)
Video Link:
---