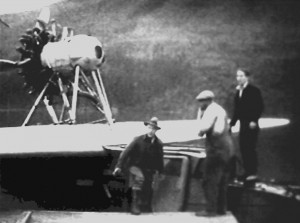 Joseph J. Jackson
Dates active:
1933-1947
Gender:
Male
Films:
---
Profession:
Railway cook, prospector, miner, lodge proprietor
Biographical Notes:
Joseph J. Jackson (1895-1972) was a cook, prospector, gold miner, and lodge proprietor, as well as a talented storyteller and amateur filmmaker. In the 1920s, he prospected and mined in the Alaska panhandle and became known as "The Millionaire Kid." During the 1930s, Jackson turned his prospecting skills to the Stikine-Cassiar region of northern British Columbia. In the 1940 and 1950s, he and his wife Lil operated the Lil-Joe Fishing Lodge at Coquihalla station on the Kettle Valley Railway. Preserved by the BC Archives, Jackson's fascinating amateur footage of BC documents river, air, and rail travel; placer mining with hand-built equipment; sport fishing; isolated communities; and outdoor life.
Bibliographic Resources:
Dennis J. Duffy, "BC Adventures with the Millionaire Kid," unpublished manuscript of lecture, October 2017.