---
---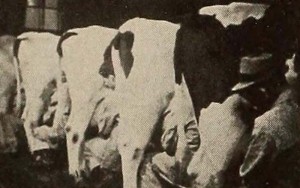 Date produced: 1938
Filmmaker(s):
Description:
"Well known for its attainments in the commercial film field, the T. W. Willard Motion Picture Company sets a new high in its publicity productions with Follow the Plow. To technical excellence they have added sound sequencing; into a record of vocational education, they have instilled beauty and human interest. The subject matter concerns the training given to selected city boys in the fundamentals of farming at the Bowdoin Farm, operated by the Children's Aid Society of New York City. Tracing the course of these boys from the sidewalks and streets to the fields, at New Hamburg, N. Y., the location of the farm, the film expands with the glorious color of the autumn country and becomes a living essay of the pleasures of farm life. Constantly changing angles and intelligent titling lend pace to the production. Despite the limited interest in the specific subject of plows and cows, the appeal is made universal through magnificent color scenes and competent treatment." Movie Makers, Dec. 1938, 618.
---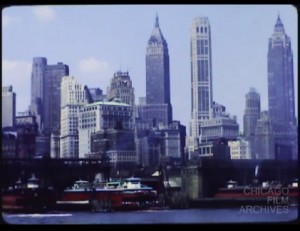 Date produced: 1951
Filmmaker(s):
Description:
"Two part edited travelogue taking place in the Hudson Valley area. Part one begins at Coney Island, and then takes viewers through New York City before heading to places such as West Point and Poughkeepsie where cough drops are being made. Part two Includes much footage on Hudson river, the process of manufacturing wallpaper at Imperial Color and a visit to the North Pole theme park." Chicago Film Archives.
---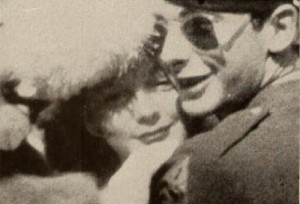 Date produced: 1945
Filmmaker(s):
Description:
"An eye for topical touches and a persistence that would shame the most aggressive news cameraman are responsible for Terry Manos's success in recording the V-E Day activities in New York City. Without the aid of a telephoto lens and balked at every turn by finicking guards, Mr. Manos's camera nevertheless caught the full flavor of the celebration in Times Square as well as some amazingly sharp studies of the personalities who participated in the program at Central Park. For ignoring the theoretical limitations often ascribed to the 8mm. camera and producing a well knit movie of a great historical event, praise is due to an enterprising amateur." Movie Makers, Dec. 1946, 488.
---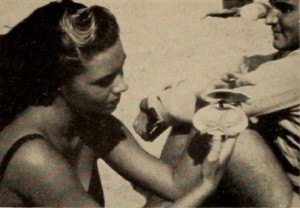 Date produced: 1949
Filmmaker(s):
Description:
"By a facile blending of warm hearted humor and a keen perception of human interest values, George Mesaros has created a film study of a famous beach in New York's metropolitan area that is replete with interest, information and entertainment. His technical skill and knowledge of what makes a motion picture move prevent this from being the dull collection of random shots all too frequently characteristic of this genre subject. Employing himself as a frenzied and frustrated shutterbug and a filming friend as plain Joe Doakes at the beach with his wife, a lunch and box camera, Mr. Mesaros proceeds to examine with interest and obvious affection the thousand and one attractions of the Long Island resort. An excellent musical score and a brief commentary help to integrate the compact 700 feet of the film's lively length." Movie Makers, Dec. 1949, 454.
---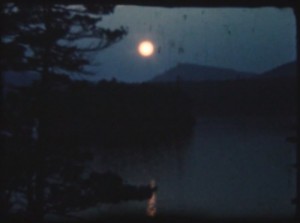 Date produced: 1942
Filmmaker(s):
Description:
"Land of My Dreams, Joseph J. Harley, ACL, will tell you, is a simple record of fun and friends. As such, it is an attractive piece of Kodachrome, colorful in its camera work, leisurely in its pace (400 feet, 8mm.) and frankly sentimental in its outlook. Lake Saranac and the Harley summer cottage comprise the land of Joe Harley 's dreams, although his myriad friends of ten years' standing play a large part in that Elysium. You see them throughout the film, going about their fishing and boating, picnics and swimming with an infectious zest and good humor. The record is climaxed with a detailed presentation of a grand communal party, at which each of the guests is required to put on some sort of skit or bit of entertainment." Movie Makers, June 1944, 246.

Note of warning: the "communal party" referenced in the description above includes a performance in blackface.
---
Date produced: 1962
Filmmaker(s):
Description:
"A visit in New York City but mostly in the spirit of its night life although we do see some of its people and sun-bathed architecture, all to the beat and narration of a Decca recording. The source of the picture material appears to be from magazines and other printed picture sources including some live (but static) posing. The use of camera movement and lens zooming conveys a feeling of motion and activity for an enjoyable visit in New York" PSA Journal, Oct. 1962, 35
---
Date produced: 1940
Filmmaker(s):
Description:
"The film, titled 'Memories of the New York World's Fair' by filmmaker Frank J. Pezzano documents the 1939-1940 New York World's Fair. Pezzano edited the film and included hand-drawn and typed intertitles identifying the various locations and activities he filmed." Archives Center, National Museum of American History.
---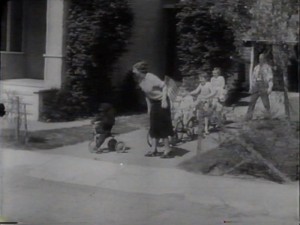 Date produced: 1932
Filmmaker(s):
Description:
"This film records, in the informal style of a home movie, some of a young chimpanzee's (Pan troglodytes) activities while raised in the Ravens' home. She plays with a hose, joins in games with the Raven children, manipulates tools, encounters snakes and mice, writes with a pencil, eats with a spoon, rides a tricycle, and feeds a human infant." University of Wisconsin-Madison Libraries.
---
Date produced:
Filmmaker(s):
Description:
"Begins with a close-up intro of the Davis's in a small boat. One of the girls falls overboard and is saved. A woman drops her jewels overboard. Family disembarks. Finds a clue on a piece of paper. The Family sets out in boat with shovels, saws, axes, etc. Quarrel with another family. Find a deed." oldfilm.org
---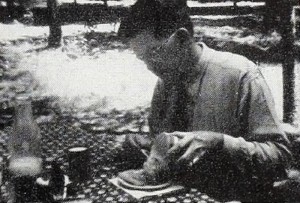 Date produced: 1951
Filmmaker(s):
Description:
"Northwoods Adventures is a plumply constructed and neatly tied half-hour package of travel through the Adirondack area. Evident in it are the well known technical skills, the smooth sequencing and the attractive titles which mark all the movies of Frank E. Gunnell. But the picture seems a package, nevertheless — and a package for a purpose. One gets the impression that the producer, as he edited, had his eye on the guest-lecturer's clock at a luncheon club meeting — rather than on the crisp continuities of movie making per se." Movie Makers, Dec. 1951, 412.
---
Total Pages: 4