---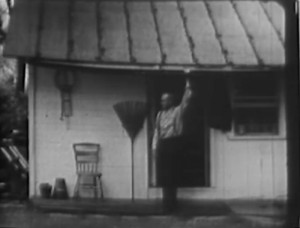 Date produced: 1941
Filmmaker(s):
Description:
"On college student work campers from the Hartwick Seminary and the farmers' cooperative movement in Cooperstown." National Archives.
---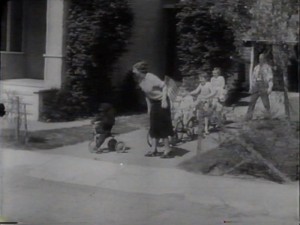 Date produced: 1932
Filmmaker(s):
Description:
"This film records, in the informal style of a home movie, some of a young chimpanzee's (Pan troglodytes) activities while raised in the Ravens' home. She plays with a hose, joins in games with the Raven children, manipulates tools, encounters snakes and mice, writes with a pencil, eats with a spoon, rides a tricycle, and feeds a human infant." University of Wisconsin-Madison Libraries.
---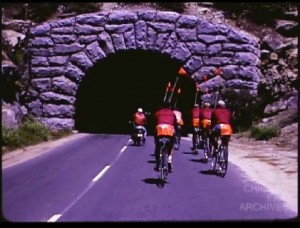 Date produced: 1968
Filmmaker(s):
Description:
"2 part edited travelogue following young men on a bicycle trip cross country (San Francisco to New York City) with Wandering Wheels, a faith based organization. Along with the noteworthy locations they visit, such as the Four Corners and New York City, this film includes much documentation of their down time and visits to Native American and small town communities to sing and meet with the people." Chicago Film Archives.
---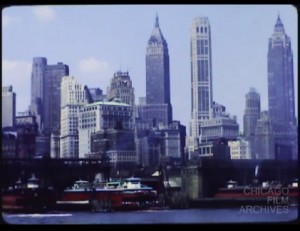 Date produced: 1951
Filmmaker(s):
Description:
"Two part edited travelogue taking place in the Hudson Valley area. Part one begins at Coney Island, and then takes viewers through New York City before heading to places such as West Point and Poughkeepsie where cough drops are being made. Part two Includes much footage on Hudson river, the process of manufacturing wallpaper at Imperial Color and a visit to the North Pole theme park." Chicago Film Archives.
---
Date produced: 1940
Filmmaker(s):
Description:
"The film, titled 'Memories of the New York World's Fair' by filmmaker Frank J. Pezzano documents the 1939-1940 New York World's Fair. Pezzano edited the film and included hand-drawn and typed intertitles identifying the various locations and activities he filmed." Archives Center, National Museum of American History.
---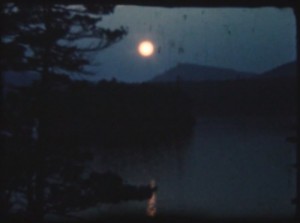 Date produced: 1942
Filmmaker(s):
Description:
"Land of My Dreams, Joseph J. Harley, ACL, will tell you, is a simple record of fun and friends. As such, it is an attractive piece of Kodachrome, colorful in its camera work, leisurely in its pace (400 feet, 8mm.) and frankly sentimental in its outlook. Lake Saranac and the Harley summer cottage comprise the land of Joe Harley 's dreams, although his myriad friends of ten years' standing play a large part in that Elysium. You see them throughout the film, going about their fishing and boating, picnics and swimming with an infectious zest and good humor. The record is climaxed with a detailed presentation of a grand communal party, at which each of the guests is required to put on some sort of skit or bit of entertainment." Movie Makers, June 1944, 246.

Note of warning: the "communal party" referenced in the description above includes a performance in blackface.
---
Date produced: 1955
Filmmaker(s):
Description:
"A record of the Toronto Film Society's visit to George Eastman House in Rochester, New York. Includes re-filmed excerpts from some of the classic films screened for the society members during their visit" British Columbia Archives.
---
Date produced:
Filmmaker(s):
Description:
"Begins with a close-up intro of the Davis's in a small boat. One of the girls falls overboard and is saved. A woman drops her jewels overboard. Family disembarks. Finds a clue on a piece of paper. The Family sets out in boat with shovels, saws, axes, etc. Quarrel with another family. Find a deed." oldfilm.org
---
Date produced: 1962
Filmmaker(s):
Description:
"A visit in New York City but mostly in the spirit of its night life although we do see some of its people and sun-bathed architecture, all to the beat and narration of a Decca recording. The source of the picture material appears to be from magazines and other printed picture sources including some live (but static) posing. The use of camera movement and lens zooming conveys a feeling of motion and activity for an enjoyable visit in New York" PSA Journal, Oct. 1962, 35
---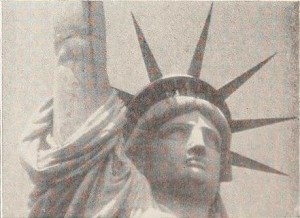 Date produced: 1952
Filmmaker(s):
Description:
"Terry Manos is one New Yorker who has outdone himself (and all other native or visiting filmers) in recording on film the glittering surface of the world's greatest metropolis and America's premier tourist attraction. For The $24 Purchase is authoritatively stamped with the unfailing precision of the Manos technique, the perfection of his lighting and exposures, the beauty and balance of his compositions. Accompanying it is a musical score (admirably recorded) that is generally fresh and germane to the subject, a narrative that (although burdened unduly by the factual trivia of the tourist barker) is delivered with professional skill. In other words, here is a superb visual document. But a document only. For The $24 Purchase records only that surface city which the eye may see. Missing from its makeup are the searching, individual comments on that city of one human mind. Missing also — and perhaps more importantly — are the evocative emotions of one human heart, a heart reacting freely and unafraid of emotion to Manhattan's towers and tenements, to her opulent splendor and her economic ghettos. The film — tragically, if you will — has omitted any message. And, perhaps only by the margin of this omission, it has missed greatness as well." Movie Makers, Dec. 1952, 340.
---
Total Pages: 4