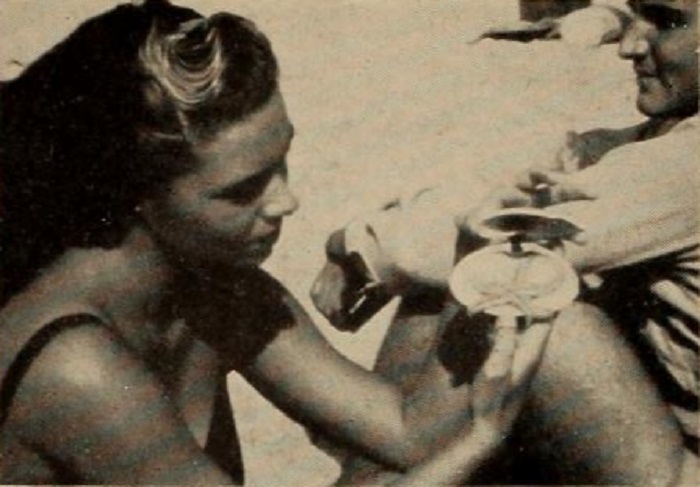 Date produced: 1949
Filmmaker(s):
Production credits:
Languages:
English
Length:
700 ft
Format:
16mm
Colour:
Kodachrome
Sound Notes:
Silent
Sound:
With music on disc and narrative.
Awards/Recognition:
ACL Ten Best 1949
Description:
"By a facile blending of warm hearted humor and a keen perception of human interest values, George Mesaros has created a film study of a famous beach in New York's metropolitan area that is replete with interest, information and entertainment. His technical skill and knowledge of what makes a motion picture move prevent this from being the dull collection of random shots all too frequently characteristic of this genre subject. Employing himself as a frenzied and frustrated shutterbug and a filming friend as plain Joe Doakes at the beach with his wife, a lunch and box camera, Mr. Mesaros proceeds to examine with interest and obvious affection the thousand and one attractions of the Long Island resort. An excellent musical score and a brief commentary help to integrate the compact 700 feet of the film's lively length." Movie Makers, Dec. 1949, 454.
Resources:
Discussed by Mesaros and Harley in "Surf, Sand and Sunshine" (Movie Makers, July 1950, 256-257, 268-269). The article offers tips for filming at the beach, and describes Jones Beach's production. Film stills are shown.

The film won first award of $75.00 in a Metropolitan Motion Picture Club members' film contest in 1949 (Movie Makers, Jan. 1950, 36).
Locations:
Long Island, N.Y. (Filming)
Subjects:
Genre:
Form:
Screenings:
Screened by the Metropolitan Motion Picture Club in 1950: New York City, N.Y.
Screened by the 8-16 Home Movie Makers of Kansas City in 1950: Kansas City, MO
Screened by the Vailsburg Cine Club in 1950: Newark, N.J.
Screened by the Rockford Movie Makers in 1951: Rockford, IL
Screened by the Amateur Movie Society of Milwaukee in 1951: Milwaukee, WI
Screened by the Omaha Movie Club in 1952: Omaha, NE
Screened by the Richmond Movie Camera Club in 1953: Richmond, CA
---
Do you know where this film is? Get in touch with us at amdb@ucalgary.ca.