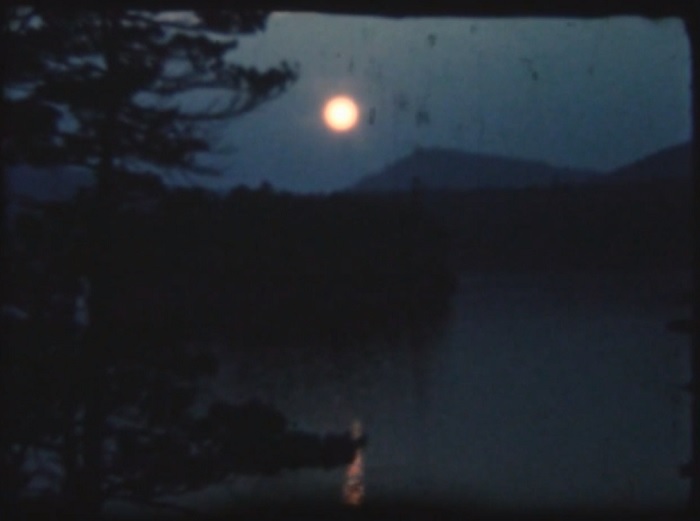 Date produced: 1942
Filmmaker(s):
Country of Production:
United States
Languages:
English
Length:
400 ft (31m 09s)
Format:
8mm
Colour:
Kodachrome
Sound Notes:
Silent
Sound:
With musical accompaniment.
Awards/Recognition:
Metropolitan Motion Picture Club members' film contest, 1942 - First Award, Ditmars Trophy
Description:
"Land of My Dreams, Joseph J. Harley, ACL, will tell you, is a simple record of fun and friends. As such, it is an attractive piece of Kodachrome, colorful in its camera work, leisurely in its pace (400 feet, 8mm.) and frankly sentimental in its outlook. Lake Saranac and the Harley summer cottage comprise the land of Joe Harley 's dreams, although his myriad friends of ten years' standing play a large part in that Elysium. You see them throughout the film, going about their fishing and boating, picnics and swimming with an infectious zest and good humor. The record is climaxed with a detailed presentation of a grand communal party, at which each of the guests is required to put on some sort of skit or bit of entertainment." Movie Makers, June 1944, 246.

Note of warning: the "communal party" referenced in the description above includes a performance in blackface.
Resources:
Discussed in "Filming a Summer Group" (Movie Makers, June 1944, 246-247).
Locations:
Saranac Lake, New York (Filming)
Subjects:
Genre:
Form:
Screenings:
Screened by the Metropolitan Motion Picture Club in 1943 and 1951: New York City, N.Y.
Screened by the Brooklyn Amateur Cine Club in 1945: Brooklyn, N.Y.
Video Link:
Video Link:
Video Link:
---