---
---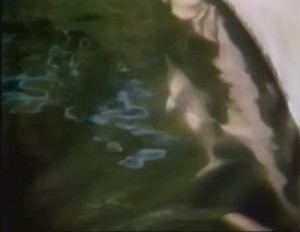 Date produced: 1985
Filmmaker(s):
Description:
"In December 2006, scientific researchers announced that a species of dolphin which had existed for millions of years in the Yangtze River in China had become extinct. This documentary includes scenes of the last living, captive specimen of the Chinese River Dolphin, filmed in Wuhan, China, on a 1985 trip by Dr. Robbins Barstow, of Wethersfield, Connecticut, USA." Archive.org
---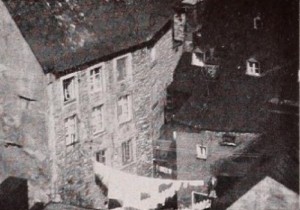 Date produced: 1948
Filmmaker(s):
Description:
"A schoolboy in need of material for a geography theme launches Five Days From Home, as Dad gets out the movie projector and shows Son the cine harvest of his summer holiday. Among the points covered in a whirlwind auto trip from New York to Canada are Quebec City, Montmorency Falls, a Canadian pulpwood mill and Ausable Chasm, in New York State. Mannie Lovitch's handling of these subjects is always competent, occasionally excellent. His inquiring camera found many scenes of quaint charm in the old St. Lawrence city, and his full scale visual treatment of the pulp mill is sustained in interest by a superb bit of scoring with modern music by Virgil Thompson. Of especial note is Mr. Lovitch's mobile cross-cutting of the three to four themes which make up his coverage of the usually difficult Ausable Chasm." Movie Makers, Dec. 1948, 493.
---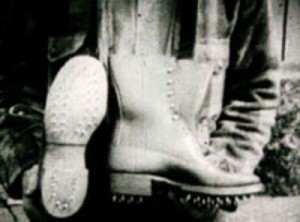 Date produced: 1930
Filmmaker(s):
Description:
"Depicts the year-round activities of the Machias Lumber Company on the Machias River in Washington County, Maine. Includes scenes of winter logging in the forest with hand tools and horses, as well as the spring log drive, with loggers using peaveys to break up log jams on icy rivers as the logs are moved from the forest to the mill. Includes footage of lumber loaded onto schooners in Machias for transport to New York and schooner being towed to sea by sardine boat." oldfilm.org
---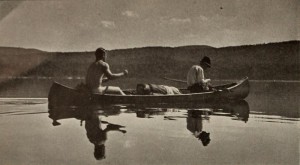 Date produced: 1936
Filmmaker(s):
Description:
"The refreshing story of a voyage by river into the Canadian wilds, presented by F. R. Crawley in Glimpses of a Canoe Trip, is really deserving of a less modest introduction than that implied by the word, "glimpses." Here, within one reel, is as comprehensive a movie tale of a trip by canoe as one could desire. The entertaining continuity, based on the natural sequence of events, is not loaded with unimportant detail; instead, footage is conserved for the more interesting episodes involved in paddling and portages. These are given a well rounded treatment that has genuine entertainment value coupled with a freshness of approach born of the enthusiasm of the maker. This sort of thing communicates itself to the audience, especially when photography, editing and titling are as well handled as they are here." Movie Makers, Dec. 1937, 629.
---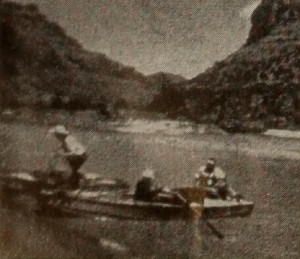 Date produced: 1953
Filmmaker(s):
Description:
"Louise M. Fetzner is a housewife who plainly likes the thrills of running the rapids down dangerous rivers while she makes movies that really move! In Green River, Mrs. Fetzner has a well paced, well photographed and altogether literate account of the adventures which she and her companions had on the Colorado's main tributary. The film is interesting and exciting, and tells its story concisely and without padding. The accompanying narrative is written and delivered effectively, although occasionally the level of the background music rises to overwhelm the narrator's voice." Movie Makers, Dec. 1953, 344.
---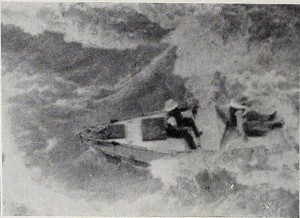 Date produced: 1950
Filmmaker(s):
Description:
"Al Morton has conquered another river. This time it is the unruly turbulence of the Green River in Utah. Not content to be simply a passenger, Mr. Morton built his own boat (and named it Movie Maker!) for shooting the rapids, one of three craft making up the river party. Green River Expedition is a record of lazy, sunny days on quiet stretches, of motor trouble and of scenery along the banks, of back breaking portages where the rapids are too dangerous to maneuver, and finally of the breath taking excitement of riding the tumultuous waters. To partake of this dangerous sport would seem accomplishment enough, but Mr. Morton puts it all on film as well, in about as sparkling, steady photography as one will ever see. The narrative accompaniment, while informative concerning the technique of river boating and the historical background of the surrounding country, seemed overfull. It is enough, in parts, to devote one's whole attention to the thrilling action on the screen." Movie Makers, Dec. 1950, 464.
---
Date produced:
Filmmaker(s):
Description:
This film was produced at some time in the 1950s.
---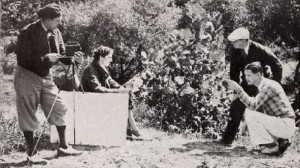 Date produced: 1934
Filmmaker(s):
Description:
"Hooked, an 8mm. comedy by the Grand Rapids Movie Makers, was intended as a straight drama of the trout streams. It has ended, however, as a delightful farce of a movie club trying desperately to complete such a picture — and is probably the better because of this mid production metamorphosis. For, although the first and original section of the picture is wholly charming and well photographed, it is in the latter section that the film picks up spirit, sparkle and definite dramatic power. It is in this part that the producers have conceived and executed a number of cinematic coups, climaxing them with a stunning multiple exposure sequence probably never before equalled or even approached in this medium. Walter Mills, ACL, L. Thorny, ACL, M. P. Gamber and Wendell Patton, of the Grand Rapids club, continue and enhance, with this film, their rightful reputation as most able advocates of 8mm." Movie Makers, Dec. 1934. 534.
---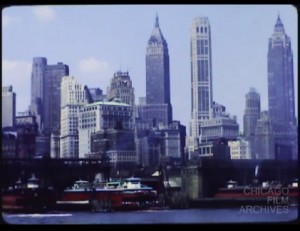 Date produced: 1951
Filmmaker(s):
Description:
"Two part edited travelogue taking place in the Hudson Valley area. Part one begins at Coney Island, and then takes viewers through New York City before heading to places such as West Point and Poughkeepsie where cough drops are being made. Part two Includes much footage on Hudson river, the process of manufacturing wallpaper at Imperial Color and a visit to the North Pole theme park." Chicago Film Archives.
---
Date produced: 1951
Filmmaker(s):
Description:
"'Jeep Trails Through Utah' was produced by Stan Midgley with the use of a jeep rather than his faithful bicycle. He had to leave his bicycle at home, as the deep sands of Utah can only be traveled in a jeep. In his mechanical horse he criss-crossed one of the emptiest blanks on the American map. He leaves the traveled highways and goes back into the little known areas to find fantastically beautiful and unusual natural formations. He travels over sand-blown desert trails, up rocky mountain paths and through treacherous mountain gorges to produce a gem-like picture of Utah." La Canada Valley Sun, Sept. 9, 1971.
---
Total Pages: 5