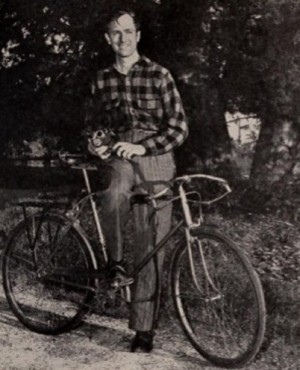 Stanley Midgley
Club Affiliation
Gender:
Male
Awards/Recognition:
Union Pacific Railroad Amateur Film Contest 1946 - First Prize, $1000 & Engraved Trophy
ACL Ten Best 1947 - General Class
UCLA Film and Television Archive list of titled amateur films
Films:
---
Profession:
Chemist
Biographical Notes:
From La Cañada, California. "Over his career, Stan Midgley shot footage in such places as Yosemite, Arizona, the Canadian Rockies, Yellowstone, and Hawaii and made over 4,000 appearances with his adventures. He embraced regionalism wherever he was and shared local pronunciations and customs with his viewers. Because of his use of sight gags, Stan Midgley referred to his films as 'chucklelogues.' His love of the American places he captured, along with his humor, earned him the moniker 'Mark Twain with a camera.' " Oldfilm.org

The UCLA Film and Television Archive holds the Stan Midgley Collection.
Bibliographic Resources:
Midgley receives a write up in "Cycling Cinematographer" (Home Movies, Feb. 1947, 91, 112-113).
Movie Makers, Dec. 1947, 511.