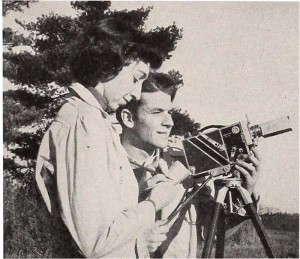 Frank Radford Crawley
Club Affiliation
Gender:
Male
Awards/Recognition:
ACL Ten Best 1937 - Honorable Mention General Class
Hiram Percy Maxim Memorial Award 1939
ACL Ten Best 1939 - General Class
ACL Ten Best 1939 - Honorable Mention General Class
Film
Seaside Holiday
archived by Library and Archives Canada.
Films:
---
Profession:
Filmmaker
Biographical Notes:
Also known as Budge Crawley. Frequently collaborated with his wife, Judith Crawley. Founder of Crawley Films, based in Ottawa, Canada. An article in the 1982 issue of Cinema Canada states that Crawley was a former accountant turned filmmaker and his company Crawley films introduced 16mm synchronized sound to filmmaking in Canada.
Bibliographic Resources:
Movie Makers, Dec. 1939, 607.

Crawley's filmography on CESIF.
See article by James A. Forrester in the 1982 June issue of Cinema Canada which outlines the background and history of Crawley Films.