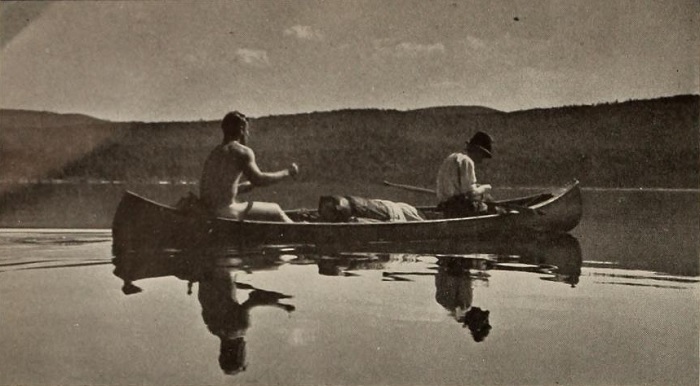 Identifier:
1983-0373 (Source: Library and Archives Canada)
Date produced: 1936
Filmmaker(s):
Languages:
English
Length:
400 ft
Format:
16mm
Colour:
Kodachrome
Sound Notes:
Silent
Awards/Recognition:
ACL Ten Best 1937 - Honorable Mention General Class
Description:
"The refreshing story of a voyage by river into the Canadian wilds, presented by F. R. Crawley in Glimpses of a Canoe Trip, is really deserving of a less modest introduction than that implied by the word, "glimpses." Here, within one reel, is as comprehensive a movie tale of a trip by canoe as one could desire. The entertaining continuity, based on the natural sequence of events, is not loaded with unimportant detail; instead, footage is conserved for the more interesting episodes involved in paddling and portages. These are given a well rounded treatment that has genuine entertainment value coupled with a freshness of approach born of the enthusiasm of the maker. This sort of thing communicates itself to the audience, especially when photography, editing and titling are as well handled as they are here." Movie Makers, Dec. 1937, 629.
Resources:
Discussed by Crawley in "Cine Canoeing" (Movie Makers, Aug. 1938, 388, 400-401). The article contains film stills and viewing notes on a canoeing sequence in the film.

Discussed in "Closeups" (Movie Makers, April 1937, 178).

This film is a part of the Crawley Films fonds held by Library and Archives Canada.
Locations:
Ottawa, ON (Filming)
Maniwaki, QC (Filming)
31 Mile Lake, QC (Filming)
Subjects:
Genre:
Form:
Tags:
Repository:
Crawley Films Limited fonds, Library and Archives Canada
Screenings:
Screened by the London Film Institute Society in the spring of 1937: London, England
Viewing Notes:
"The film documents a canoe trip taken by F.R. Crawley and three male friends. A written note at the beginning of the film is dated August 30, 1936, Maniwaki. The film includes men at a campfire, paddling the canoe, visiting a lumber camp (shots of men grappling logs, the mess tent, on the river in a boat, the hull of a boat which shattered in rapids). Also, shots of the group camped at 31-mile Lake, waking, washing at the river, swimming, eating, portaging Indian-style. In the evening, the men again set up camp, cook dinner and play poker." Via Library and Archives Canada.
Video Link:
---