---
---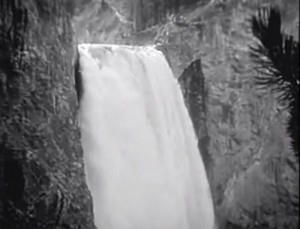 Date produced: 1936
Filmmaker(s):
Description:
"An eight week Western camping trip in the summer of 1936 by seven boys from the Hartford, Connecticut area, under the leadership of Ken Strong, a Hartford Seminary graduate. Filmed by then teenage amateur movie maker Robbins Barstow (1919-2010)." Center for Home Movies.
---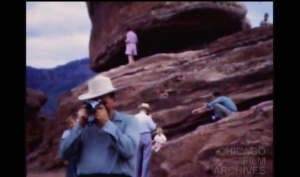 Date produced: 1959
Filmmaker(s):
Description:
"An amateur film made by and starring the husband and wife duo, John & Evelyn Kibar. After receiving numerous travel brochures in the mail, the Kibars begin reflecting on all the possible destinations they could visit - including Colorado, Bryce Canyon National Park and Jackson Hole, Wyoming. Actual travelogue footage shot by the Kibars acts as our reflective imagery, while title cards with dialogue are dispersed throughout the film." Chicago Film Archives
---
Date produced: 1959
Filmmaker(s):
Description:
"On bicycle and afoot, Stan Midgley, humorist and photographer, explored some of the more inaccessible points of the Canadian Rockies. The result of his adventures is 'Awheel and Afoot in the Canadian Rockies'." Battle Creek Enquirer, Oct. 16, 1959, 26.
---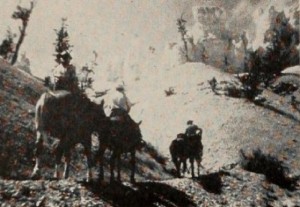 Date produced: 1947
Filmmaker(s):
Description:
"In a land that abounds in colorful formations, Frank Gunnell's discerning camera has recorded in appealing detail the less usual, as well as the familiar, views of Bryce Canyon. This thorough coverage of a popular national park is enhanced by pleasant scenes of a pack trip, closeups of the darting antics of a chipmunk and a "running gag" of the hungry cameraman, whose equipment .cases carry edibles with film and filters. Bryce Canyon Trails provides the audience with a wholly entertaining tour of this famous and awesome natural wonder. Mr. Gunnell, as always, presents breath taking camera work in his integrated and admirable reproduction of a vast canvas." Movie Makers, Dec. 1947, 514.
---
Date produced: 1936
Filmmaker(s):
Description:
"A most workmanlike travelog of the West is Bryce Canyon Wonderland, a Kodachrome accomplishment of Frank Gunnell. Even, careful exposures make the film a delight on the screen, while interesting touches portraying the personal angle provide the cinematic punctuation. Gorgeous color rendition obtained in this wonderland was the result of experience and good judgment. The use of a tripod for every shot, coupled with finished technique and a dramatic subject, accounts for this film's photographic excellence." Movie Makers, Dec. 1936, 549.
---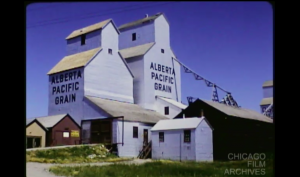 Date produced: 1956
Filmmaker(s):
Description:
"2 part edited travelogue film beginning in Ontario and working west to British Columbia, documenting the resources, landscape and recreation of Canada. Includes a large amount of natural scenery, but also diverse events such as fishing, a rodeo and water sports. Also gives a look into factories and resorts." Chicago Film Archives
---
Date produced: 1958
Filmmaker(s):
Description:
Edited film "chronicling travel through Nova Scotia, Prince Edward's Island and Cape Breton. Film includes scenic landscapes (Langdale/Bowen Island, Queen Elizabeth Arboretum, Yoho National Park, Yoho Glacier, Twin Falls, Bow Lake, Columbia icefield, Athabasca Falls, Banff, Gaspe, Cape Breton Highlands National Park), urban scenes, fishermen, outdoor garden of religious statuary, light houses, bag pipe players, Canadian Royal Mounted Police and the Lovat Scots, a boag and drum corp," Human Studies Film Archives, Smithsonian Museum.
---
Date produced: 1955
Filmmaker(s):
Description:
"Footage of scenic areas of Southern Utah with narration. Included are the 'Canyons of Fire,' wild flowers, hiking trails and the 'Fairy's Landing' at Bryce Canyon; Zion Canyon, the 'Great White Throne,' the 'Mountain of Mystery,' the 'Angel's Landing' and the Mt. Carmel highway at Zion National Park; and Navaho Lake at Cedar Breaks." University of Utah Marriott Library.
---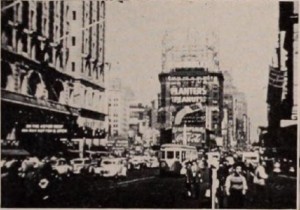 Date produced: 1940
Filmmaker(s):
Description:
"Harley H. Bixler, a technician, has been inspired with the might of America, and he has interpreted it according to his lights. In Cavalcade of America, taking our entire country as his canvas, he has painted in, with striking chromatic images, the physical and industrial high lights of our heritage. Here are the sinews of strength, awaiting only the activating force of human endeavor to turn them to the path of power. Here are the mills and the mines, the oil and the electricity, the farms and the factories without equal in our modern world. Mr. Bixler interprets his fine pictorial document with a narrative that is usually vivid but sometimes matter of fact and accompanies the whole with recorded music. Cavalcade of America is a striking study of a tremendous subject." Movie Makers, Dec. 1940, 602.
---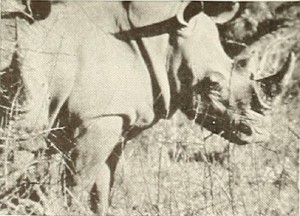 Date produced: 1940
Filmmaker(s):
Description:
"In the tradition of Carl Akeley and the late Martin Johnson is the humorously titled but essentially serious film, Charlie, the Zulu Game Guard, by Esther and Vincent Vermooten. Stalking rhinos, both black and white, in the Hluhluwe Reserve of British South Africa, Dr. and Mrs. Vermooten, accompanied by the game guard Charlie, managed to capture on film a series of incomparable studies of the beasts in their native habitat. The circumstances must have been difficult, the pursuit undoubtedly dangerous, but Dr. Vermooten used a tripod throughout and succeeded, despite obvious trials of climate and heat, in getting perfect color rendition. This fact, added to the well planned continuity of the film, makes it an outstanding accomplishment of its kind." Movie Makers, Dec. 1940, 602.
---
Total Pages: 6