---
---
Date produced: 1937
Filmmaker(s):
Description:
"A vacation to Cedar Breaks, Bryce, Zion, and Grand Canyon of the Colorado." American Cinematographer, June 1938, 257.
---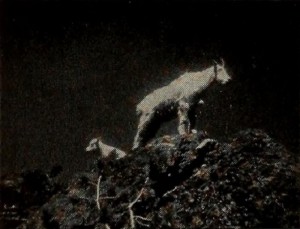 Date produced: 1953
Filmmaker(s):
Description:
"Ralph O. Lund, whether he knows it or not, has adopted the same narrative technique used earlier in a nature film (The Gannets) whereby one of the wild creatures being pictured becomes the narrator. In Monarchs of the Mountain Tops, Mr. Lund's "Pete Smith" is an agile and bewhiskered mountain goat. His recurring comments enliven considerably the producer's study of the flora and fauna of Glacier National Park." Movie Makers, Dec. 1953, 334.
---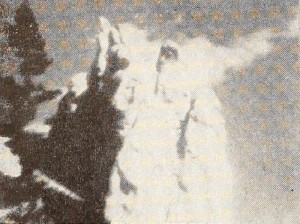 Date produced: 1952
Filmmaker(s):
Description:
"With a thorough understanding of what constitutes human interest, L. Gordon Darby has produced in Mountain Playground an attractive record of the Banff-Jasper National Park area. Present, to be sure, are the majestic peaks, the Banff Springs Hotel with its surrounding flower gardens, Lake Louise and a picturesque river trip. But there are presented also the darting antics of a chipmunk, the dainty distrust of a cautious deer and the hungry bear within arm's reach of the camera. If camera steadiness had not been sacrificed for the ease of the hand-held camera, this attractive travelog might well have contended for higher honors." Movie Makers, Dec. 1952, 340.
---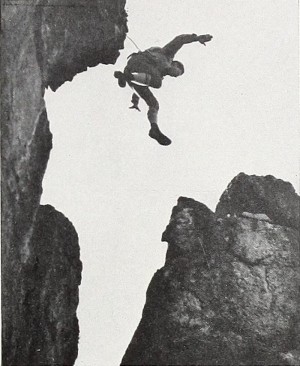 Date produced: 1936
Filmmaker(s):
Description:
"The Mountaineers Club Teton Expedition, made by Ray Garner, tells the story of several young men who did some real mountain climbing among the peaks of famous Western mountains. A most interesting introduction, showing briefly the various types of climbing, prepared the audience for some of the amazing sequences later on. Remarkable attention to human interest details sustains the entertainment quality throughout and, when the actual climbing starts, the thrills are second to none. The agility of the cameraman contributed greatly to the effectiveness of the film." Movie Makers, Dec, 1936, 550.
---
Date produced: 1952
Filmmaker(s):
Description:
"Edited film describes life on the Navajo Reservation. Scenes include women weaving, grinding corn and caring for children (baby is bound into cradle board) and men herding, hoeing corn, silversmithing, and washing and binding their hair. Also shows Navajo Rodeo (encampments, stinger and bronco riding, wild cow milking and horse racing), trading post at entrance to Monument Valley (exchanging rug for goods), Ganado Mission, workers in uranium mine and scenic views of Monument Valley and Canyon de Chelly. Efforts to deal with lack of water is discussed in narration," Human Studies Film Archives, Smithsonian Museum.
---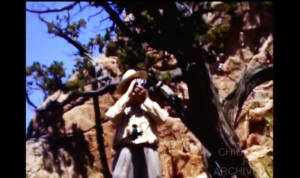 Date produced: 1962
Filmmaker(s):
Description:
"An amateur film made by and starring the husband and wife duo, John & Evelyn Kibar. After Mrs. Kibar asks Mr. Kibar to throw away his old collectables, or "junk," Mr. Kibar begins reflecting on past travels. Only later do we find out this travel sequence is actually just a dream." Chicago Film Archives
---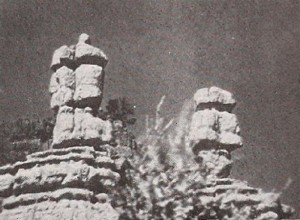 Date produced: 1943
Filmmaker(s):
Description:
"Parks of Paradise was originally intended as a 2000 foot pictorial travelog that would cover every national park and monument in the United States, but travel conditions enforced a limitation, so Norris Smitley has confined the scope to include only the national parks of the Southwest, permitting a more detailed presentation of the material used. Many unusual scenes of popular subjects are shown in the picture, which is further distinguished by beautiful color and meticulous cinematography." Movie Makers, Dec. 1943, 478.
---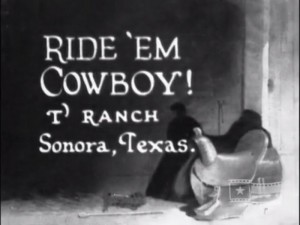 Date produced: 1929
Filmmaker(s):
Description:
"Produced by Edwin S. Mayer, this 1929 amateur film documents life and work on the T-Half Circle Ranch near Sonora. Ranch hands first herd cattle for branding and de-horning. Then, they turn to working the sheep, sorting them into separate classes before shearing wool. Later, the ranch hands battle a prairie fire on the property. In addition to outlining ranch operations, Mayer also introduces his family and colleagues. At the conclusion, Edwin and his wife Minnie join another couple to explore Carlsbad Cavern in New Mexico. The cave is now the primary attraction of Carlsbad Caverns National Park. Please note, this film contains a racist joke regarding African Americans. The Texas Archive of the Moving Image does not condone this language, but presents the film as it was originally created, because to do otherwise would be the same as to claim this discrimination never existed" Texas Archive of the Moving Image.
---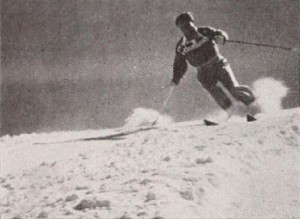 Date produced: 1943
Filmmaker(s):
Description:
"A Ski Story, by Albert E. Sigal, has been two years in the making — but it has been well worth the effort. Laid against the scenic grandeur of Yosemite National Park, the picture is eloquent testimony both to the thrills and the dynamic beauty of the sport of skiing. Mr. Sigal begins his story slowly with an introductory sequence which sets the mood of the piece. Sequences then follow in leisurely progression of the activities of the ski school, the joys of a hot lunch served alfresco beside the clubhouse, down mountain racing and cross country rambling. Mr. Sigal's consistently good color cinematography benefits to a degree by the clarity of the Western air, a boon so often denied to skiing movie makers on Eastern slopes." Movie Makers, Dec. 1943, 477.
---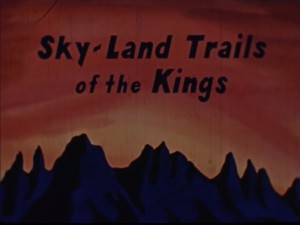 Date produced: 1940
Filmmaker(s):
Description:
Subtitled: a story of happy days in Kings Canyon National Park.
---
Total Pages: 6