---
---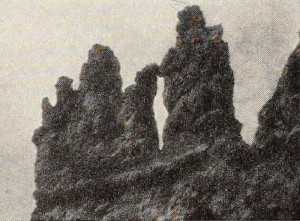 Date produced: 1951
Filmmaker(s):
Description:
"Leo J. Heffernan's 'What God Hath Whrought" pictures some of the wonders of Nature, with emphasis on the mighty Niagara Falls. His color photography is excellent." American Cinematographer, May 1952, 224.

"While motoring through Zion National Park, Leo J. Heffernan photographed the mountains, trees and canyons as they passed by his camera. The resulting picture, What God Hath Wrought, filmed almost entirely from his moving car, has an amazing three-dimensional effect. Changes in depth and perspective give the viewer a strong sense of participation, a true feeling that he is actually on the spot. For, traveling along the main highways, where so many tourists drive each year, Mr. Heffernan shows us this usually static subject from a tourist's level — but with new and refreshing viewpoints." Movie Makers, Dec. 1952, 341.
---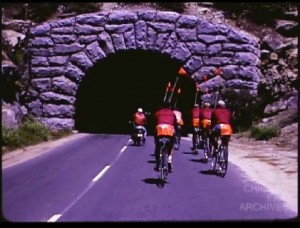 Date produced: 1968
Filmmaker(s):
Description:
"2 part edited travelogue following young men on a bicycle trip cross country (San Francisco to New York City) with Wandering Wheels, a faith based organization. Along with the noteworthy locations they visit, such as the Four Corners and New York City, this film includes much documentation of their down time and visits to Native American and small town communities to sing and meet with the people." Chicago Film Archives.
---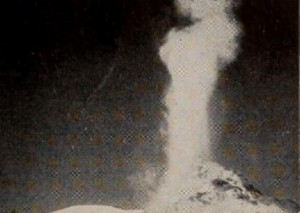 Date produced: 1945
Filmmaker(s):
Description:
"With While the Earth Remaineth, Hiram Percy Maxim Memorial Award winner for 1945, Frank E. Gunnell crowns a long and distinguished career in the history of personal motion pictures. Beginning ten years ago with Adirondack Adventure, a Ten Best winner on 400 feet of black and white film, this career now embraces no less than ten award winners in nearly every category of amateur movies. Mr. Gunnell's chef d'oeuvre is a stirring and splendid climax to these efforts. The film is based upon the twenty second verse of the eighth chapter of Genesis, wherein the Lord pledges that He shall never again smite the earth, as He had done in the recent Deluge: For while the earth remaineth, seedtime and harvest, and cold and heal, and summer and ivinter, and day and night. shall not cease. Beginning with this great and noble theme, Mr. Gunnell doubles back in his production to show the creation of this Earth which the Lord has blessed. Here, used interpretively rather than for itself alone, Mr. Gunnell's superb craftsmanship with the camera rises to new heights of power and dignity. His sequences suggesting the formation of the cosmos and the first coming of light to the new planet are among the most stirring and purely creative passages in the history of amateur movies. His use of already existing scenes — a geyser or boiling springs of mud — to suggest the primordial genesis are imaginative editing at its highest plane. Flowers, fruits and the fowls of the air take on new beauty in Mr. Gunnell's moving testament to God's handiwork. As befits such a splendid theme, While the Earth Remaineth is scored with music of great stature. Presented with the picture are passages from Beethoven's Pastoral Symphony; the Symphony in D Minor, by Cesar Franck; Robert Schumann's Third Symphony; Harold in Italy, by Berlioz; the Deems Taylor suite, Through the Looking Glass; Omphale's Spinning Wheel, by Saint-Saens. and the Symphony in D Major, by Haydn." Movie Makers, Dec. 1945, 477, 494.
---
Date produced: 1931
Filmmaker(s):
Description:
"The Wonder Trail, 1000 ft., 35mm., filmed by Ralph C. Wildes, has also met with the approval of professional critics, for it has been released as a professional short subject and has received general praise. One reviewer wrote, "The Wonder Trail is an unforgettable picture; the restful, sheer beauty of it is an experience in entertainment." This is high praise, indeed, for an amateur picture since it must be remembered that the reviewer was comparing it with the hundreds — even thousands — of professional short subjects released each year. It is a scenic built from sequences of the Grand Canyon, Yosemite and the Redwood forests of California. Its photography is superlatively good and rare artistic judgment was exercised in the selection of camera viewpoints to effect beautiful compositions and to emphasize the dramatic value of mountains, falls and trees. The quality of the film's continuity lies in the leisurely sequences which display skill and care in both planning and editing." Movie Makers, Dec. 1931, 658
---
Date produced: 1960
Filmmaker(s):
Description:
"Stan Midgley returns again, this time presenting the "Yellowstone Tetons and Glacier Park." In the wonderful northwest corner of Wyoming you can see spectacular mountains, beautiful lakes, canyons, waterfalls, wild animals and more natural wonders than a tourist can see in a month. There are superb pictures of most of the world's greatest geysers and the changes made by the great 1959 earthquake with before and after pictures. There is Earthquake Lake and its notorious landslide. The Cooke City Red Lodge Highway over the Beartooth Mountains —Ghost Towns and modern towns of Western Montana —Glacier Park, beautiful from the highway, incomparable from the wilderness trail. The ending comes in the golden glory of autumn." Central Union Reaper, Sept. 27, 1966, 3.
---
Date produced: 1931
Filmmaker(s):
---
Date produced: 1931
Filmmaker(s):
---
Date produced: 1933
Filmmaker(s):
---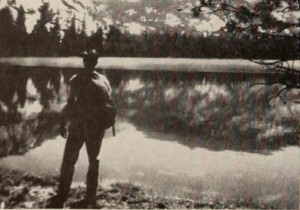 Date produced: 1947
Filmmaker(s):
Description:
"Filming Yosemite National Park with the same refreshing wit that has made his earlier movie on the Utah parks so popular, Stanley Midgley has even surpassed his previous camera work with spectacular angle shots of the famous waterfalls and brilliantly planned pans which heighten the grandeur of this great glacial valley. In the lighter vein, a fast motion sequence of tourist posturings before the Sequoia trees provides some side splitting satire, while the magnificence of the firefall, the High Country and the mirror like lakes is emphasized by imaginative framing. Always the trail blazer, Mr. Midgley scaled Half Dome with his camera; in other sequences, he apparently conspired with an eagle to get some of the dizzier shots of sheer cliffs and precipitous falls. Yosemite on Two Wheels — and Two Feet is a rare blend of humor and technical skill, an artistic achievement that sets a new high in national park filming." Movie Makers, Dec. 1947, 534.
---
Total Pages: 6