---
---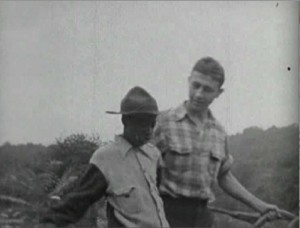 Date produced: 1941
Filmmaker(s):
Description:
"The film was conceived of, directed, shot, edited, and hand-titled by Barstow. A staff volunteer, Barstow had recently graduated from Dartmouth College (class of 1941) when he accepted work on the farm with his wife, Meg. The "Newark Kid-Stars," as they are credited in the film, helped to create the story and acted in the film, yet their names were never recorded." The Back Table, Archives and Special Collections at the New York University.
---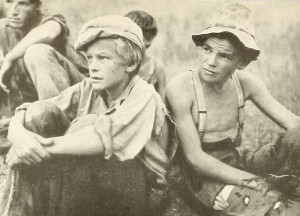 Date produced: 1937
Filmmaker(s):
Description:
"The present fate and possible future of the southern share-cropping farmer have been pictured in dramatic and authentic detail by Alan S. Hacker, ACL, in a five reel, 16mm. film recently completed under the sponsorship of the Sharecropper Film Committee, New York City. Made to aid the Southern Tenant Farmers' Union, the production illustrates the agricultural despotism and destitution which have resulted in the formation of that group bargaining organization. Farms and families of Arkansas, Tennessee and Mississippi appear in this documentary record, which kept Mr. Hacker three months in the field. Lee R. Hays. an Arkansan, served him as liaison officer with the union and its supporters, while Gardner Jackson, of the film committee, contributed to the production's planning. Narrative comment and a musical background are scheduled additions to the pictured story, in preparation for screenings before school and civic groups interested in the success of the Southern Tenant Farmers' Union." - "Practical Films," Movie Makers, March 1937, 128.
---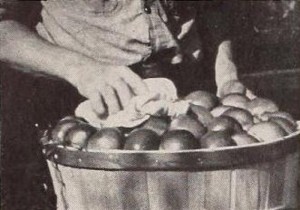 Date produced: 1939
Filmmaker(s):
Description:
"In An Apple a Day, F. Radford Crawley has epitomized, in color, the story of a Canadian apple orchard. He shows, in perfectly exposed Kodachrome scenes, how the trees are grafted and pruned, how the orchard is mulched with straw and how the trees are sprayed. He shows the apple pickers at work in attractively chosen angle shots and, without interrupting the flow of action, he introduces the different varieties of apples grown in Canada. Horse drawn carts carry the apples to the packers, and there follows a tightly edited sequence of the ring pack method, culminating in a brilliant closeup of the top of an open basket of apples. In an epilogue, the basket is opened in a home, and children bob for apples at a Halloween party. Ingeniously managed upward angles show the children's faces bobbing for apples floating in the water above the camera. (The method of producing these shots was described in The month of plenty, by Mr. Crawley in the October, 1938, Movie Makers. The execution of the plan is perfect in the film.) Brilliant close shots of beautifully colored fruit stud this film like jewels, and especially satisfying are the subtitles, made by double exposing white lettering on a scene of an arched branch of an apple tree, filmed against a dark, late afternoon sky." Movie Makers, Dec. 1939, 634.
---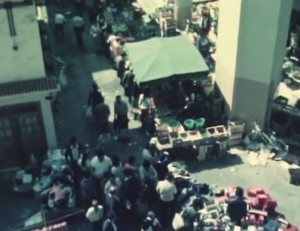 Date produced: 1982
Filmmaker(s):
Description:
Todos los miércoles en Villafranca de Ordizia se celebra una singular feria que, en muchos aspectos, marca la tendencia de los precios y estimación de los productos del campo, ganado, etc.

Every Wednesday in Villafranca de Ordizia, there's a singular fair that, in many ways, marks the trend for prices and estimation of country goods and cattle.
---
Date produced: 1969
Filmmaker(s):
Description:
Bamboo of Japan is an 8mm film in color by Mr. Hutsutaro Kageyama of Kyoto, Japan. Bamboo to most of us means simply a fishing pole and not much more. Not so much in Japan. Bamboo is so much in demand there that bamboo tree plantations are quite prevalent. You will learn things about the use of bamboo that you never dreamed about of in the 22 minutes of this film. A very educational film and a credit to the country of its origin, Japan," PSA Journal, Mar. 1970, 43.
---
Date produced: 1930
Filmmaker(s):
Description:
"The construction of the POM (Pride of Montreal) Bakery in Montreal. Some commercial harvesting footage with baking at POM." (LAC description)
---
Date produced: 1940
Filmmaker(s):
Description:
"Portrait of Calhoun School, founded in 1892, and its vocational work among rural African Americans of Lowndes County, Alabama. The film shows the living conditions of the poor and illustrates how the school makes a difference in health education, agriculture, and road construction." The Field Guide to Sponsored Films.
---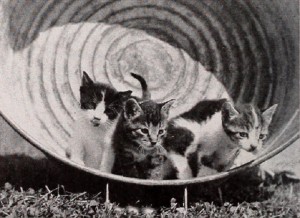 Date produced: 1947
Filmmaker(s):
Description:
"Recording a modern dairy on 8mm. film is no mean accomplishment, and Helen H. Loeffler deserves special praise for her explicit coverage of the operations involved in running Randall Farms. Miss Loeffler's carefully composed frames and neat subtitles give one a clear picture of the various stages, from milking to bottling. She has overcome the murky interiors of the barns and farm buildings by able lighting, while her pasture sequence at the conclusion of the film shows the sleek cattle at their best. Conducted Tour is a mature record film, tightly edited and presented with polish." Movie Makers, Dec. 1947, 536.
---
Date produced: 1927
Filmmaker(s):
Description:
"Clyde Hammond, of 65 Murdock Street, Youngstown, Ohio, won an honorable mention in the 16 millimeter division for his study of country life, 'The Dragon Fly.'Mr. Hammond worked out a strong atmospheric study of a selfish country boy, home from college, and his hard-working farmer father."Photoplay, Jun. 1928, 137
---
Date produced: 1932
Filmmaker(s):
Description:
"Eastman Kodak Company prize for the finest example of photography in any out-of-door picture whether it wins a cash prize or not was awarded to Tatsuichi Okamoto, Maysuyama, Japan, for 'Early Summer,' 1 reel. This is a different subject than the one which won him second prize." American Cinematographer, Jan. 1933, 25.
---
Total Pages: 6