---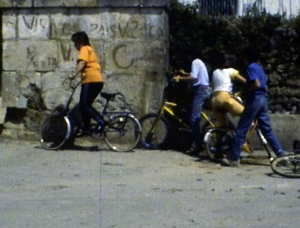 Date produced: 1983
Filmmaker(s):
Description:
Documental corto sobre el pueblo de Villa de Corres. El filme comienza con varios paisajes de los alrededores y planos de montañas y el río. A continuación se muestra el pueblo, aparecen casas, el río, calles y algunas partes características como el Castillo, el hospital, la iglesia de San Esteban, el bebedero, la fuente , la plaza, etc. También aparecen algunas personas mayores y niños por las calles. Se comenta que es un pueblo con una población de 30 habitantes pero que es uno de los pueblos más longevos de la provincia de Álava.

Short documentary about a town called Villa de Corres. The film begins with several landscapes of the surroundings and shots of the mountains and the river. Then the film shows the town, houses, the river, streets, and some landmarks like the Castle, the hospital, the San Esteban church, the drink fountain, the fountain, the square, etc. Some older persons and children are also seen. It is said that the town only has a population of 30 persons, but that it is one of the longest-living towns in the Alava province.
---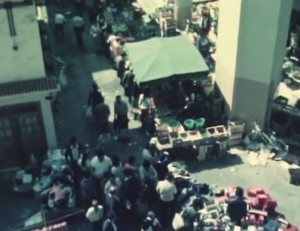 Date produced: 1982
Filmmaker(s):
Description:
Todos los miércoles en Villafranca de Ordizia se celebra una singular feria que, en muchos aspectos, marca la tendencia de los precios y estimación de los productos del campo, ganado, etc.

Every Wednesday in Villafranca de Ordizia, there's a singular fair that, in many ways, marks the trend for prices and estimation of country goods and cattle.
---
Date produced: 1939
Filmmaker(s):
Description:
"On the Baptist Kimpese Mission Station, Republic of the Congo." National Archives.
---
Date produced: 1940
Filmmaker(s):
Description:
"Portrait of Calhoun School, founded in 1892, and its vocational work among rural African Americans of Lowndes County, Alabama. The film shows the living conditions of the poor and illustrates how the school makes a difference in health education, agriculture, and road construction." The Field Guide to Sponsored Films.
---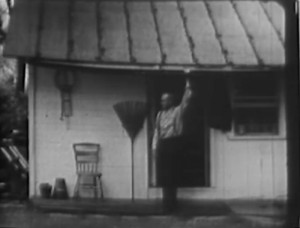 Date produced: 1941
Filmmaker(s):
Description:
"On college student work campers from the Hartwick Seminary and the farmers' cooperative movement in Cooperstown." National Archives.
---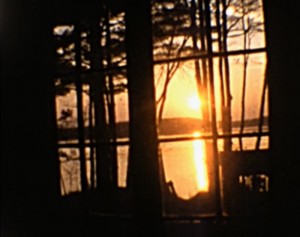 Date produced: 1955
Description:
Film treatment of the poem "When the Frost Is On the Punkin" by James Whitcomb Riley. Intertitles with text from the poem are interspersed among images that match the themes and content of the poem. The scenes include shots of harvest work, fall scenery, turkeys, and pumpkins.
---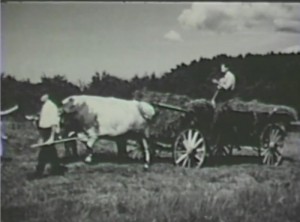 Date produced: 1934
Filmmaker(s):
Description:
"Film depicting the 1755 Expulsion of the Acadians from Grand Pre, Nova Scotia. Silent footage interspersed with written text. Scenes show the Grand Pre Church and various shots of farm life. An actress portrays Evangeline." Nova Scotia Archives.
---
Date produced: 1947
Filmmaker(s):
Description:
"Item is a film of a trip to Hawaii taken by Dr. Willinsky and his wife, Sadie. In the form of a travelogue, footage of Hawaii's landscape, vegetation, landmarks and local population is interspersed with captions that were added in by Dr. Willinsky to provide information about the country's culture. Footage includes shots of sites around Honolulu and Waikiki, surfers, Hawaiian flowers, churches and temples, sugar cane farming and singers performing outside a hotel. Sadie is occassionally spotted exploring the sites and interacting with locals."
---
Date produced:
Filmmaker(s):
Description:
"Un-staged documentary footage shot and edited by Sallie Wagner. Sallie's description of the film: 'Wide Ruins and area, farming Navajos, Black Rock - Medicine Man, Cut Hair plowing, Joe Toddy following Cut Hair, planting, Patsy Martin standing on Cultivator, Jim House's wife husking corn, Paul Jones helping husk corn, sheep dipping at Ganado, Dwight Wagner viewing sheep dipping, wool shearing at Wide Ruins, loading sheep at Chambers, tall man in tan outfit Bill Cousins, Bent Knee sitting on fence, Crip Chee's grandson in closing scene'." New Mexico States Archives.
---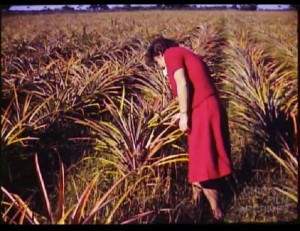 Date produced: 1946
Filmmaker(s):
Description:
"2 part edited travelogue of the industries and everyday life in featured cities of Cuba. Part 1 begins in Havana before travelling to smaller cities, with a focus on buildings, crops and the everyday lives of the people. Part 2 primarily focuses on industry and includes scenes of a tile factory, basket weaving, as well as the farming of potatoes, sugar cane, bananas, and peanuts. The film also features historical monuments, boating, children at school, cock fights, vendors selling wares, and fishing. People demonstrate manual methods of labor like harvesting crops and cutting grass with machines lead by cattle." Chicago Film Archives.
---
Total Pages: 5