---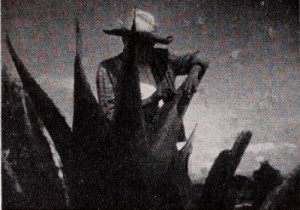 Date produced: 1948
Filmmaker(s):
Description:
"Alan Probert has confined his study of Mexico to the primitive Otomi Indians. With startling clarity and a fine cinematic eye for detail, he presents the tribal group in a series of sketches that reveal the age old customs of their forefathers still in daily use — sowing and reaping, spinning and weaving, trading and worshipping. Remnants Of The Past is an expertly filmed factual account of the subject, which would have gained considerably from greater unity and a stronger ending." Movie Makers, Dec. 1948, 494.
---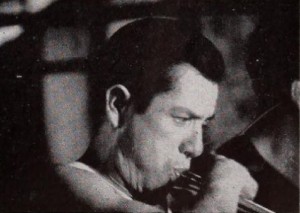 Date produced: 1948
Filmmaker(s):
Description:
"Having forsaken the good land of tequila for the gypsy life of a trailerite, Ralph E. Gray presents what may be the last in a long line of distinguished human record films on America's southern neighbor. Mexico At Work And At Play displays recurrently in its many and varied sequences the opulent camera work and warm eye for color which have marked all of Mr. Gray's award winners. Mirrored in the present movie are such native occupations as sugar cane farming and mescal distilling, such handicrafts as glass blowing and opal polishing, such diversions as cock fighting and an Easter Passion Play. Mr. Gray's treatment of these and other colorful subjects is leisurely, loving and methodical." Movie Makers, Dec. 1948, 494.
---
Date produced: 1927
Filmmaker(s):
Description:
"Clyde Hammond, of 65 Murdock Street, Youngstown, Ohio, won an honorable mention in the 16 millimeter division for his study of country life, 'The Dragon Fly.'Mr. Hammond worked out a strong atmospheric study of a selfish country boy, home from college, and his hard-working farmer father."Photoplay, Jun. 1928, 137
---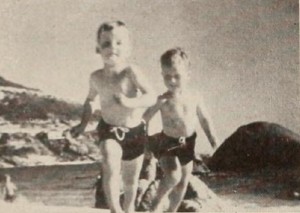 Date produced: 1947
Filmmaker(s):
Description:
"From Capetown, South Africa, comes Help Yourselves, Boys!, by Lewis Lewis, a charming record of two handsome youngsters and their father engaged in planting, growing and harvesting zinnias. Using many effective angles and double exposed titles, Mr. Lewis relates a plausible tale of his boys raiding the grape arbor, being caught, and finally having their exuberance turned toward flower growing. Since the newly hatched garden is situated close to the ocean, the scenic backgrounds are startling as well as pleasant. Rich, black earth and flaming orange zinnias provide an attractive setting for an engaging family movie." Movie Makers, Dec. 1947, 538.
---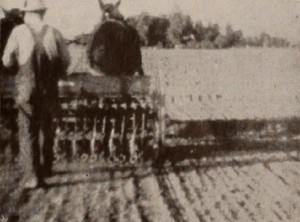 Date produced: 1947
Filmmaker(s):
Description:
"To impart life and interest to a film about growing alfalfa requires more than ordinary patience and perseverance. Mildred J. Caldwell has supplied these in her picture, Green Gold. Filmed throughout the year, it shows the plowing, seeding, mowing, bundling and threshing, to create a story with depth and perspective. There were times when the movie maker had to climb on stacks of baled alfalfa or ride on a lumbering machine while it performed some vital operation in the culture of alfalfa. Hemet Valley, in California, was the setting, providing pleasant scenic backgrounds for the different operations." Movie Makers, Dec. 1947, 537-538.
---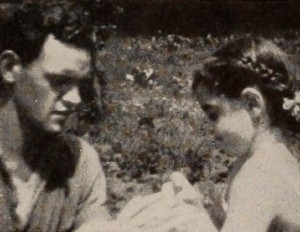 Date produced: 1947
Filmmaker(s):
Description:
"Terry Manos takes his family and his audience to the country and shows us what Farm Frolics are for those who live rurally and what fun city children can get from participating in them. Against a background of farm life that is shown largely by indirection, the children romp and play little tricks on each other, while the understanding adults take a good humored part in the proceedings. Mr. Manos's camera work is imaginative, making the most of the abundant material at hand. His greatest achievement is the creation of a fine family film that, because of its lively farm background, also holds audience interest." Movie Makers, Dec. 1947, 537.
---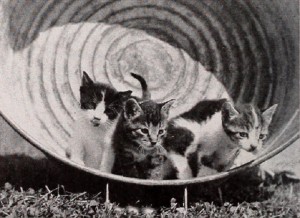 Date produced: 1947
Filmmaker(s):
Description:
"Recording a modern dairy on 8mm. film is no mean accomplishment, and Helen H. Loeffler deserves special praise for her explicit coverage of the operations involved in running Randall Farms. Miss Loeffler's carefully composed frames and neat subtitles give one a clear picture of the various stages, from milking to bottling. She has overcome the murky interiors of the barns and farm buildings by able lighting, while her pasture sequence at the conclusion of the film shows the sleek cattle at their best. Conducted Tour is a mature record film, tightly edited and presented with polish." Movie Makers, Dec. 1947, 536.
---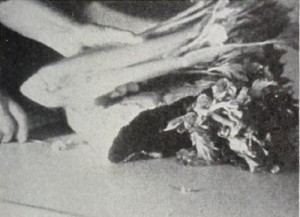 Date produced: 1942
Filmmaker(s):
Description:
"White Hearts, filmed by William R. Hutchinson, whose Blossom Forth the Fruit placed in Ten Best last year, presents further evidence of Mr. Hutchinson's understanding of the treatment necessary in handling progressive developments in nature when it is used for educational subjects. This story of celery raising begins with shots of farmers preparing the rich black soil and concludes with sequences showing the produce, packaged, ready for shipment. One of the difficulties overcome was the achievement of variety of value in the scenes showing the white celery stalks in contrast with extremely dark earth. Human interest is introduced by including intimate shots of the workers. Logical progression, interesting compositional effects and a genuine feeling for texture and tactile values make this a fine study picture." Movie Makers, Dec. 1942, 508.
---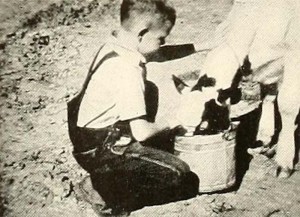 Date produced: 1940
Filmmaker(s):
Description:
"On the Farm, made by Mr. and Mrs. Ray Garner for the Harmon Foundation, is an example of visual education at its best. By the use of two charming, healthy little American children as the chief characters, it enlists sympathy before it attempts to instruct. And it never strays from the fundamental concept which, to all evidence, was in the minds of its makers: namely that, to teach children by visual aids, one must appeal to their sense of fun. Charm, here, is not outlawed simply because it is not informative. Divided into two parts, Morning and Afternoon, and illustrated with unpretentious titles, such as This is how the animals help, which are chalked in white letters on a blackboard, On the Farm tells of a common workday, in terms of what two farm children can do to assist their parents. From the sequence in which the tousled farm lad puts his head out of the window to see what kind of a daybreak it is. to the time when the sun goes down behind the silo, almost every kind of farm activity is shown. Other children in city classrooms are going to see themselves in the scenes and will want to learn more about a way of life in which they can feel so much at home." Movie Makers, Dec. 1940, 600-601.
---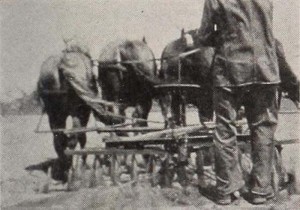 Date produced: 1939
Filmmaker(s):
Description:
"Good organization of material and excellent photographic presentation of a familiar story make The Staff of Life, by Jack L. Krapp, an attractive and interesting film. Mr. Krapp has an eye for beauty in everyday subjects, and his progressive story of raising, harvesting and milling wheat leaves no detail uncovered in its searching, yet interesting story. Baking procedures are equally thoroughly covered, all in competent cinematography. For those who feel handicapped when working in 8mm., this film would be an inspiration, for certainly one is conscious of no limitation. A noteworthy feature is the clean cut handling of the titles." Movie Makers, Dec. 1939, 636.
---
Total Pages: 5