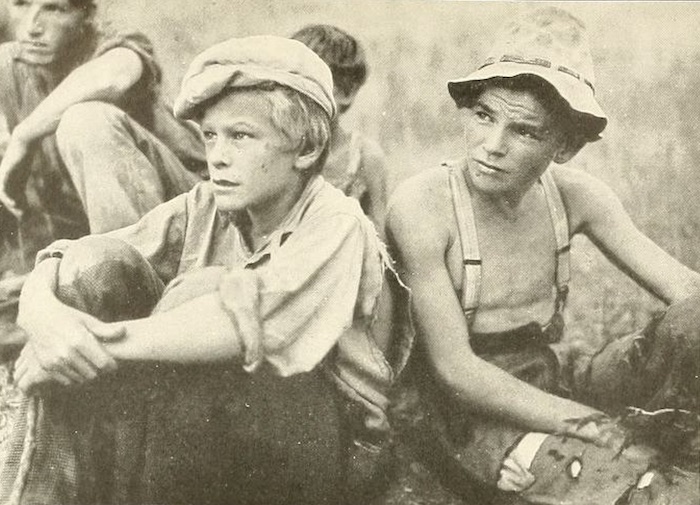 Date produced: 1937
Filmmaker(s):
Country of Production:
USA
Languages:
English
Length:
5 reels
Format:
16mm
Colour:
B&W
Sound Notes:
Optical
Description:
"The present fate and possible future of the southern share-cropping farmer have been pictured in dramatic and authentic detail by Alan S. Hacker, ACL, in a five reel, 16mm. film recently completed under the sponsorship of the Sharecropper Film Committee, New York City. Made to aid the Southern Tenant Farmers' Union, the production illustrates the agricultural despotism and destitution which have resulted in the formation of that group bargaining organization. Farms and families of Arkansas, Tennessee and Mississippi appear in this documentary record, which kept Mr. Hacker three months in the field. Lee R. Hays. an Arkansan, served him as liaison officer with the union and its supporters, while Gardner Jackson, of the film committee, contributed to the production's planning. Narrative comment and a musical background are scheduled additions to the pictured story, in preparation for screenings before school and civic groups interested in the success of the Southern Tenant Farmers' Union." - "Practical Films," Movie Makers, March 1937, 128.
Resources:
A copy of the film is held by the Museum of Modern Art. An excerpt of the film is held by the Library of Congress.
Subjects:
Genre:
Form:
Tags:
Repository:
Museum of Modern Art
Screenings:
May 14, 1937, Public Premiere: Judson Memorial Church, New York, NY
Viewing Notes:
America's Disinherited was sponsored by the Sharecropper Film Committee, a group of New York City-based religious and progressive reformers including documentarian Willard Van Dyke. The 30-minute short documents the indigent conditions of sharecroppers in Arkansas, Mississippi, and Tennessee, and the efforts of the Southern Tenant Farmers' Union (STFU) to unite farmers of all racial and ethnic backgrounds, in the words of the film's narrator, to "fight back against servitude and the denial of liberty." Based on a scenario written by labor activist and folk singer Lee R. Hays, the film points to the then-recently founded Delta Cooperative Farm in Mississippi as a communal model to lift sharecroppers and their families up from poverty. In its use of a problem-solution format, the film's narrative structure is characteristic of the Griersonian tradition and anticipates better-known sponsored labor films from the U.S. such as And So They Live (John Ferno and Julian Roffman, 1940) and Valley Town (Willard Van Dyke, 1940). Hays and photojournalist Alan S. Hacker (member of the New York City Amateur Cinema League) shot on location for three months with the full participation of the STFU. Songs performed by the union are supplemented by an experimental score by composer and author Paul Bowles. Hays and Hacker enlisted Prominent Unitarian minister John Haynes Holmes — co-founder of the National Association for the Advancement of Colored People (NAACP) and American Civil Liberties Union (ACLU) — to deliver the narration. The film was edited by journeyman J.V.D. Bucher whose name can be found on the credits of many nonfiction short films produced in New York during the 1930s. Bucher's career signals the growing professionalization of the documentary sector. America's Disinherited premiered at the Judson Memorial Church in New York's Greenwich Village on May 14, 1937. The Sharecropper's Film Committee contracted nontheatrical company Garrison Films to distribute. Its circulation remained limited to schools, labor unions in the Northeast and Midwest, and amateur cinema clubs. Hacker contracted an undisclosed illness during the film's on-location shoot. He passed away soon after its completion. America's Disinherited was his only directorial effort. An independent and unjustly overlooked work of genuine social commitment, the film's production evidences the porous boundaries between 'amateur' and 'professional' production during documentary's first decade. — Annotation by Tanya Goldman
---