---
---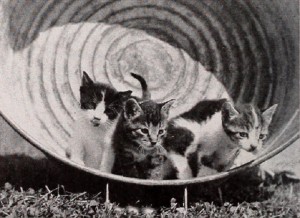 Date produced: 1947
Filmmaker(s):
Description:
"Recording a modern dairy on 8mm. film is no mean accomplishment, and Helen H. Loeffler deserves special praise for her explicit coverage of the operations involved in running Randall Farms. Miss Loeffler's carefully composed frames and neat subtitles give one a clear picture of the various stages, from milking to bottling. She has overcome the murky interiors of the barns and farm buildings by able lighting, while her pasture sequence at the conclusion of the film shows the sleek cattle at their best. Conducted Tour is a mature record film, tightly edited and presented with polish." Movie Makers, Dec. 1947, 536.
---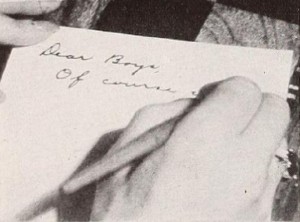 Date produced: 1943
Filmmaker(s):
Description:
"Dear Boys is a personal motion picture which might have been made in many an American home this past year. Looking about him, C. Manley DeBevoise found his two sons in the Army and his once lovely flower garden changing into a Victory vegetable patch, well tended but mundane. It was from these materials, mixed with imagination and technical competence, that Mr. DeBevoise compiled his film. Mother is discovered (as the picture begins) writing the familiar greeting to her service sons. Her comments during the course of the letter provide the subtitles and the continuity for this attractive record of domestic doings, while Mr. DeBevoise's carefully sequenced scenes tell the story. Dear Boys is simple, sincere and a family film story which any movie maker would be proud to produce — and to own." Movie Makers, Dec. 1943, 477.
---
Date produced: 1927
Filmmaker(s):
Description:
"Clyde Hammond, of 65 Murdock Street, Youngstown, Ohio, won an honorable mention in the 16 millimeter division for his study of country life, 'The Dragon Fly.'Mr. Hammond worked out a strong atmospheric study of a selfish country boy, home from college, and his hard-working farmer father."Photoplay, Jun. 1928, 137
---
Date produced: 1932
Filmmaker(s):
Description:
"Eastman Kodak Company prize for the finest example of photography in any out-of-door picture whether it wins a cash prize or not was awarded to Tatsuichi Okamoto, Maysuyama, Japan, for 'Early Summer,' 1 reel. This is a different subject than the one which won him second prize." American Cinematographer, Jan. 1933, 25.
---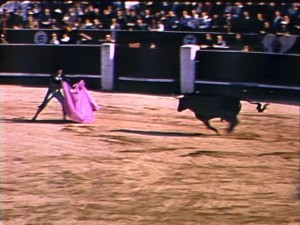 Date produced:
Filmmaker(s):
Description:
"General scenes in Spain, including farming and city life. There is a long section of a bull fight (Madrid)." UC San Diego Library.
---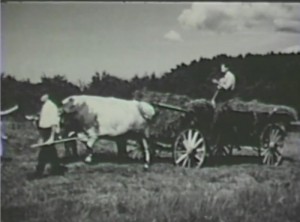 Date produced: 1934
Filmmaker(s):
Description:
"Film depicting the 1755 Expulsion of the Acadians from Grand Pre, Nova Scotia. Silent footage interspersed with written text. Scenes show the Grand Pre Church and various shots of farm life. An actress portrays Evangeline." Nova Scotia Archives.
---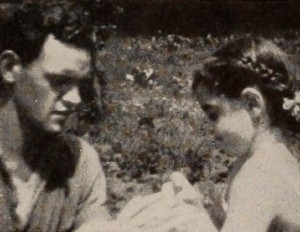 Date produced: 1947
Filmmaker(s):
Description:
"Terry Manos takes his family and his audience to the country and shows us what Farm Frolics are for those who live rurally and what fun city children can get from participating in them. Against a background of farm life that is shown largely by indirection, the children romp and play little tricks on each other, while the understanding adults take a good humored part in the proceedings. Mr. Manos's camera work is imaginative, making the most of the abundant material at hand. His greatest achievement is the creation of a fine family film that, because of its lively farm background, also holds audience interest." Movie Makers, Dec. 1947, 537.
---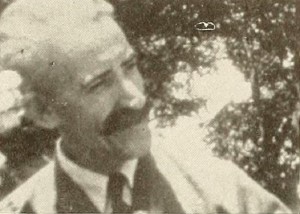 Date produced: 1941
Filmmaker(s):
Description:
"Flowering Byways, presented with well chosen musical accompaniment, is a story of the creation and growth of a home garden, cleverly interwoven with the thread of human interest. In it, Ernest Kremer has made a thoroughly enjoyable and interesting record of his father in law's gardening ability. "Pop's garden" has its beginnings in the chilly days of early spring, when the bare ground gives little promise of the profusion of bloom that is to spring up under Pop's skillful hands. We follow with keen interest the growth of the garden through subsequent months. Mr. Kremer's skill in presentation being demonstrated by the constant variety of material and by the interpolation of well chosen touches of human interest. Finally, the apotheosis of Pop's garden creation is realized when he takes first prize at the local garden club show. The flower closeups here are always excellent, but they are not made an end in themselves." Movie Makers, Dec. 1941, 565.
---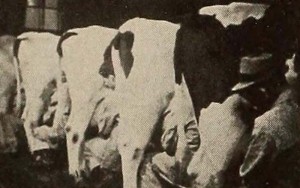 Date produced: 1938
Filmmaker(s):
Description:
"Well known for its attainments in the commercial film field, the T. W. Willard Motion Picture Company sets a new high in its publicity productions with Follow the Plow. To technical excellence they have added sound sequencing; into a record of vocational education, they have instilled beauty and human interest. The subject matter concerns the training given to selected city boys in the fundamentals of farming at the Bowdoin Farm, operated by the Children's Aid Society of New York City. Tracing the course of these boys from the sidewalks and streets to the fields, at New Hamburg, N. Y., the location of the farm, the film expands with the glorious color of the autumn country and becomes a living essay of the pleasures of farm life. Constantly changing angles and intelligent titling lend pace to the production. Despite the limited interest in the specific subject of plows and cows, the appeal is made universal through magnificent color scenes and competent treatment." Movie Makers, Dec. 1938, 618.
---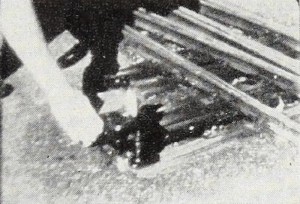 Date produced: 1951
Filmmaker(s):
Description:
"The Southwestern and Centerville Railroad boasts a roadbed of less than two miles and runs only on Saturdays — and then to "nowhere." But it undoubtedly provides the favorite ride of all the kids (as well as their equally enthusiastic parents) from the surrounding countryside. In The Fresh Milk Line, Roy Fulmer, jr., records the operation of this narrow gauge railroad on a dairy farm in New Jersey, run as a hobby by the owner of the farm. Closeups of the working of the Diesel engine, the switches and signals add technical interest; while the sequence of laying a new piece of track by presumably adult employees on the farm makes it apparent that the men enjoy "working on the railroad" as much as would any youngster. Here is one film whose interest would have been heightened by a musical accompaniment with sound effects." Movie Makers, Dec. 1951, 412.
---
Total Pages: 8