---
---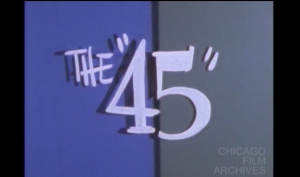 Date produced: 1961
Filmmaker(s):
Description:
"Plays out at an amateur level Jean-Luc Godard's dictum that all a film needs for a plot is a woman and a gun. This is how Margaret Conneely says The '45 came about: with a prop and an actor. From these elements she crafts a mischievous and entertaining film about a woman willing to employ any means to send away the man who comes looking for her husband with a gun." Chicago Film Archives
---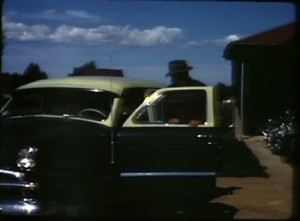 Date produced: 1951
Filmmaker(s):
Description:
"All In A Day - Consistently good photography marks this humorous document of the trials and tribulations that beset a man who goes fishing despite the objections of his wife. Overruling his wife's plea that he take her to visit her mother, the man sets out on his trip early the next morning. His first disappointment comes when the pal who was to accompany him bows out. Setting out alone, trouble comes in bunches. He gets a ticket for speeding, then a flat tire, and when he arrives at the lake selected for fishing, the boat is flooded with water. After bailing it out, the man rows out on the lake, forgetting his lunch, tackle, etc., and he must return to shore - further building up his state of high dudgeon. Before night falls, he's fallen in the lake, not to mention the fact he caught nary a fish, so he returns home a sadder but wiser man. But even then, his troubles are not over. His wife, who promised he'd 'be sorry' for going on the trip, locks him out of the house. In the closing scene he finds solace in his little son, who remains his only friend. One outstanding feature of this film is the maker's ability to cut scenes as he shoots. Result is each scene dovetails snugly with the next, and this greatly simplified, we are sure, the task of editing the film." American Cinematographer, May. 1952, 211.
---
Date produced: 1927
Filmmaker(s):
Description:
"This proved to be an unusual serio-comedy, telling of a restless young husband and how he was cured. It was very well acted by Alfred Fontana as the husband, Margaret Ervin as the vamp, Anne Howe, and Beatrice Traendly as the wife. The directon of Russell T. Ervin Jr. was remarkably good, revealing an unusual facility for telling a story concisely and quickly. Then too, he understood how to cover any histrionic imperfections of his cast. 'And How!' is a suprisingly neat amateur film" Photoplay, June. 1928, 66
---
Date produced: 1964
Description:
"Because I Say So is a club production and concerns the influence a certain "Count Polo" has on women. His latest book "Woman Perfected" advises women how to be better wives. At least one woman tries his theories - and the climax of the picture proves Count Polo knows what he is talking about - or does he?" PSA Journal, Sept. 1964, 50.
---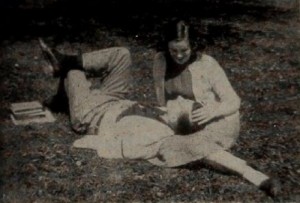 Date produced: 1953
Filmmaker(s):
Description:
"Concerto, by Warren Doremus, is a sensitive and touching story of young love, following a couple from the joy of their graduation and marriage to the anguish and pain of the man's recall to war service in Korea. The telling of this simple tale has been done with such warmth that the observer cannot help being caught up in the current of emotions which fill the film. The performances of Sallie Dunn and George Harrison as the young couple convey the right mood for each scene with complete sincerity and heart, while Mr. Doremus's direction is forceful and yet restrained. Accompanied by and an interpretation of the Warsaw Concerto of Richard Addinsell, Concerto, the film, may truly be styled a cine tone poem." Movie Makers, Dec. 1953, 332.
---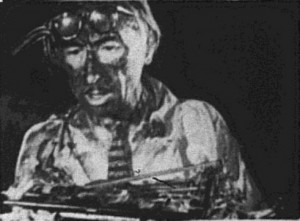 Date produced: 1954
Filmmaker(s):
Description:
"What happens when a modern gentleman of advancing years advertises for a mail-order bride and tries to answer the applicant of his choice? Der Brief, (The Letter), an excruciatingly funny farce by Dr. Oscar Wurmboeck, gives us one answer to this problem, as our shy but determined hero is confronted at every turn by confusion and frustration. Everything happens - the ink spills, the fountain pen leaks, the mechanical pencil won't hold leads, the wooden ones won't sharpen, and the typewriter refuses to type - to deter our man from his course. Competent camera work, incisive direction and crisp editing serve to point up the brilliant and appealing portrayal of the unfortunate lover by Rudy Rattinger, so that Der Brief builds quickly and smoothly from laughter to hysterics. Here is pure farce in the old tradition. It is nice to welcome it back to the filmic fold after too long an absence" PSA Journal, Jan. 1955, 50.
---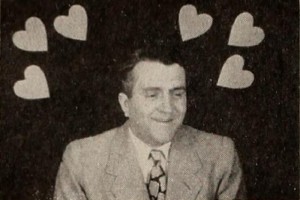 Date produced: 1946
Filmmaker(s):
Description:
"Staria Zimmerman, that charming Milwaukee minx who made her big time bow in The Boss Comes to Dinner, a 1944 Ten Best winner, has done it again in The Dizzy Top. As the impish daughter of a winsome but widowed mother, she pulls the strings in this "merryonette" show which maneuver her pretty parent into the arms of a new and handsome husband. The quite willing victim of these arch designs is, in the film, the proprietor of a swank hat shop, and it is in this bright locale that the majority of the action takes place. Patricia and Ryne Zimmerman — the producers and supporting players — have a sharp and genuine sense of farce comedy. Their lighthearted plot dances forward as gaily as the suave settings they have contrived for it. Their incidents are antic in their absurdity, their timing crisp and delicately controlled. These qualities are, to be sure, aided immeasurably by Mistress Staria, who carries off each new comic conceit with impudent but charming assurance. Mr. Zimmerman's technical execution in their latest film leaves little to be desired in competence and imagination. There is, to a heightened degree, the same warmth and brilliance in his lighting which marked The Boss. His camera viewpoints are effective and varied, cutting one into the next with precision and pace. Show pieces of cinematic imagination enrich the production, like sugar plums in a Christmas pudding. The Dizzy Top, the Zimmerman's first 16mm. effort, is a handsome step forward along their chosen course of lighthearted comedy." Movie Makers, Dec. 1946, 486.
---
Date produced: 1946
Filmmaker(s):
Description:
"In spite of the almost insurmountable difficulties in using feet to portray much of the action and most of the emotion in a movie, E. H. Sparks has managed to make Doghouse Blues completely comprehensible. A delightful farce of a bibulous fisherman, the story makes judicious use of the angler's big toe to denote thirst, hunger and any other emotion which might master a man on a solo weekend. Colorful scenes of inlets and bays, as well as attractive sequences of fishing craft, imbue the film with a flavor of authenticity. In satiric repetition, his indignant wife trails the tippling angler to the secluded spot where his boat rides at anchor, there to find him "taking the long count." A rude awakening for the errant husband and an eminently suitable final scene close the picture." Movie Makers, Dec. 1946, 471.
---
Date produced: 1930
Filmmaker(s):
Description:
"Electra, 400 ft., 16mm., produced by Clyde Hammond, is a picturization of that Greek drama. Its most novel quality is the evidence of an intelligent search for the best motion picture treatment to present an accurate film version of the story. A series of tableau like sequences were finally used with much better results than if the plot had been adapted and scenarized in the customary manner. Certainly this film version is much truer to the original than would otherwise have been possible. Not being able to erect the complicated sets that would seem necessary, Mr. Hammond used flat gray walls, producing the suggestion of ancient Greek palaces and dwellings with "props," costumes and occasional wall ornamentation. The photographic quality is uniformly good throughout and, one sequence has very good double exposures." Movie Makers, Dec. 1930, 787-788.
---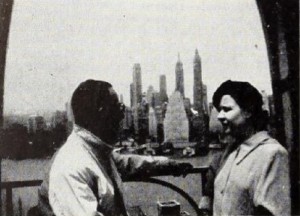 Date produced: 1950
Filmmaker(s):
Description:
"There have been in the past, and will be in the future, a number of fine amateur films portraying the great moment of marriage, the ecstatic happiness of the honeymoon. But these films have featured, by and large, the young in age those blythe favorites of the Gods of Love with whom no fervor can seem foolish, no endearment an awkward jest. Not so in From This Day Forward. The protagonists here are people of adult experience and mature mind. But though no longer young in years, they are superbly and inseparably young in spirit. This quality, as well as good taste and graciousness — which are overtones more often missing with the young — illumines each charming foot of From This Day Forward. Othon Goetz enhances this spirituality in every phase of his production. His impeccable camera work seems to glow — where another's would merely sparkle. His compositions are so inevitable as to seem effortless, while his editing adds pace to an already attractive picture." Movie Makers, Dec. 1951, 410.
---
Total Pages: 4