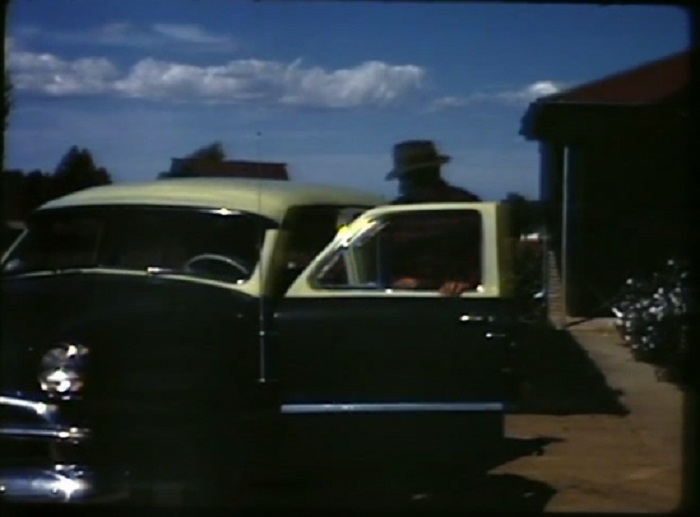 Identifier:
1248391 (Source: J. Willard Marriott Library, University of Utah)
Date produced: 1951
Filmmaker(s):
Languages:
English
Duration:
00:14:02
Length:
575 ft
Format:
16mm
Colour:
Kodachrome
Sound Notes:
Magnetic
Awards/Recognition:
American Cinematographer Amateur Movie Makers Contest, 1952 - Top Ten Award Winner
Description:
"All In A Day - Consistently good photography marks this humorous document of the trials and tribulations that beset a man who goes fishing despite the objections of his wife. Overruling his wife's plea that he take her to visit her mother, the man sets out on his trip early the next morning. His first disappointment comes when the pal who was to accompany him bows out. Setting out alone, trouble comes in bunches. He gets a ticket for speeding, then a flat tire, and when he arrives at the lake selected for fishing, the boat is flooded with water. After bailing it out, the man rows out on the lake, forgetting his lunch, tackle, etc., and he must return to shore - further building up his state of high dudgeon. Before night falls, he's fallen in the lake, not to mention the fact he caught nary a fish, so he returns home a sadder but wiser man. But even then, his troubles are not over. His wife, who promised he'd 'be sorry' for going on the trip, locks him out of the house. In the closing scene he finds solace in his little son, who remains his only friend. One outstanding feature of this film is the maker's ability to cut scenes as he shoots. Result is each scene dovetails snugly with the next, and this greatly simplified, we are sure, the task of editing the film." American Cinematographer, May. 1952, 211.
Resources:
All In a Day record at the J. Willard Marriott Library, University of Utah. See also a record of the film at the BFI.
Locations:
Mirror Lake, Utah (Filming)
Subjects:
Genre:
Form:
Repository:
Orland L. "Brig" Tapp independent film collection, J. Willard Marriott Library, University of Utah
Screenings:
Screened at Movie Makers Club of Oklahoma annual picnic July 1952 (Movie Makers, Sept. 1952, 250): Silver Lake, OK
Viewing Notes:
"Silent film (14 minutes, 2 seconds; color) showing what happens when Wayne breaks his promise to take his wife, Ethyl, to visit her mother, and goes on a fishing trip instead. Partly filmed at Mirror Lake in he Uinta Mountains. Includes a musical sound-track with screens of text for dialogue." Via the University of Utah.
Video Link:
---