---
---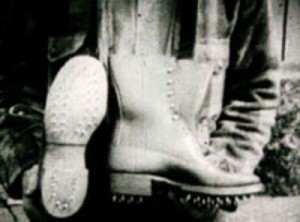 Date produced: 1930
Filmmaker(s):
Description:
"Depicts the year-round activities of the Machias Lumber Company on the Machias River in Washington County, Maine. Includes scenes of winter logging in the forest with hand tools and horses, as well as the spring log drive, with loggers using peaveys to break up log jams on icy rivers as the logs are moved from the forest to the mill. Includes footage of lumber loaded onto schooners in Machias for transport to New York and schooner being towed to sea by sardine boat." oldfilm.org
---
Date produced: 1950
Filmmaker(s):
Description:
"Record of a Woodley family trip to the Gaspé." Library and Archives Canada.
---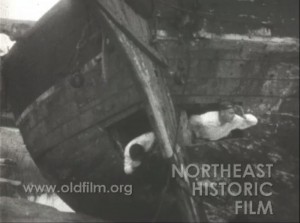 Date produced: 1930
Filmmaker(s):
Description:
"Amateur stage play directed by Roger Clapp and starring Dorothy Stebbins." Northeast Historic Film.
---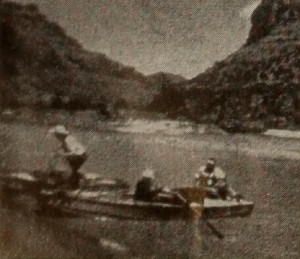 Date produced: 1953
Filmmaker(s):
Description:
"Louise M. Fetzner is a housewife who plainly likes the thrills of running the rapids down dangerous rivers while she makes movies that really move! In Green River, Mrs. Fetzner has a well paced, well photographed and altogether literate account of the adventures which she and her companions had on the Colorado's main tributary. The film is interesting and exciting, and tells its story concisely and without padding. The accompanying narrative is written and delivered effectively, although occasionally the level of the background music rises to overwhelm the narrator's voice." Movie Makers, Dec. 1953, 344.
---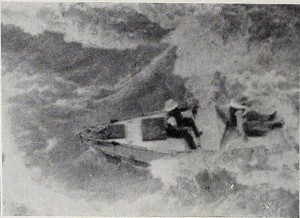 Date produced: 1950
Filmmaker(s):
Description:
"Al Morton has conquered another river. This time it is the unruly turbulence of the Green River in Utah. Not content to be simply a passenger, Mr. Morton built his own boat (and named it Movie Maker!) for shooting the rapids, one of three craft making up the river party. Green River Expedition is a record of lazy, sunny days on quiet stretches, of motor trouble and of scenery along the banks, of back breaking portages where the rapids are too dangerous to maneuver, and finally of the breath taking excitement of riding the tumultuous waters. To partake of this dangerous sport would seem accomplishment enough, but Mr. Morton puts it all on film as well, in about as sparkling, steady photography as one will ever see. The narrative accompaniment, while informative concerning the technique of river boating and the historical background of the surrounding country, seemed overfull. It is enough, in parts, to devote one's whole attention to the thrilling action on the screen." Movie Makers, Dec. 1950, 464.
---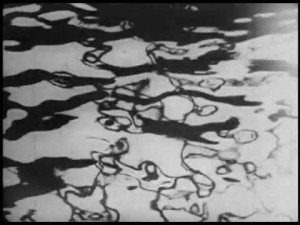 Date produced: 1928
Filmmaker(s):
Description:
"This film is a study of water in the new manner: A series of photographic shots of the reflections of boats, ferry houses, docks, etc., on water and the whole resulting in a chain of pure abstract patterns of shapes in water. Steiner achieves an astonishing tempo as his film advances. The picture is bound to attract wide attention and a great deal of discussion wherever is shown." Photoplay, Nov. 1929, 67
---
Date produced: 1956
Filmmaker(s):
Description:
"Item is an audio-visual production of Dr. Willinsky's Hellenic cruise near Greece with his wife, Sadie. Production contains footage of the ancient ruins and other landmarks they visited, including sites in Mycenae, Pergamum, Athens, Troy and Gallipoli. In the form of a travelogue, music and Dr. Willinsky's commentary accompanies images for about the first 30 minutes. The remainder of the production is mute." Ontario Jewish Archives.
---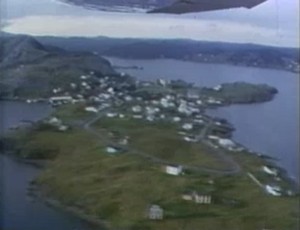 Date produced: 1980
Filmmaker(s):
Description:
"In August 1980, Robbins Barstow and his wife Meg, of Wethersfield, Connecticut, USA, went on a week-long trip to Newfoundland, Canada, to go whalewatching in the North Atlantic waters of Trinity Bay. Join them for exciting, on-the-surface, close encounters with giant humpback whales, and dramatic sightings also of finback and minke whales." Archive.org
---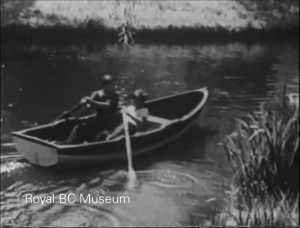 Date produced: 1950
Filmmaker(s):
Description:
"An impressionistic portrait of city life during a day off in the summertime, with poetic narration set opposite some very observant and intimate views of Vancouver and its inhabitants. These include numerous street scenes; departure of the passenger ferry 'Hollyburn'; shots of and from Interurban railway and streetcars; sequences on Chinatown, Kitsilano Beach, Stanley Park, Victory Square, and the downtown waterfront; and a glimpse inside a typical beer parlour. The film received honourable mention in the amateur category at the 1950 Canadian Film Awards." (BC Archives)

Opening credit reads: "The Vancouver Branch of the National Film Society presents..."

Additional credits (on 1986 restored version): "Restored 1986 by Dennis J. Duffy for National Film Week '86 in co-operation with Canadian Filmmakers Distribution West and the Provincial Archives of British Columbia. Restoration funded by BC Heritage Trust."
---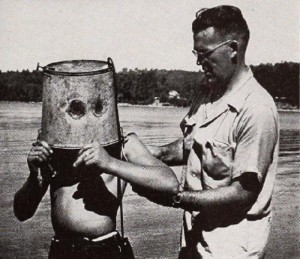 Date produced: 1942
Filmmaker(s):
Description:
"Kendall T. Greenwood, who has proved his competence in a number of detailed industrial records, turns with Incident from Life to the ways of a growing lad and achieves a clear and carefully observed record of his own youngster that will, in years to come, testify to the fact that his father took the boy seriously. Mr. Greenwood's picture is a compliment to his son and, as we think it over, an unintentional compliment to an understanding father as well. Young Greenwood is a reader. In the course of his reading, he comes upon the subject of diving, but he does not let the matter rest there. Paralleling the "spool and old coal hod" of another inventor, he contrives, out of the detritus of a trash heap and a cautious borrowing from Dad's camping outfit, a diving bell that works so successfully that he goes down with it into a lake near the family home. Father maintains an almost incredible calm and communicates some of it to his wife, although Mrs. Greenwood's face is a study, when the boy's young helper fouls the airline and has to be assisted by Mr. Greenwood. But all ends well, as an absorbing and well made picture comes to a close. Director, actor and cameraman (although Mrs. Greenwood must have lent needed aid), Mr. Greenwood has made a family film that is dignified and interesting and, above all, is one that Junior need not shrink from, as it is shown in later years." Movie Makers, Dec. 1942, 506.
---
Total Pages: 8