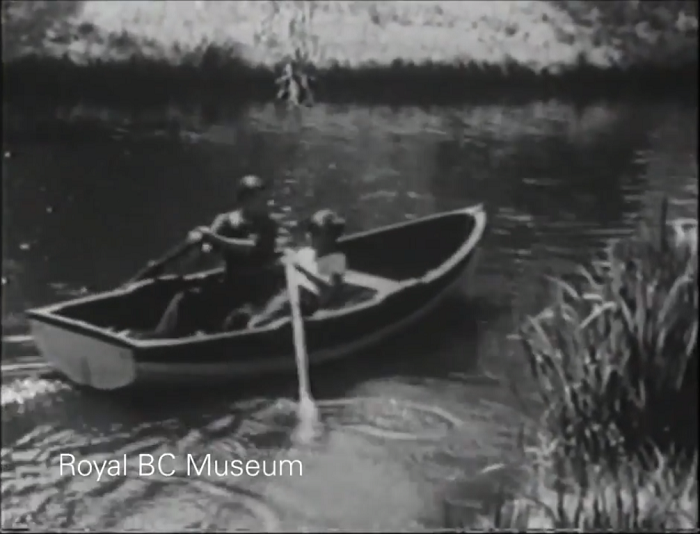 Identifier:
AAAA1518 (Source: http://search-bcarchives.royalbcmuseum.bc.ca/in-daytime-1986-restored-version)
Date produced: 1950
Filmmaker(s):
Production credits:
Languages:
English
Duration:
00:29:00
Length:
1950 original version: 782 ft. 1986 restored version: 790 ft
Format:
16mm
Colour:
B&W
Sound Notes:
Optical
Sound:
Soundtrack was originally on a wire recording (narration) & published audio discs (music); later mixed onto 1/4-inch tape. In 1986 the track was edited & remixed to make a 16mm optical track (at 24 fps) for contact printing with the new internegative.
Awards/Recognition:
BC Archives list of titled amateur films
Second Annual Canadian Film Awards, 1950 - Honourable Mention, Amateur Category.
Description:
"An impressionistic portrait of city life during a day off in the summertime, with poetic narration set opposite some very observant and intimate views of Vancouver and its inhabitants. These include numerous street scenes; departure of the passenger ferry 'Hollyburn'; shots of and from Interurban railway and streetcars; sequences on Chinatown, Kitsilano Beach, Stanley Park, Victory Square, and the downtown waterfront; and a glimpse inside a typical beer parlour. The film received honourable mention in the amateur category at the 1950 Canadian Film Awards." (BC Archives)

Opening credit reads: "The Vancouver Branch of the National Film Society presents..."

Additional credits (on 1986 restored version): "Restored 1986 by Dennis J. Duffy for National Film Week '86 in co-operation with Canadian Filmmakers Distribution West and the Provincial Archives of British Columbia. Restoration funded by BC Heritage Trust."
Resources:
"Item AAAA1518 - In the daytime : [1986 restored version]." Stanley Fox fonds, British Columbia Archives.
"UBC Man Crashes Bright Lights with New Film," The Ubyssey, February 16, 1950, p. 1.
Locations:
Chinatown, Vancouver, BC (Filming)
Stanley Park, Vancouver, BC (Filming)
Vancouver, BC (Filming)
Club Affiliation:
National Film Society of Canada (Vancouver Branch)
Subjects:
Genre:
Form:
Tags:
Repository:
BC Archives, Royal BC Museum
Screenings:
February 12, 1950: "World premiere" at The Manhattan ballroom, 1727 West Broadway: Vancouver, BC
March 25,1986: Restored version premiered at National Film Week '86, the inaugural event at the Pacific Cine Centre/Cinematheque, and part of the celebrations of Vancouver's Centennial: Vancouver, BC
February 1, 1999: Included in the program "Creative Filmmakers in 1940s Vancouver" at the Victoria Independent Film & Video Festival: Victoria, BC
Viewing Notes: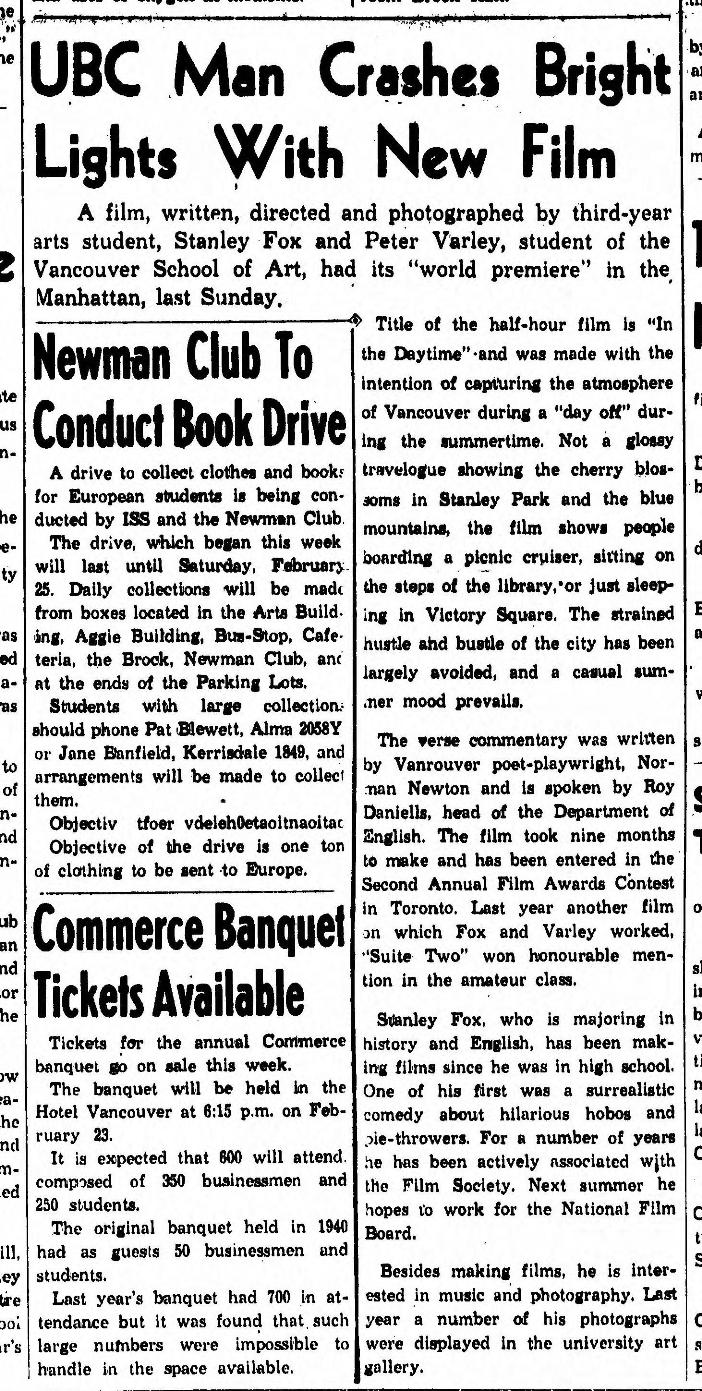 Article in The Ubyssey, February 16, 1950, p. 1
Video Link:
---