---
---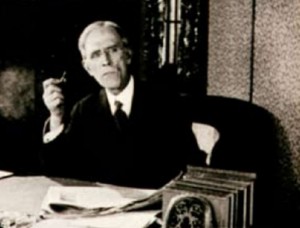 Date produced: 1938
Filmmaker(s):
Description:
"A family collaboration between Alexander Black and his son Malcolm, this film frames an excerpt from Adolph Zukor's 1919 Paramount Screen Magazine film The evolution of the picture play, made on the twenty-fifth anniversary of Black's first picture play performances, with 1938 Kodachrome footage of Alexander Black addressing the camera and reading a 1919 letter from Zukor affirming Black's status as a cinema pioneer." UC Berkeley Library.
---
Date produced: 1971
Filmmaker(s):
Description:
"Apple Sculpture by Frank L. Kreznar of Milwaukee, Wis. No Literal description of this film is possible more than the title itself. This surprising hobby is beautifully presented in this 8-minute 16mm film that was awarded a Ten Best Medal" PSA Journal, Nov. 1971, 41
---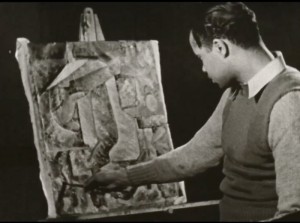 Date produced: 1940
Filmmaker(s):
Description:
"Educational film surveying the instruction of the fine and performing arts at leading African American institutions, including Calhoun, Dillard, Fisk, Hampton, and Howard. The film argues that exposure to theater, music, dance, and the fine arts produces well-rounded students and enriches their lives." National Film Preservation Foundation.
---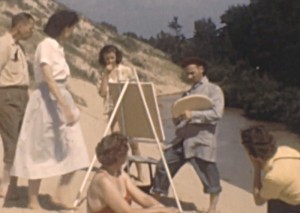 Date produced: 1955
Description:
An artist sets up his easel on a shore with the intention of painting a nature scene. Soon, people gather at the shore and thwart the artist's plan to paint.
---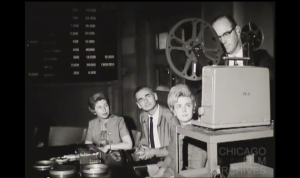 Date produced: 1963
Filmmaker(s):
Description:
"A silent documentary that follows a group from Central Cinematographers as they view, discuss and shoot films. The process of filmmking becomes transparent as the actors are seen alongside the equipment that lights and films them as well as the large number of people that are needed to prepare for a scene." Chicago Film Archives
---
Date produced: 1969
Filmmaker(s):
Description:
"Billy Joe's Art Studio, a black and white film, was winner of the Best Student Film Award by Stan Feingold of Lansdale, Pa. It's a "doing-your-thing" film. In nine minutes, Billy Joe tells (and shows) us why he is no longer a construction worker and why he feels that his "life" is in his art studio. A real example of positive thinking. The film is a little slow in spots, but is quite convincing about "doing-your-own-thing"," PSA Journal, Mar. 1970, 43.
---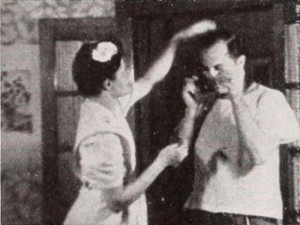 Date produced: 1944
Filmmaker(s):
Description:
"Werner Henze has shown in Bohemian Baloney that artists can make fun of themselves and their profession. An artist and his wife had planned to have a quiet evening at the movies when a telephone call warns of a visit by a wealthy prospective buyer of pictures and her meek husband. How the young couple suddenly transform their own characters and their tasteful and immaculate living room into a scene of "arty" surroundings is gaily depicted with just the right amount of farce. The compositions and lighting are excellent and there are gay, unexpected twists throughout, particularly when a self portrait of the artist comes to life." Movie Makers, Dec. 1944, 495.
---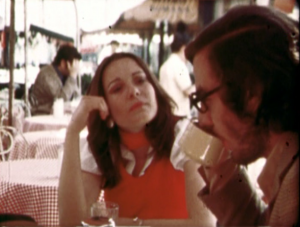 Date produced: 1974
Filmmaker(s):
Description:
"Una cinta cargada de referencias a Jean-Luc Godard (Los Carabineros, 1963) pero sobre todo concentrada en la crítica mordaz al radicalismo de izquierda. Una vez más Marco Antonio Madrid hace el papel de protagonista, un joven de pelo largo, pantalón de mezclilla y saco, que se dedica a ligar en los cafés de la Zona Rosa adoctrinando a las mujeres. Lee a Marx después de hacer el amor, y se junta con sus amigos para brindar por "la muerte de la intelectualidad burguesa". Montero utiliza intertítulos como recurso irónico, una suerte de narrador externo que interpela la historia: "¿Qué es la intelectualidad burguesa?". La lucha revolucionaria del joven y sus amigos está teñida de sentido del humor. En una secuencia que recuerda mucho a Los Carabineros, suben al techo de una fábrica para iniciar la lucha armada (...) Por último un cartel proporciona una última burla: "Y si el sol es burgués detendremos al sol" " (Vázquez Mantecón, 2012).

"A film loaded with references to Jean-Luc Godard (The Carabineers, 1963), but above all focused on biting criticism to the radical left. Once again Marco Antonio Madrid plays the role of the lead character, a young man with long hair, jeans and coat, that dedicates his time to hook up in the coffee shops of the Zona Rosa indoctrinating women. He reads Marx after making love and he gets together with his friends to toast for the "death of the bourgeois intellectuality". Montero uses intertitles as a resource for irony, a sort of outside narrator that interpellates the story: "What is bourgeois intellectuality?". The revolutionary fight of the young man and his friends is filled with a sense of humor. In a sequence that reminds us of The Carabineers, they go to the rooftop of a factory to begin the armed fight. (...) Finally a sign shows one last derision "And if the sun is bourgeois, we will stop the sun" " (Vázquez Mantecón, 2012).
---
Date produced: 1953
Filmmaker(s):
Description:
"Artist Dewey Albinson tours an old farm and helps viewers see it in terms of the unusual shapes, interesting colors and rough textures that make strong compositions." Minnesota Historical Society.
---
Date produced: 1934
Filmmaker(s):
Description:
"a soggetto"/fiction
---
Total Pages: 4