---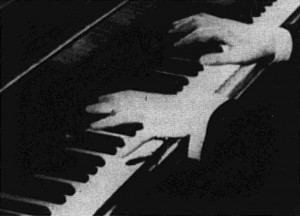 Date produced: 1959
Filmmaker(s):
Description:
"This is a short story about a musician, a pianist who has enjoyed the pleasure and popularity of concerts in many cities of Europe. And then came the war! Even in the thick of battle, when his fingers must play a different keyboard, music does not leave his mind. The picture closes with the last concert, simple, but forceful in its emotional impact" PSA Journal, Nov. 1959, 48.
---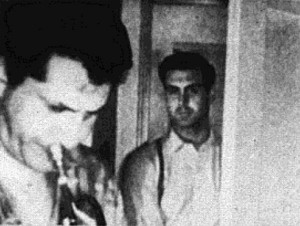 Date produced: 1954
Filmmaker(s):
Description:
"The Horn, which hepeats should not confuse with Dorothy Baker's epic Young Man With a Horn, is nevertheless a yarn about a jazz trumpeter—and, like Miss Baker's Rick Martin, one whose life ends in death after he loses his stuff. It is a swift, savage, tender and tragic tale which Dominic Mumolo (himself a professional musician) tells here. And to its telling he has brought with amazing proficiency every resource—imagery, acting, music, speech and pace—of high motion picture drama. Herb Willis plays the part of the manic and despairing trumpeter as if to the manner born. His miming makes this difficult and decisive role wholly believable, while his voice (used not as narration, but in a musing, stream-of-consciousness flashback) is by turns tender, pathetic, searing and passionate. Musical phrases, prepared especially for the picture by Frank Worth, add immeasurably to the film's power. The Horn is a stirring and trenchant study in human emotions. If you dislike having your heartbeat aroused, you'd better avoid it. But if not...then The Horn is a movie made for you" PSA Journal, Jan. 1955, 49.
---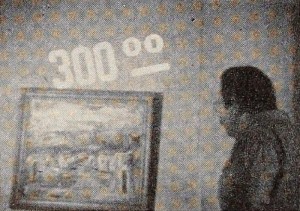 Date produced: 1952
Filmmaker(s):
Description:
"In Paintings, George E. Canning has hung his story on a simple plot that serves to display an artist's works. A lady makes an appointment with the artist with the intent of making a purchase. The artist, beset by a pile of bills, wonders what he should charge or hope to get; and here figures expressing his thoughts are cleverly superimposed on the scenes of action. The paintings are interesting in themselves for their variety of subject matter and style (this fact rather belies the artist's penury), and the interior lighting throughout the film is excellent. The artist (John S. Arhorn) is well played by himself, the lady by Julia Canning. One could wish that the plot's denouement is not so readily anticipated." Movie Makers, Dec. 1952, 340.
---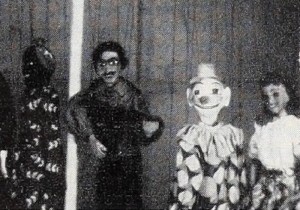 Date produced: 1951
Filmmaker(s):
Description:
"Although Hobby Show consists of little more than a walk through an exhibition hall, where the talented hobbyists of Long Beach, Calif., have exhibited their crafts and collections, Leonard E. Graham and his wife, Velma, have succeeded in making the experience a constantly interesting one. Each of the exhibits is fascinating in itself, and the Grahams have done an admirable job of overcoming the obstacles of lighting, shooting through glass (which they had to do for some detailed studies of miniatures) and filming under generally difficult conditions. Technically, the film is top drawer. The musical score for the picture of old player-piano music was an inspiration and a delight." Movie Makers, Dec. 1951, 412.
---
Date produced: 1950
Filmmaker(s):
Description:
"Symphony Of The Village: Bert Seckendorf and his Cine Special camera have caught the colorful activities of Greenwich Village in one of the best color documentaries on this subject made to date. This famed New York spot, with its renowned artists, artisans and craftsmen, is revealed in all its gay, Bohemian color as the camera chronicles the activities of sidewalk artists, potters, ceramists, wood carvers and makers of novelty jewelry. The excellent titling knits together all the scenes and sequences into another top-notch picture for which this filmer has become famous in amateur circles." American Cinematographer, May. 1951, 190-2.
---
Date produced: 1949
Filmmaker(s):
Description:
A film with the artist Morris Blackburn as its subject.
---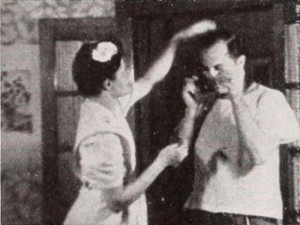 Date produced: 1944
Filmmaker(s):
Description:
"Werner Henze has shown in Bohemian Baloney that artists can make fun of themselves and their profession. An artist and his wife had planned to have a quiet evening at the movies when a telephone call warns of a visit by a wealthy prospective buyer of pictures and her meek husband. How the young couple suddenly transform their own characters and their tasteful and immaculate living room into a scene of "arty" surroundings is gaily depicted with just the right amount of farce. The compositions and lighting are excellent and there are gay, unexpected twists throughout, particularly when a self portrait of the artist comes to life." Movie Makers, Dec. 1944, 495.
---
Total Pages: 3