---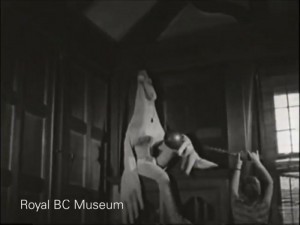 Date produced: 1947
Filmmaker(s):
Description:
"Produced as a gift to Dorothy Burritt's husband, filmmaker Oscar Burritt (who was working in Toronto at the time), this is an offbeat study of life at their Vancouver apartment -- suite 2, 1960 Robson Street. The camera explores the apartment and the household memorabilia, and Dorothy is seen sitting for a portrait by painter Peter Bortkus. Later some friends drop by for a screening of Sacha Guitry's film Pearls of the Crown, followed by a party. Among the guests are Moira Armour, film editor Maureen Balfe, UBC student Stanley Fox, photographer Peter Varley, and an unnamed figure wearing a bird costume. Most of the people shown would have been involved with the National Film Society of Canada (Vancouver Branch). Suite Two won honourable mention (amateur category) at the first Canadian Film Awards in 1949." (BC Archives)

The film was restored in 1986 by the British Columbia Archives.
---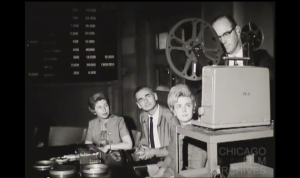 Date produced: 1963
Filmmaker(s):
Description:
"A silent documentary that follows a group from Central Cinematographers as they view, discuss and shoot films. The process of filmmking becomes transparent as the actors are seen alongside the equipment that lights and films them as well as the large number of people that are needed to prepare for a scene." Chicago Film Archives
---
Date produced: 1971
Filmmaker(s):
Description:
"Apple Sculpture by Frank L. Kreznar of Milwaukee, Wis. No Literal description of this film is possible more than the title itself. This surprising hobby is beautifully presented in this 8-minute 16mm film that was awarded a Ten Best Medal" PSA Journal, Nov. 1971, 41
---
Date produced: 1969
Filmmaker(s):
Description:
"Billy Joe's Art Studio, a black and white film, was winner of the Best Student Film Award by Stan Feingold of Lansdale, Pa. It's a "doing-your-thing" film. In nine minutes, Billy Joe tells (and shows) us why he is no longer a construction worker and why he feels that his "life" is in his art studio. A real example of positive thinking. The film is a little slow in spots, but is quite convincing about "doing-your-own-thing"," PSA Journal, Mar. 1970, 43.
---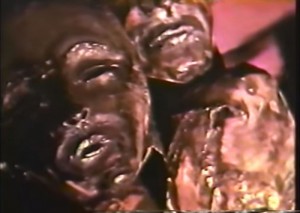 Date produced: 1968
Filmmaker(s):
Description:
"Materials of Ron Boise's art are found in the wrecking yard. Welding, burning, beating on the discarded metal, the artist works from a life model. He seeks not so much to represent the human form as to express it through his "junk" medium. Music is provided by Dr. Fred Katz, Professor of Anthropology at CSUF." Via WorldCat
---
Date produced: 1966
Description:
"The Knife is a deft little story film concerning a jealous husband who suspects a local artist of making time with his wife. Grabbing the artist's knife, he stabs the artist in the back, but the result is not at all what he, nor the audience, expects" PSA Journal, Sept. 1966, 35.
---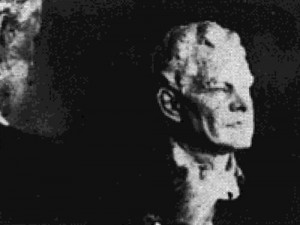 Date produced: 1965
Filmmaker(s):
Description:
"Portrait in Bronze is an excellent documentary of the making of a bronze bust from the first sitting and the sculpturing in clay right on through to the finished product. The original was shot on Ektachrome commercial and the projection print is excellent in every particular - a large factor in the film's success. It received the MPD Golden Scissors Award for best editing of any film in the contest" PSA Journal, Sept. 1965, 50.
---
Date produced: 1964
Filmmaker(s):
Description:
"The One Man Band shows the filmer, Sid Laverents, playing about six instruments all at once, not to mention an old auto horn squeezed in between his knees that would compete well with Spike Jones, He explains what he is up to as a one man band, then plays two or three selections. A lively and entertaining film" PSA Journal, Sept. 1964, 51.
---
Date produced: 1964
Filmmaker(s):
Description:
"With Stronger Reason is a photoplay about an artist who is disgusted with his efforts–disgusted, in fact, with life in general–at least what life has been to him. Flashbacks at the beginning work to the film's favor, and excellent black-and-white photography plus some of the best camera work in this contest in recent years are features of this outstanding story film. It also received the MPD Scenario Award and the MPD Sound Award" PSA Journal, Sept. 1964, 50.
---
Date produced: 1963
Filmmaker(s):
Description:
"From the era of jazz to the big swing bands, show business has meant life and music. The voices of Sophie Tucker, Al Jolson and Bing Crosby bring nostalgic memories as they sing those grand old songs. Clever, pantomime, night scenes of New York, familiar faces, along with the arrangements of Benny Goodman, Glen Miller and others, make the audience chuckle as they tap their toes and swing their shoulders, being caught up in the rhythm and excitement of "Show Biz" PSA Journal, Oct. 1963, 42.
---
Total Pages: 3