---
---
Date produced: 1935
Filmmaker(s):
Description:
"One of the most difficult of amateur subjects, a record of a child's vacation, is presented most ably in Adirondack Adventure, by Frank Gunnell, ACL. The photography was a joy to behold and showed quite clearly that a great deal of care and experience was back of it. Fine outdoor lighting, which made the most of every scene, predominated. The continuity of this competent picture was developed in such a fashion as to feature Mr. Gunnell's small son naturally and unobtrusively. Incidents which make up the picture are handled clearly and yet with a light touch. Only a movie maker would appreciate the fact that the sequences were far from casual but, instead, were staged carefully. The real charm of a summer vacation has been preserved in this fine picture." Movie Makers, Dec. 1935, 534.
---
Date produced: 1933
Filmmaker(s):
Description:
"a burlesque on "Sherlock Holmes" (HMHT 1933: 446).
---
Date produced: 1936
Filmmaker(s):
Description:
"As We Forgive, produced by the Religious Motion Picture Foundation and filmed by Kenneth F. Space, with the technical assistance of Dan Lindsay, is a fine example of weaving the theme of the picture into the very warp and woof of its photographic material. The makers of this photoplay had a sincere and simple theme to present, and the excellence of their presentation lay in the fact that every detail of the handling, both in technique and continuity, was done sincerely and simply. It is this carefully worked out unity of treatment with theme that enables the film to serve as a model for producers of photoplays with a message. The filmers particularly are to be congratulated on their handling of child actors, one of the most difficult problems to be solved successfully in any field of the drama. From the technical point of view, we may remark the well exposed interiors, in which the lighting was carefully planned to give the effect of normal illumination; the fine photographic quality displayed in the closeups and camera angles and the smooth unity of the entire technical handling." Movie Makers, Dec. 1936, 542.
---
Date produced: 1925
Filmmaker(s):
Description:
"Various family members are seen in the garden of a large house, possibly The Beeches. A woman and baby sit on a blanket in the middle of the lawn. A uniformed nanny joins them with another baby. Concludes with a shot of the two babies together on the blanket" (NWFA Online Database).
---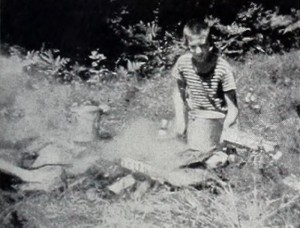 Date produced: 1945
Filmmaker(s):
Description:
"Excellent films have been made that show by more or less indirection what adults believe boys should do in camp. But what would boys like to do? Henry E. Hird, in The Big Adventure, seems almost to have thought with a boy's mind — a very real accomplishment for a busy executive — in producing this dramatic tale of boys in the woods. Two youngsters of about twelve years, armed with bows and arrows, are taken by their father on an island camping trip. Resigned, as most boys are under the instruction of their elders, they watch Father show them camp life in detail — and how he enjoys it! Suddenly he leaves for a war conference in Washington, and the two adventurers are alone for the night. A tramp appears, captures them, is outwitted by them and is seized by a helpful farmer. To bed and fears of invading bears go our heroes — when Dad returns, the conference deferred. It is a safe bet that young boys will approve Mr. Hird's dramatic movie as more realistic than some of the "approved solutions" offered to youthful campers." Movie Makers, Dec. 1945, 496.
---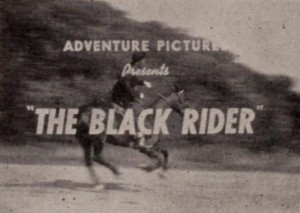 Date produced: 1941
Filmmaker(s):
Description:
"For Louis McMahon, making movies must seem to be as natural as breathing — only far more fun. It stands out in his work, from the first dynamic opening of The Black Rider to the last dramatic gun fight, in which, inevitably, the villain is vanquished and the hero left triumphant. For this film goes back to first principles of the motion picture, both in its "horse opera" subject matter and in its unfailing sense of movement and compelling excitement. True to the old traditions, this young producer has turned seemingly impossible obstacles with cinematic trickery and imagination. For the present, his technical skill has not always been equal to his creative ambition, but the genuine urge is there in abundance." Movie Makers, Dec. 1941, 566-567.
---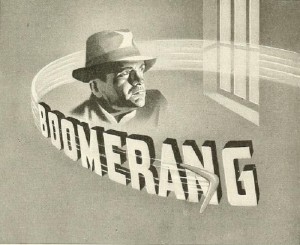 Date produced: 1940
Filmmaker(s):
Description:
"Boomerang is a simple, direct and hard hitting drama with a moral. Caught in lean times, a young man is laid off from his factory job. Lusting blindly for revenge, he kidnaps his boss's little daughter and sets off down the long, lonely road of the hunted fugitive. Days stretch into weeks, but still he eludes capture, as his patient little prisoner slowly melts his resentment with kindness and childish trust. At last, won over by the warmth of her love, he goes recklessly forth to get a doll that she wanted, only to meet death in a blaze of gunfire. The boomerang of revenge has come full circle. In this rather specialized drama, Chester Glassley has done a good job with a difficult story. The buildup is slow but relentless. The long series of outdoor hideouts is convincingly haunted with fear and menace, and the movie maker has done much to enhance their mood with an adroit use of his camera. Perhaps most outstanding, however, is the genuine portrayal of the little girl." Movie Makers, Dec. 1940, 602.
---
Date produced: 1920
Filmmaker(s):
Description:
"Inspired by a family funeral, three children in Cockermouth, Cumbria, give the recently deceased 'Jackdaw' a dignified send-off. Heather Harris, the youngest child, officiates as a priest. Sadly, no-one can now remember whether the deceased was a family pet or just a wild bird found in the garden, but this film remains as a fleeting, yet touching, picture of a moment in childhood" (BFI Player).
---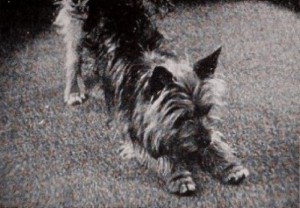 Date produced: 1948
Filmmaker(s):
Description:
"A young girl and an Australian terrier named Frisco are the ingredients of Calling Frisco, a sound on film story in which the speech is mostly from the dog's point of view. The film flows smoothly through typical scenes of a day's activities of eating and going to market and playing, ending in a dramatic climax in which Frisco protects his young mistress by warning off an intruder. Imaginative viewpoints and pleasant interior lighting are employed throughout. The dog's simple tricks are well pictured without being obtrusive, while the scene in which a bouncing ball lands in a goldfish tank, with its accompanying sound track, has the creative fantasy of Disney. Cyril Stevens has made a jolly film. " Movie Makers, Dec. 1948, 493.
---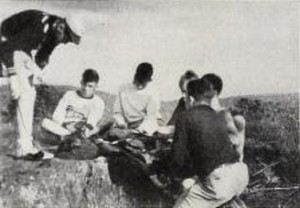 Date produced: 1936
Filmmaker(s):
Description:
"The fact that the film, Camp Pinnacle, made by Robert F. Gowen, was provided with a clear spoken accompaniment served to enhance the workmanlike excellence of its cinematic presentation. Since it was a film made, avowedly, to sell to prospect parents the advantages of Camp Pinnacle, it would hardly have been fair to look for those more delicate nuances of atmosphere and sequence which may become a labor of love in the more personal film. Thus Camp Pinnacle was chosen for its excellence as a straightforward exposition, in glowing color, of every interesting aspect of the lives of the lads and their counselors at camp. In setting this forth, Mr. Gowen has chosen simple, natural sequences and has interpreted these with technical excellence and secure knowledge of the Kodachrome medium." Movie Makers, Dec. 1936, 551.
---
Total Pages: 6