---
---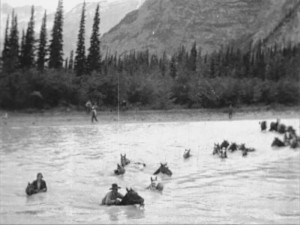 Date produced: 1931
Filmmaker(s):
Description:
"Shows an expedition through northeastern British Columbia by Mary Gibson Henry, Pennsylvania botanist and plantswoman. Mrs. Henry was interested in the legendary "Tropical Valley" of northern B.C., where the warmth of hot springs supposedly fostered vegetation not otherwise found in the region. The film was shot in the summer of 1931, during the first of four such journeys she made in the period 1931-1935. Mrs. Henry was accompanied by her husband, Dr. J. Norman Henry; four of her children; topographer Knox McCusker (of the Dominion Topographical Surveys Branch); Dr. B.H. Chandler, a surgeon friend; and outfitter S. Clark, as well as various wranglers. The second and third reels of this three-reel film show the party of 16 travelling by pack-train, crossing rivers, caching food, and fishing, as well as some camp scenes. At an encampment of "Grand Lake Indians" on the Tetsa River, they engage Charlie Macdonald, the chief's son, to guide them to Toad Hot Springs on the Toad River, but they do not proceed north to Liard Hot Springs. On the return trip south, stops include St. Paul's Lake, Henry River, and Lake Mary and Lake Josephine [named after the Henry's daughters]; these place names do not seem to have become official. Following the Peace River, they arrive at Hudson's Hope (having travelled 800 miles in 79 days), and continue down river to Taylor Flats." (BC Archives)

The title given above is a supplied title based on the film contents. The actual title of the film is unknown, since it survives as reels 2 and 3 of 3 -- and the actual title and credits (if any) would likely have been at the start of reel 1.
---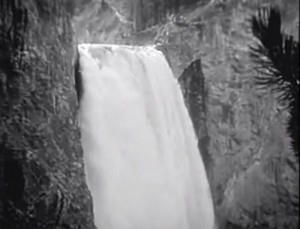 Date produced: 1936
Filmmaker(s):
Description:
"An eight week Western camping trip in the summer of 1936 by seven boys from the Hartford, Connecticut area, under the leadership of Ken Strong, a Hartford Seminary graduate. Filmed by then teenage amateur movie maker Robbins Barstow (1919-2010)." Center for Home Movies.
---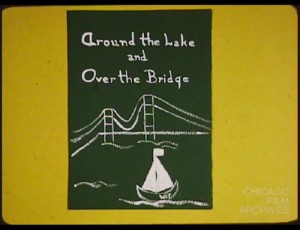 Date produced: 1965
Filmmaker(s):
Description:
"Travelogue of cities, towns, and outdoor activities found around Lake Michigan. There is a wide variety of footage, including sand dunes, beaches, parades, many shots of flowers, ships, industrial ports scenes, attractions of historic horse-and-buggy town Mackinaw City, a mansion on fire, Grand Hotel: World's Largest Summer Hotel, camping, rafting, farmers harvesting crops, and the Prudential Building in Chicago." Chicago Film Archives.
---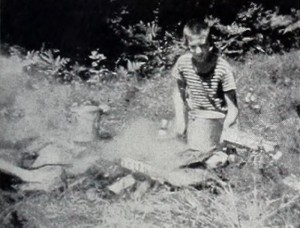 Date produced: 1945
Filmmaker(s):
Description:
"Excellent films have been made that show by more or less indirection what adults believe boys should do in camp. But what would boys like to do? Henry E. Hird, in The Big Adventure, seems almost to have thought with a boy's mind — a very real accomplishment for a busy executive — in producing this dramatic tale of boys in the woods. Two youngsters of about twelve years, armed with bows and arrows, are taken by their father on an island camping trip. Resigned, as most boys are under the instruction of their elders, they watch Father show them camp life in detail — and how he enjoys it! Suddenly he leaves for a war conference in Washington, and the two adventurers are alone for the night. A tramp appears, captures them, is outwitted by them and is seized by a helpful farmer. To bed and fears of invading bears go our heroes — when Dad returns, the conference deferred. It is a safe bet that young boys will approve Mr. Hird's dramatic movie as more realistic than some of the "approved solutions" offered to youthful campers." Movie Makers, Dec. 1945, 496.
---
Date produced: 1926
Filmmaker(s):
Description:
"A 1926 hunting trip in the East Kootenay region. The hunting party comprises Allan H. De Wolf, Claire and Elmore Staples, Bob Grimes, and Barney and Ralph Clifford, with Mr. and Mrs. Paul Stevens as guide and cook respectively, and 'Cheerful Joe' as Wrangler. The film shows the party on the trail with pack horses, in camp, and hunting bear, deer, elk and mountain goat. Specific locations include Elk Creek, Premier Lake, White River and Whiteswan Lake. There are good sequences on the packing of a pack horse and the skinning of big game. De Wolf's companions on this trip were his partners in the Western Explorations mine at Silverton" British Columbia Archives.
---
Date produced: 1937
Filmmaker(s):
Description:
"Footage of a Jewish boys camp in Bridlington for boys from Manchester, Birmingham, Sheffield and Glasgow. The member parade around in uniform playing brass instruments, an officer take the salute and the boys do rifle drills. The cadets are then seen laying wreaths and parading. There are then scenes of the boys going down to the beach and playing in the sea." (NWFA Online Archive)
---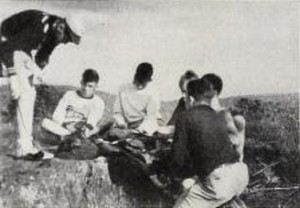 Date produced: 1936
Filmmaker(s):
Description:
"The fact that the film, Camp Pinnacle, made by Robert F. Gowen, was provided with a clear spoken accompaniment served to enhance the workmanlike excellence of its cinematic presentation. Since it was a film made, avowedly, to sell to prospect parents the advantages of Camp Pinnacle, it would hardly have been fair to look for those more delicate nuances of atmosphere and sequence which may become a labor of love in the more personal film. Thus Camp Pinnacle was chosen for its excellence as a straightforward exposition, in glowing color, of every interesting aspect of the lives of the lads and their counselors at camp. In setting this forth, Mr. Gowen has chosen simple, natural sequences and has interpreted these with technical excellence and secure knowledge of the Kodachrome medium." Movie Makers, Dec. 1936, 551.
---
Date produced: 1952
Filmmaker(s):
Description:
A Camper and His Canoe was filmed at Camp Kawagama, the youth summer camp ran by the filmmaker and his wife.
---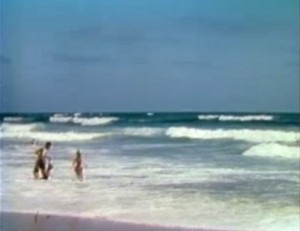 Date produced: 1961
Filmmaker(s):
Description:
"During five summers from 1957 to 1961, the five-member Barstow family of Wethersfield, Connecticut, set out to visit all 48 of the then United States of America on a series of month-long camping trips. Part I includes seeing famous sites from "America's History" in 24 Eastern, Northern, and Southern states." Archive.org
---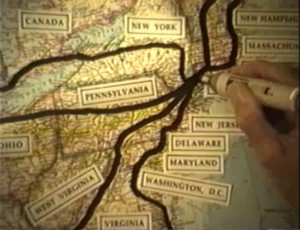 Date produced: 1961
Filmmaker(s):
Description:
"During five summers from 1957 to 1961, the five-member Barstow family of Wethersfield, Connecticut, set out to visit all 48 of the then United States of America on a series of month-long camping trips. Part II showcases "America's Wonderlands" with 18 National Parks and other exciting attractions in the great Northwest and Southwest." Archive.org
---
Total Pages: 3