---
---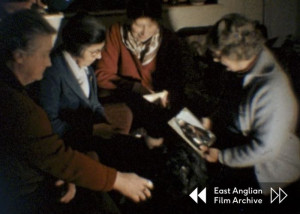 Date produced: 1965
Filmmaker(s):
Description:
'Silent film shot by Miss Philippa Miller recording scenes of people and activities around the 1930s-style bay-fronted terraced houses and gardens in a small residential close at different seasons of the year. Miss Miller lived in Norwich so the film has provisionally been linked to Norwich, but identification of the location would be welcome. The film captures the relaxed and friendly relationship between the women, men and children filmed and Miss Miller behind the camera. From the film stock marks it appears that the film was shot between 1965 and 1967.
All but two of the scenes are filmed outdoors. Indoors we see four women sitting together looking at two boxed costume dolls and stroking a black poodle, and a brief scene of an elderly lady. The exterior scenes were filmed during winter, spring and summer and capture people's activities and domestic chores around their homes and gardens, their comings and goings, and various pet dogs. Scenes include: women clearing a path through snow; a row of ten sparrows on a ledge above a snowy roof; a man washing a car with cloth and bucket of water as laundry billows on a washing line; a woman dressed to go out in hat and coat carrying bags; children playing with a dog, a football, a toy pram and a toy tractor; a bride in white outfit with bouquet standing with a man, perhaps her father, and a woman chauffeur in peaked cap helping people into a car as they leave for a wedding; crocuses; another man washing a car; a boy on a tricycle; a knife grinder at work, operating his machine by treadle within a handcart with large wheels; a man mowing the lawn a man painting the front gate of a spring garden; a young man and woman; a man up a ladder cleaning windows; women with two children in matching coats; a house under construction with the timber frame of the upper storey and roof open; a woman hanging out sheets on a washing line; a woman shaded beneath a floral parasol standing in front of flowering rose bushes; a woman setting off on a bicycle; a woman holding a baby; children sitting on a lawn and playing with modelling clay; a young man; a woman at a window; a chaffinch; rose bushes; another lady dressed in hat and coat with bag going out; a woman playing ball with the black poodle; a man using an axe to chop at the roots in a hole around a tree stump' (EAFA).
---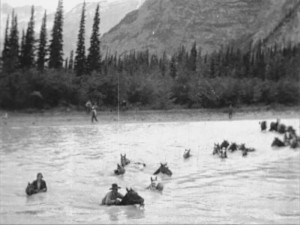 Date produced: 1931
Filmmaker(s):
Description:
"Shows an expedition through northeastern British Columbia by Mary Gibson Henry, Pennsylvania botanist and plantswoman. Mrs. Henry was interested in the legendary "Tropical Valley" of northern B.C., where the warmth of hot springs supposedly fostered vegetation not otherwise found in the region. The film was shot in the summer of 1931, during the first of four such journeys she made in the period 1931-1935. Mrs. Henry was accompanied by her husband, Dr. J. Norman Henry; four of her children; topographer Knox McCusker (of the Dominion Topographical Surveys Branch); Dr. B.H. Chandler, a surgeon friend; and outfitter S. Clark, as well as various wranglers. The second and third reels of this three-reel film show the party of 16 travelling by pack-train, crossing rivers, caching food, and fishing, as well as some camp scenes. At an encampment of "Grand Lake Indians" on the Tetsa River, they engage Charlie Macdonald, the chief's son, to guide them to Toad Hot Springs on the Toad River, but they do not proceed north to Liard Hot Springs. On the return trip south, stops include St. Paul's Lake, Henry River, and Lake Mary and Lake Josephine [named after the Henry's daughters]; these place names do not seem to have become official. Following the Peace River, they arrive at Hudson's Hope (having travelled 800 miles in 79 days), and continue down river to Taylor Flats." (BC Archives)

The title given above is a supplied title based on the film contents. The actual title of the film is unknown, since it survives as reels 2 and 3 of 3 -- and the actual title and credits (if any) would likely have been at the start of reel 1.
---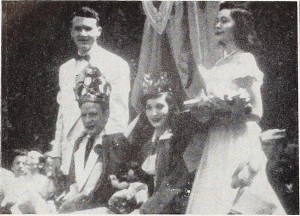 Date produced: 1950
Filmmaker(s):
Description:
"With the help of almost unbelievable luck from the weather man, Helen C. Welsh has achieved a high level of what is essentially newsreel filming. Her subject matter is in itself appealing — displays of tulips in a public park, children wearing amazing holiday headgear, dancers performing Old World figures, all climaxed by the pageantry of the coronation of a new king and queen of the festival. But Miss Welsh handles it expertly. Her viewpoints are varied and her camera work accomplished, while a wisely sparse and well recorded narrative ties the whole presentation into an attractive package. Albany's Tulip Festival is colorful, entertaining and fulsome as a record of a city's spring holiday." Movie Makers, Dec. 1950, 464.
---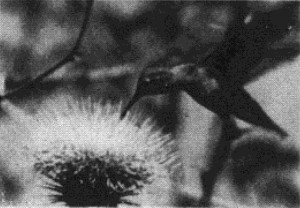 Date produced: 1960
Filmmaker(s):
Description:
"Wildflowers and desert life of some of the birds and small animals have called many but few have captured the beauty with such ease and grace. There is an intimacy with all the creatures as we watch them feed and play and the birds nest in the cactus, feeding and training the young. Those who live with and appreciate the desert will be delighted with this gem of a nature film" PSA Journal, Nov. 1960, 39.
---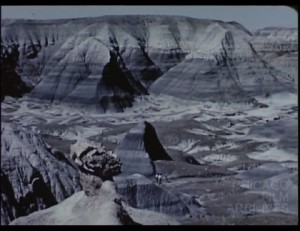 Date produced: 1960
Filmmaker(s):
Description:
"A two-part lecture travelogue film on the state of Arizona. The film would have been originally presented with live narration by the filmmaker, Robert Davis. Part one includes footage of desert landscapes, ranches, pre-historic artifacts, Native American art production & industry (wigs, textiles, etc), saloons, regional industry (logging, agricultural, and dams). Part two also includes footage of desert landscapes, cacti and dams as well as scenes from Phoenix and the surrounding area. Highlights from part two include a tour of a trailer park and footage of people skiing and sledding down a snowy hill." Chicago Film Archives.
---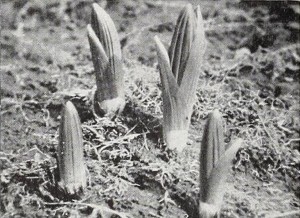 Date produced: 1942
Filmmaker(s):
Description:
"Most movie makers look about for suitable music for a picture, only after it has been completed. Herman Bartel, who produced Awakening, scores his films just the other way around. He listens to a composition that he likes until he thinks of picture material that will express its mood. Since Mr. Barters appreciation and selection of music are above reproach and since his ability to take a camera and a roll of film and make them sing is well known, we can only add that this is his finest film to date. It is very difficult to explain a Bartel picture. You can say that the subjects are flowers, trees, animals and the other common manifestations of nature, but what you must see to believe is that they have never been filmed in quite his way before. Mr. Bartel does not use parts of records and change from one to another with abrupt shifts in themes. Instead, he uses each record in full. In this film, the blend of picture and music is so matched that, in some scenes, reeds and bushes sway to the rhythm of the music. Needless to say, the camera work in this picture is superb. Other color films may be exposed as well, but they will never be exposed better because here is more than perfect exposure and lighting. Mr. Bartel has taken what existed and has made it say what he wanted it to say through skillful control of the devices at hand." Movie Makers, Dec. 1942, 489, 506.
---
Date produced: 1969
Filmmaker(s):
Description:
Bamboo of Japan is an 8mm film in color by Mr. Hutsutaro Kageyama of Kyoto, Japan. Bamboo to most of us means simply a fishing pole and not much more. Not so much in Japan. Bamboo is so much in demand there that bamboo tree plantations are quite prevalent. You will learn things about the use of bamboo that you never dreamed about of in the 22 minutes of this film. A very educational film and a credit to the country of its origin, Japan," PSA Journal, Mar. 1970, 43.
---
Date produced: 1935
Filmmaker(s):
Description:
"Among the pictures awarded Honorable Mention is Bermuda, the Floating Gardens, a color travelog of that island, another of the competent publicity pictures made by Konstantin T. Kostich. ACL, which make the audience yearn to buy a steamship ticket and set sail. Mr. Kostich has mastered the art of this appeal, and Bermuda, the Floating Gardens is one of the best examples of his genius. Here are shown glimpses of the comfort of the ship, the colorful beauties of the island and some of the recreational facilities that are offered. There is splendid color photography throughout and numerous examples of cinematic decor which enliven the work but which do not detract from the film's primary purpose. Notable are such things as the shadow of the horse and carriage moving along the warm colored stone wall and a cleverly planned composition of a winding road banked with brilliant flowers. It would be dangerous to look at this picture around February." Movie Makers, Dec. 1935, 550-551.
---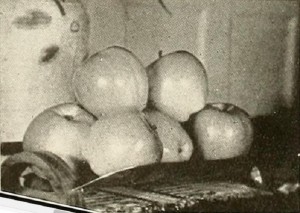 Date produced: 1941
Filmmaker(s):
Description:
"Blossom Forth the Fruit is a straightforward, well made, carefully planned and well exposed instructional film, which tells how to care for apple trees and their fruit in all stages of growth. Its maker, William R. Hutchinson, has a thorough knowledge of apple growing, and he also had the collaboration of specialists from Cornell University and the Farm Bureau. The clear presentation of all the phases of treatment that are necessary to insure the growth of fine fruit is noteworthy. From the technical point of view, microscopic color studies of insects, parasites and blights furnish excellent examples of ultra closeup technique. Methods of spraying and other protective treatment of the fruit are shown in clearly presented detail. Because of its clear presentation and uniformly high technical quality, this film is worthy of the highest commendation." Movie Makers, Dec. 1941, 564-565.
---
Date produced: 1932
Filmmaker(s):
Description:
"Scenes of various arrangements and exhibits at Bramhall flower show in 1934. Interior shots of the exhibition marquees, show table displays being judged by show ground officials. The film also includes footage of the flower shows at Southport and Mottram in 1932. Various livestock classes are judged in the competition ring. The winners of each section are seen standing with their owners in front of the camera." (NWFA Online Database)
---
Total Pages: 5