---
Date produced: 1947
Filmmaker(s):
Description:
"Item is a film of a trip to Hawaii taken by Dr. Willinsky and his wife, Sadie. In the form of a travelogue, footage of Hawaii's landscape, vegetation, landmarks and local population is interspersed with captions that were added in by Dr. Willinsky to provide information about the country's culture. Footage includes shots of sites around Honolulu and Waikiki, surfers, Hawaiian flowers, churches and temples, sugar cane farming and singers performing outside a hotel. Sadie is occassionally spotted exploring the sites and interacting with locals."
---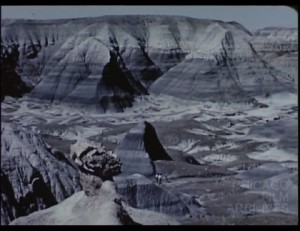 Date produced: 1960
Filmmaker(s):
Description:
"A two-part lecture travelogue film on the state of Arizona. The film would have been originally presented with live narration by the filmmaker, Robert Davis. Part one includes footage of desert landscapes, ranches, pre-historic artifacts, Native American art production & industry (wigs, textiles, etc), saloons, regional industry (logging, agricultural, and dams). Part two also includes footage of desert landscapes, cacti and dams as well as scenes from Phoenix and the surrounding area. Highlights from part two include a tour of a trailer park and footage of people skiing and sledding down a snowy hill." Chicago Film Archives.
---
Date produced: 1964
Filmmaker(s):
Description:
"How tomatoes change from blossom to fruit -- Frame by frame shots of tomato blossom giving birth to tomato -- Care of tomato plants." UC San Diego Library.
---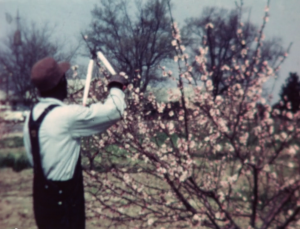 Date produced: 1967
Filmmaker(s):
Description:
"The life cycle of the peach -- from peach blossom to peach pie" (Holmes, 2018).
---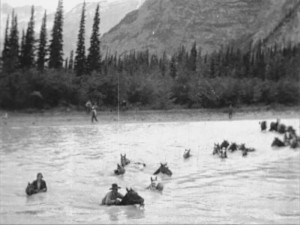 Date produced: 1931
Filmmaker(s):
Description:
"Shows an expedition through northeastern British Columbia by Mary Gibson Henry, Pennsylvania botanist and plantswoman. Mrs. Henry was interested in the legendary "Tropical Valley" of northern B.C., where the warmth of hot springs supposedly fostered vegetation not otherwise found in the region. The film was shot in the summer of 1931, during the first of four such journeys she made in the period 1931-1935. Mrs. Henry was accompanied by her husband, Dr. J. Norman Henry; four of her children; topographer Knox McCusker (of the Dominion Topographical Surveys Branch); Dr. B.H. Chandler, a surgeon friend; and outfitter S. Clark, as well as various wranglers. The second and third reels of this three-reel film show the party of 16 travelling by pack-train, crossing rivers, caching food, and fishing, as well as some camp scenes. At an encampment of "Grand Lake Indians" on the Tetsa River, they engage Charlie Macdonald, the chief's son, to guide them to Toad Hot Springs on the Toad River, but they do not proceed north to Liard Hot Springs. On the return trip south, stops include St. Paul's Lake, Henry River, and Lake Mary and Lake Josephine [named after the Henry's daughters]; these place names do not seem to have become official. Following the Peace River, they arrive at Hudson's Hope (having travelled 800 miles in 79 days), and continue down river to Taylor Flats." (BC Archives)

The title given above is a supplied title based on the film contents. The actual title of the film is unknown, since it survives as reels 2 and 3 of 3 -- and the actual title and credits (if any) would likely have been at the start of reel 1.
---
Date produced:
Filmmaker(s):
Description:
This film was produced at some time in the 1950s.
---
Date produced:
Filmmaker(s):
Description:
"The unique wilderness of the Spatsizi Plateau, and the area's flora, fauna and scenery, as observed by guide-outfitter Tommy Walker. The film points out the negative impact of recent development in the area, and emphasizes the importance of preserving the Spatsizi. Mountain sheep, Stone sheep, Osborn caribou, moose, eagles, beaver, marmots, and many other wildlife species are shown" British Columbia Archives.
This film was produced at some time between 1956 and 1970.
---
Date produced: 1937
Filmmaker(s):
---
Date produced: 1969
Filmmaker(s):
Description:
Bamboo of Japan is an 8mm film in color by Mr. Hutsutaro Kageyama of Kyoto, Japan. Bamboo to most of us means simply a fishing pole and not much more. Not so much in Japan. Bamboo is so much in demand there that bamboo tree plantations are quite prevalent. You will learn things about the use of bamboo that you never dreamed about of in the 22 minutes of this film. A very educational film and a credit to the country of its origin, Japan," PSA Journal, Mar. 1970, 43.
---
Date produced: 1967
Description:
"There Was a Tramp has, at first fade-in, a similarity to other tramp pictures, but the life breathed into the main character is what brings this film out of the ordinary and sets it apart from the rest. The story line becomes almost secondary to the acting of the tramp and his portrayal" PSA Journal, Aug. 1967, 36.
---
Total Pages: 4