---
---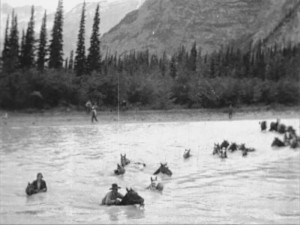 Date produced: 1931
Filmmaker(s):
Description:
"Shows an expedition through northeastern British Columbia by Mary Gibson Henry, Pennsylvania botanist and plantswoman. Mrs. Henry was interested in the legendary "Tropical Valley" of northern B.C., where the warmth of hot springs supposedly fostered vegetation not otherwise found in the region. The film was shot in the summer of 1931, during the first of four such journeys she made in the period 1931-1935. Mrs. Henry was accompanied by her husband, Dr. J. Norman Henry; four of her children; topographer Knox McCusker (of the Dominion Topographical Surveys Branch); Dr. B.H. Chandler, a surgeon friend; and outfitter S. Clark, as well as various wranglers. The second and third reels of this three-reel film show the party of 16 travelling by pack-train, crossing rivers, caching food, and fishing, as well as some camp scenes. At an encampment of "Grand Lake Indians" on the Tetsa River, they engage Charlie Macdonald, the chief's son, to guide them to Toad Hot Springs on the Toad River, but they do not proceed north to Liard Hot Springs. On the return trip south, stops include St. Paul's Lake, Henry River, and Lake Mary and Lake Josephine [named after the Henry's daughters]; these place names do not seem to have become official. Following the Peace River, they arrive at Hudson's Hope (having travelled 800 miles in 79 days), and continue down river to Taylor Flats." (BC Archives)

The title given above is a supplied title based on the film contents. The actual title of the film is unknown, since it survives as reels 2 and 3 of 3 -- and the actual title and credits (if any) would likely have been at the start of reel 1.
---
Date produced: 1950
Filmmaker(s):
Description:
"Ah! Wilderness: The stark beauty of remote mountain and plain areas, as yet untouched by the unrelenting surge of modern civilization, has been caught by Charles Benjamin's camera and Kodachrome film. Adapted from the book Stone Dust, by Frank Ernest Hill, Benjamin's film opens with scenes of mountain peaks and passes in winter- peaks mantled in snow, and trickling brooks that somehow have evaded the wintry grip of Jack Frost. The picture progresses in a like manner through Spring, Summer and Autumn, rendering a pictorial account of the ever-changing seasons in one of the few remaining wilderness areas of America. The picture discloses skillful camera handling as well as a talent for building interesting continuity through artful editing and titling." American Cinematographer, May 1951, 189
---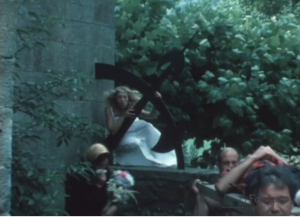 Date produced:
Filmmaker(s):
Description:
El filme comienza con un hombre vagando por el campo. Encuentra a una mujer vestida de blanco y comienzan a besarse, hasta que eventualmente caen sobre el pasto. El hombre lleva a la mujer vestida de blanco a conocer a una mujer mayor que la rechaza y la hace huir. El hombre va en su búsqueda y nota que ella tiene patas de pato, él cae al suelo y muera mientras ella coloca un pequeño costal café cerca de su pecho. La película muestra después a un grupo de hombres cargando su cuerpo hacia su ceremonia fúnebre mientras la mujer mayor llora detrás de la procesión y la mujer de blanco observa escondida en una esquina. Cuando el cuerpo es dejado solo, la mujer de blanco se aproxima para tomar el costal café y desaparece.

The film begins with a man wandering in the country. He finds a woman dressed in white and they begin to kiss, eventually falling on the grass. The man takes the woman dressed in white to meet an older woman who rejects her and makes her leave. He goes looking for the woman in white and sees that she has duck legs, he falls and dies while she places a small brown sack by his chest. The film then shows men carrying his body to his burial while the older woman cries behind the funeral procession and the woman in white watches hiding in a corner. When the body is left alone, the woman in white approaches him and takes the brown sack back and leaves.
---
Date produced:
Filmmaker(s):
Description:
"Sid and Charlotte take a trip to Prudhoe Bay, the Alaskan pipe-line, and other points of interest in Alaska." UCLA Film & Television Archive.
---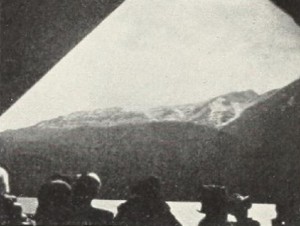 Date produced: 1937
Filmmaker(s):
Description:
"It is only natural that a picture that has to do with a trip to Alaska would have a great deal of scenic footage. How to make that scenic footage, in which there is no action, interesting and seem to have action was the thing that Denny accomplished." Home Movies, June 1939, 227.
---
Date produced: 1930
Filmmaker(s):
Description:
"Along Utah Trails shows Utah scenery, including Hayden's Peak and Mirror Lake." University of Utah Marriott Library.
---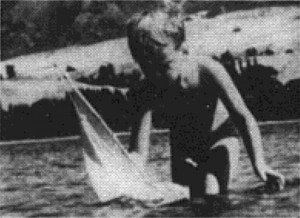 Date produced: 1960
Filmmaker(s):
Description:
"Lindsay takes us on one of his family holidays into the mountain and lake areas. We are among the snow-capped hills, lush valleys, and many wild flowers, motoring and water-skiing on the lake" PSA Journal, Nov. 1960, 41.
---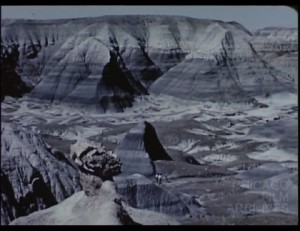 Date produced: 1960
Filmmaker(s):
Description:
"A two-part lecture travelogue film on the state of Arizona. The film would have been originally presented with live narration by the filmmaker, Robert Davis. Part one includes footage of desert landscapes, ranches, pre-historic artifacts, Native American art production & industry (wigs, textiles, etc), saloons, regional industry (logging, agricultural, and dams). Part two also includes footage of desert landscapes, cacti and dams as well as scenes from Phoenix and the surrounding area. Highlights from part two include a tour of a trailer park and footage of people skiing and sledding down a snowy hill." Chicago Film Archives.
---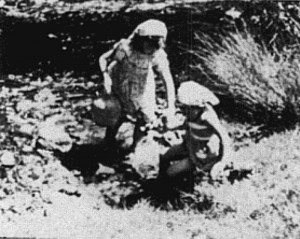 Date produced: 1957
Filmmaker(s):
Description:
"Antonio Cernuda has created a pictorial mood, a feeling of being there, and a desire to live it again. His choice of music has contributed a great deal to this delightful picture. It begins in the early fall and we move quickly to the gathering of apples, processing, and the bottling of cider. There are celebrations of the gathering of the harvest, girls and boys in native Spanish dress, with the frolic of the occasion and the solemnity of the religious spirit. The first snow of winter, as the leaves are about gone, and on into the heavier snows and ice of winder as the people go about their daily travels—afoot, by horse-drawn vehicle, and train. The transition to spring is so skillfully set forth with the melting snow and turbulent streams that we are hardly aware of the passing of winter. Soon there is a burst of spring everywhere and then summer with its crops, vacation activities, boating, fishing, tug-of-war, and outdoor Mass. The picture opens and closes with artistic views of the mountainous country. We might think of this as the four seasons. Asturias, with its deep canyons and mountains, with scars of its heroic history, that have the darkness of coal in its womb, the whiteness of snow on its head, and the pink of apple blossoms on its body. Asturias lets her men go out into the world with the certainty that the homesickness for her beauty will always make them return." PSA Journal, Nov. 1957, 31.
---
Date produced: 1938
Filmmaker(s):
---
Total Pages: 8