---
---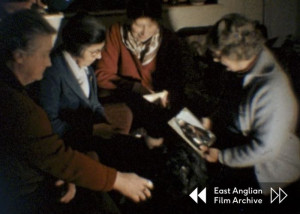 Date produced: 1965
Filmmaker(s):
Description:
'Silent film shot by Miss Philippa Miller recording scenes of people and activities around the 1930s-style bay-fronted terraced houses and gardens in a small residential close at different seasons of the year. Miss Miller lived in Norwich so the film has provisionally been linked to Norwich, but identification of the location would be welcome. The film captures the relaxed and friendly relationship between the women, men and children filmed and Miss Miller behind the camera. From the film stock marks it appears that the film was shot between 1965 and 1967.
All but two of the scenes are filmed outdoors. Indoors we see four women sitting together looking at two boxed costume dolls and stroking a black poodle, and a brief scene of an elderly lady. The exterior scenes were filmed during winter, spring and summer and capture people's activities and domestic chores around their homes and gardens, their comings and goings, and various pet dogs. Scenes include: women clearing a path through snow; a row of ten sparrows on a ledge above a snowy roof; a man washing a car with cloth and bucket of water as laundry billows on a washing line; a woman dressed to go out in hat and coat carrying bags; children playing with a dog, a football, a toy pram and a toy tractor; a bride in white outfit with bouquet standing with a man, perhaps her father, and a woman chauffeur in peaked cap helping people into a car as they leave for a wedding; crocuses; another man washing a car; a boy on a tricycle; a knife grinder at work, operating his machine by treadle within a handcart with large wheels; a man mowing the lawn a man painting the front gate of a spring garden; a young man and woman; a man up a ladder cleaning windows; women with two children in matching coats; a house under construction with the timber frame of the upper storey and roof open; a woman hanging out sheets on a washing line; a woman shaded beneath a floral parasol standing in front of flowering rose bushes; a woman setting off on a bicycle; a woman holding a baby; children sitting on a lawn and playing with modelling clay; a young man; a woman at a window; a chaffinch; rose bushes; another lady dressed in hat and coat with bag going out; a woman playing ball with the black poodle; a man using an axe to chop at the roots in a hole around a tree stump' (EAFA).
---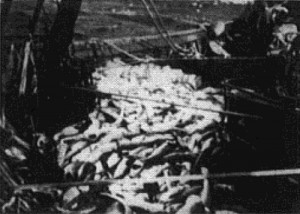 Date produced: 1961
Filmmaker(s):
Description:
"Almost every day of the year some 10 trawlers set out from the twin ports of Grimby and Hull, England, for the Arctic fishing grounds to return three weeks later with their cargo of deep sea fish. This film is a record of one such voyage with sound effects recorded on location. This will generate a nostalgic effervescence for those lovers of deep sea fishing and all will wish to join in the adventure without having to share in the work and inconvenience. The film moves with interest and excitement, a treat for all" PSA Journal, Oct. 1961, 47.
---
Date produced: 1935
Filmmaker(s):
Description:
"One of the most difficult of amateur subjects, a record of a child's vacation, is presented most ably in Adirondack Adventure, by Frank Gunnell, ACL. The photography was a joy to behold and showed quite clearly that a great deal of care and experience was back of it. Fine outdoor lighting, which made the most of every scene, predominated. The continuity of this competent picture was developed in such a fashion as to feature Mr. Gunnell's small son naturally and unobtrusively. Incidents which make up the picture are handled clearly and yet with a light touch. Only a movie maker would appreciate the fact that the sequences were far from casual but, instead, were staged carefully. The real charm of a summer vacation has been preserved in this fine picture." Movie Makers, Dec. 1935, 534.
---
Date produced: 1928
Filmmaker(s):
Description:
"Filmmaking brothers Sidney and Harold Preston present a beautifully shot record of time and place, taking us to the great Lancashire seaside resort in the interwar years. Whether enjoying the bird's eye view from the top of the tower, trying out the Pleasure Beach rides, or just befriending the donkeys on the beach, the three generations of the Preston family are clearly having a grand day out." (BFI Player)
---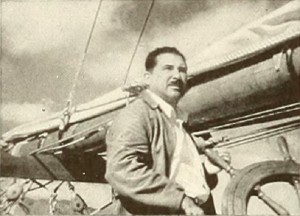 Date produced: 1940
Filmmaker(s):
Description:
"When the schooner yacht Enchantress put out from San Pedro for a five weeks' marlin fishing cruise in the Gulf of Lower California, fortunately James H. McCarthy was on board with camera, Kodachrome and a filming plan. The result was Before the Wind, as happy a movie yarn of a pleasure cruise as we have ever seen. A spirit of jollity and a general good time pervade this chronicle, which is adequately strung on the thread of a series of entries in the ship's log of the Enchantress. This casual continuity is entirely sufficient, for each episode is beautifully sequenced, and the whole film reflects a consistent happy go lucky holiday spirit. Exquisite shots of the schooner in translucent California Gulf waters, numerous studies of ship life, handsomely lighted interior views in cabins and engine room are all technical accomplishments in this picture. The sequences of marlin fishing and of clam digging on the Mexican shore are gems of good film planning and good cutting. The movie is presented with an intelligently planned musical accompaniment that really fits the film, but it is the natural handling of sequences of people on a carefree sea vacation that makes this picture superb entertainment." Movie Makers, Dec. 1940, 577.
---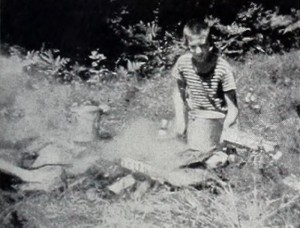 Date produced: 1945
Filmmaker(s):
Description:
"Excellent films have been made that show by more or less indirection what adults believe boys should do in camp. But what would boys like to do? Henry E. Hird, in The Big Adventure, seems almost to have thought with a boy's mind — a very real accomplishment for a busy executive — in producing this dramatic tale of boys in the woods. Two youngsters of about twelve years, armed with bows and arrows, are taken by their father on an island camping trip. Resigned, as most boys are under the instruction of their elders, they watch Father show them camp life in detail — and how he enjoys it! Suddenly he leaves for a war conference in Washington, and the two adventurers are alone for the night. A tramp appears, captures them, is outwitted by them and is seized by a helpful farmer. To bed and fears of invading bears go our heroes — when Dad returns, the conference deferred. It is a safe bet that young boys will approve Mr. Hird's dramatic movie as more realistic than some of the "approved solutions" offered to youthful campers." Movie Makers, Dec. 1945, 496.
---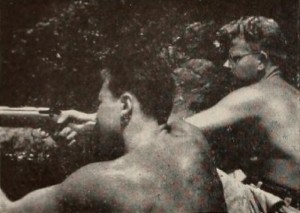 Date produced: 1947
Filmmaker(s):
Description:
"It takes a true craftsman to catch all the intimate and informal scenes that make a first rate vacation film, particularly when his exposure problems are complicated by the sunlight and shadows of a thickly wooded lake shore. But George Mesaros has succeeded in producing the sort of vacation record that most filmers only dream about. Mr. Mesaros has mastered his technical problems with an expert's hand and has turned out a stunning, vital movie of a summer outing in the Saranac Lake region. Faced with non-cooperative fellow campers, he had to be prepared to set up his tripod at a moment's notice; but the candid air of the proceedings on the screen is ample recompense for his vigilance. Bluff Island Idyll is a vivid testament to the importance of human interest and to the appeal of simple, everyday activities when they are properly sequenced and edited." Movie Makers, Dec. 1947, 513.
---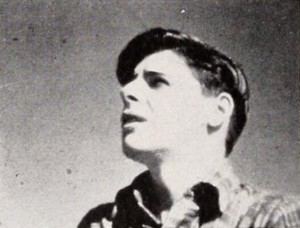 Date produced: 1944
Filmmaker(s):
Description:
"Warren S. Doremus has evinced fresh imagination in The Call of the Lonely Wood, a dramatic story of a venture into the unknown by a young man who has only a sketchy map to guide him. He fails of his goal on the first attempt, but he sets out once more after recovery from exposure and exhaustion. The hurdles he overcomes and the excitement of his discovery of each of the three triangles that serve as clews are convincingly pictured and supplemented by a well written narrative that is dramatically presented. Interesting dissolve effects support the mysterious quality of the film's theme, and suspense is maintained by excellent cutting and editing. A well rounded musical score was arranged by Arthur Brown, and Robert Carabell played the main role with competence." Movie Makers, Dec. 1944, 494-495.
---
Date produced: 1937
Filmmaker(s):
Description:
"Footage of a Jewish boys camp in Bridlington for boys from Manchester, Birmingham, Sheffield and Glasgow. The member parade around in uniform playing brass instruments, an officer take the salute and the boys do rifle drills. The cadets are then seen laying wreaths and parading. There are then scenes of the boys going down to the beach and playing in the sea." (NWFA Online Archive)
---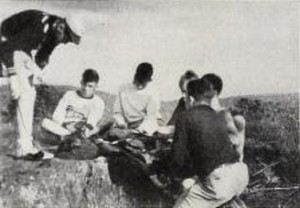 Date produced: 1936
Filmmaker(s):
Description:
"The fact that the film, Camp Pinnacle, made by Robert F. Gowen, was provided with a clear spoken accompaniment served to enhance the workmanlike excellence of its cinematic presentation. Since it was a film made, avowedly, to sell to prospect parents the advantages of Camp Pinnacle, it would hardly have been fair to look for those more delicate nuances of atmosphere and sequence which may become a labor of love in the more personal film. Thus Camp Pinnacle was chosen for its excellence as a straightforward exposition, in glowing color, of every interesting aspect of the lives of the lads and their counselors at camp. In setting this forth, Mr. Gowen has chosen simple, natural sequences and has interpreted these with technical excellence and secure knowledge of the Kodachrome medium." Movie Makers, Dec. 1936, 551.
---
Total Pages: 9