---
---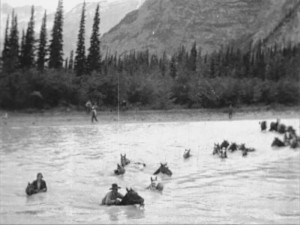 Date produced: 1931
Filmmaker(s):
Description:
"Shows an expedition through northeastern British Columbia by Mary Gibson Henry, Pennsylvania botanist and plantswoman. Mrs. Henry was interested in the legendary "Tropical Valley" of northern B.C., where the warmth of hot springs supposedly fostered vegetation not otherwise found in the region. The film was shot in the summer of 1931, during the first of four such journeys she made in the period 1931-1935. Mrs. Henry was accompanied by her husband, Dr. J. Norman Henry; four of her children; topographer Knox McCusker (of the Dominion Topographical Surveys Branch); Dr. B.H. Chandler, a surgeon friend; and outfitter S. Clark, as well as various wranglers. The second and third reels of this three-reel film show the party of 16 travelling by pack-train, crossing rivers, caching food, and fishing, as well as some camp scenes. At an encampment of "Grand Lake Indians" on the Tetsa River, they engage Charlie Macdonald, the chief's son, to guide them to Toad Hot Springs on the Toad River, but they do not proceed north to Liard Hot Springs. On the return trip south, stops include St. Paul's Lake, Henry River, and Lake Mary and Lake Josephine [named after the Henry's daughters]; these place names do not seem to have become official. Following the Peace River, they arrive at Hudson's Hope (having travelled 800 miles in 79 days), and continue down river to Taylor Flats." (BC Archives)

The title given above is a supplied title based on the film contents. The actual title of the film is unknown, since it survives as reels 2 and 3 of 3 -- and the actual title and credits (if any) would likely have been at the start of reel 1.
---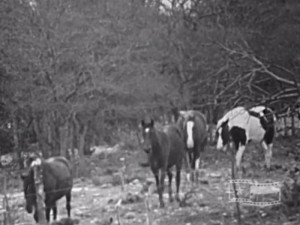 Date produced:
Filmmaker(s):
Description:
"This amateur film chronicles several young ranchers in their day-to-day activities. The film is divided into six chapters, each highlighting a different theme. Setting the scene with shots of a river bend and surrounding cliffs, the movie shows two young men skipping stones by a creek. After playing around with rocks and a rope swing, they drive back to 141 Ranch. At the ranch, they take care of their cattle and spend quality time grooming and riding their horses. The last chapter introduces a strange boy, who startles one of the ranchers as he washes a frying pan outside. The film ends with the young men riding their horses towards the camera" Texas Archive of the Moving Image.
---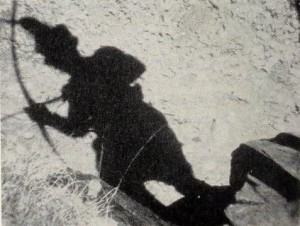 Date produced: 1950
Filmmaker(s):
Description:
"In The Barrier, Glen H. Turner, Maxim Award winner in 1949 with One Summer Day, shows that the excellence of that production was no happy accident. Although the two films are as different as night and day, both are instinct with the same qualities of creative imagination and true understanding of the movie medium. This year's production, as we understand it, is bi-lingual in its message. On the screen Mr. Turner tells a robust adventure tale, in which a wandering western horseman, attacked by unfriendly Indians, has to fight his way out of their clutches and (even more menacing) over the heart-stopping challenge of a great stone barrier to his freedom. Around this screen action, and carried by the narrative, the producer also draws a frame of universal reference to all of life's challenging struggles. Pictorially, the acting of the horseman is powerful and convincing, while Turner's camera treatment of his adventures creates a spine-chilling sense of danger and drama. Especially effective is the producer's handling of the Indians, whose menacing presence is suggested only — by moving shadows, braceleted brown arms or moccasined stealthy feet." Movie Makers, Dec. 1950, 466.
---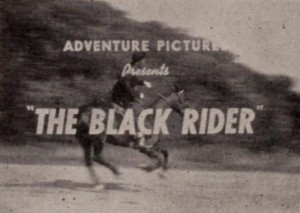 Date produced: 1941
Filmmaker(s):
Description:
"For Louis McMahon, making movies must seem to be as natural as breathing — only far more fun. It stands out in his work, from the first dynamic opening of The Black Rider to the last dramatic gun fight, in which, inevitably, the villain is vanquished and the hero left triumphant. For this film goes back to first principles of the motion picture, both in its "horse opera" subject matter and in its unfailing sense of movement and compelling excitement. True to the old traditions, this young producer has turned seemingly impossible obstacles with cinematic trickery and imagination. For the present, his technical skill has not always been equal to his creative ambition, but the genuine urge is there in abundance." Movie Makers, Dec. 1941, 566-567.
---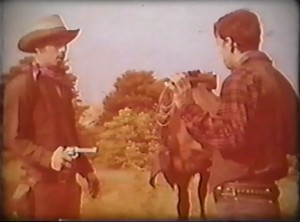 Date produced: 1949
Filmmaker(s):
Description:
"Handsome and hard hitting, Bold Badmen is a Western filmed as Westerns should be filmed — without romance, without singing, but with plenty of shooting, plenty of horsemanship and plenty of very tough looking and acting characters. Casimer V. Zaleski knows that movement makes a movie. Bold Badmen is crammed with both kinds — physical and cinematic. Unfortunately, the physical condition of the film (which was inexcusably scratched and dirty) did much to restrain the enthusiasm of the judges for a melodrama of real power." Movie Makers, Dec. 1949, 468-469.
---
Date produced: 1931
Filmmaker(s):
Description:
"Hearts Of The Golden West, 1200 ft., 16mm., filmed and directed by Theodore Huff and enacted entirely by youngsters under thirteen, is a delightful and whimsical burlesque of the Griffith melodrama of the days when titles were long and plots of villainy and intrigue laid in the great open places swept grandly to a moral conclusion in which "true hearts were united." In those days, producers did not hesitate to use a cyclorama or to place painted canvas scenery on an outdoor location. Mr. Huff revives all of the old technique, even to the dance hall set, with its inevitable balcony, and the fight to the finish at the edge of the cliff. Under his direction, the children act their parts with complete seriousness and, in some cases, with mimetic ability that would have given their prototypes pause." Movie Makers, Dec. 1931, 658.
---
Date produced: 1969
Filmmaker(s):
Description:
Hortobagy is a strange title, but only because the film comes from Hungary. Szilagyi Attila of Hungary shows us the plains of his country and the life of the Hungarian Cowboy and the Hungarian Sheepherders. The film is in black-and-white and is a very interesting 16 minutes about people, costumes, and a land that very few of us have an opportunity to see. The filming is well done and the sound track is in Hungarian," PSA Journal, Mar. 1970, 43.
---
Date produced: 1967
Filmmaker(s):
Description:
"La Reata depicts a lost art, that of making a lariat or lasso. The cowhide is stretched and staked out on the ground to dry. Then, with a long circular cut, a rawhide rope is made, cured, then braided to form the rope used in this fast disappearing custom. A leisurely pace gives the film much of its charm, plus a narrator who is in no rush - a welcome change" PSA Journal, Aug. 1967, 36.
---
Date produced: 1935
Filmmaker(s):
Description:
"Comprehensive record of the event at London's White City stadium, with U.K., U.S., and Commonwealth entrants. Cowboys and cowgirls, saddled and bareback-riding, bucking broncos, roping, steer riding and dangerous horseback acrobatics. Named riders - Hardy Murphy, Ted Elder and Homer the Rodeo Clown." (EAFA Database)
---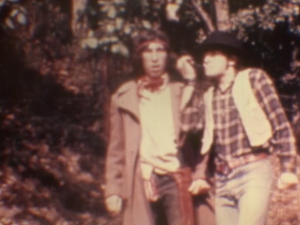 Date produced: 1970
Filmmaker(s):
Description:
"El título venía del juego de palabras con "West/Oeste" que da origen a "western". Alegaba la posición sureña de México en relación con el viejo oeste estadounidense y por eso se llamaba Sur. Al inicio de la película, sobre el título, una voz en off se aseguraba de explicarlo "Sur: Un western de acá de este lado"" (Vázquez Mantecón, 2012).

"The title is a game with the words "West/Oeste", that originate the term "western". It pleads the southern position of Mexico regarding the old United States west, and that is why it was called Sur [South]. At the beginning of the film, above the title, an off voice makes sure to explain it "South: A western from this side"" (Vázquez Mantecón, 2012).
---