---
---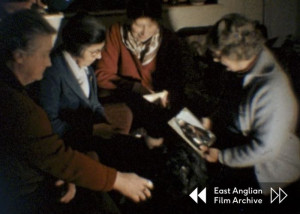 Date produced: 1965
Filmmaker(s):
Description:
'Silent film shot by Miss Philippa Miller recording scenes of people and activities around the 1930s-style bay-fronted terraced houses and gardens in a small residential close at different seasons of the year. Miss Miller lived in Norwich so the film has provisionally been linked to Norwich, but identification of the location would be welcome. The film captures the relaxed and friendly relationship between the women, men and children filmed and Miss Miller behind the camera. From the film stock marks it appears that the film was shot between 1965 and 1967.
All but two of the scenes are filmed outdoors. Indoors we see four women sitting together looking at two boxed costume dolls and stroking a black poodle, and a brief scene of an elderly lady. The exterior scenes were filmed during winter, spring and summer and capture people's activities and domestic chores around their homes and gardens, their comings and goings, and various pet dogs. Scenes include: women clearing a path through snow; a row of ten sparrows on a ledge above a snowy roof; a man washing a car with cloth and bucket of water as laundry billows on a washing line; a woman dressed to go out in hat and coat carrying bags; children playing with a dog, a football, a toy pram and a toy tractor; a bride in white outfit with bouquet standing with a man, perhaps her father, and a woman chauffeur in peaked cap helping people into a car as they leave for a wedding; crocuses; another man washing a car; a boy on a tricycle; a knife grinder at work, operating his machine by treadle within a handcart with large wheels; a man mowing the lawn a man painting the front gate of a spring garden; a young man and woman; a man up a ladder cleaning windows; women with two children in matching coats; a house under construction with the timber frame of the upper storey and roof open; a woman hanging out sheets on a washing line; a woman shaded beneath a floral parasol standing in front of flowering rose bushes; a woman setting off on a bicycle; a woman holding a baby; children sitting on a lawn and playing with modelling clay; a young man; a woman at a window; a chaffinch; rose bushes; another lady dressed in hat and coat with bag going out; a woman playing ball with the black poodle; a man using an axe to chop at the roots in a hole around a tree stump' (EAFA).
---
Date produced: 1935
Filmmaker(s):
Description:
"One of the most difficult of amateur subjects, a record of a child's vacation, is presented most ably in Adirondack Adventure, by Frank Gunnell, ACL. The photography was a joy to behold and showed quite clearly that a great deal of care and experience was back of it. Fine outdoor lighting, which made the most of every scene, predominated. The continuity of this competent picture was developed in such a fashion as to feature Mr. Gunnell's small son naturally and unobtrusively. Incidents which make up the picture are handled clearly and yet with a light touch. Only a movie maker would appreciate the fact that the sequences were far from casual but, instead, were staged carefully. The real charm of a summer vacation has been preserved in this fine picture." Movie Makers, Dec. 1935, 534.
---
Date produced: 1950
Filmmaker(s):
Description:
"Ah! Wilderness: The stark beauty of remote mountain and plain areas, as yet untouched by the unrelenting surge of modern civilization, has been caught by Charles Benjamin's camera and Kodachrome film. Adapted from the book Stone Dust, by Frank Ernest Hill, Benjamin's film opens with scenes of mountain peaks and passes in winter- peaks mantled in snow, and trickling brooks that somehow have evaded the wintry grip of Jack Frost. The picture progresses in a like manner through Spring, Summer and Autumn, rendering a pictorial account of the ever-changing seasons in one of the few remaining wilderness areas of America. The picture discloses skillful camera handling as well as a talent for building interesting continuity through artful editing and titling." American Cinematographer, May 1951, 189
---
Date produced: 1930
Filmmaker(s):
Description:
"Autumn, filmed by Bernard Van H. Schultz, successfully demonstrates that Kodacolor can be used for long shots of landscapes and similar subjects. This record of a New England autumn, with its accompanying riot of color, leaves very little to be desired as a representation of the spirit of the season. Of particular note was the evident care used in choosing appropriate viewpoints, not only with relation to the framing principle but also from the point of view of both color and motion. The continuity was rather static which was appropriate to the subject. The film was bound together remarkably well by the choice of successive scenes which followed a time sequence, starting with shots taken in the bright light of midday and ending with sunset shots. However, Mr. Schultz's principal achievement lay in the selection of the proper neutral density filters, yielding uniformly excellent color results which are all the more remarkable because of the preponderance of long shots." Movie Makers, Dec. 1930, 759.
---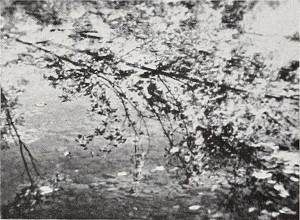 Date produced: 1942
Filmmaker(s):
Description:
"Autumn, by Robert P. Kehoe, now takes the lead in an ever lengthening series of exquisite natural miniatures, recorded by this engineer with art at his finger tips. Having reported earlier on the bluster of a late, unfriendly fall, Mr. Kehoe turns in this film to the warm beauty and haunting sadness of autumn's Indian summer. Life is drifting toward death, to be sure, yet it moves in peace down the placid stream, with loveliness through the golden air. But one cannot describe the incredible imagery of a Kehoe study. As well put under the intellectual microscope a Wordsworth sonnet or a Keatsian ode. Autumn, as brief as it is poignant, is his best work to date. As long as color film can still be had, we see no reason why the good Lord's handiwork should go unsung." Movie Makers, Dec. 1942, 489.
---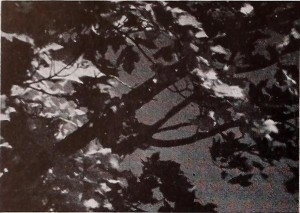 Date produced: 1948
Filmmaker(s):
Description:
"In Autumn, Martin E. Drayson extends brilliant camera handling to embrace a quality ordinarily associated with painting, raising his film several notches above the usual autumnal study. Call this quality expressionism, a term we are familiar with in the paintings of Manet, Cezanne, Gauguin or Vlaminck. Literally painting with light the shades and hues of the season, sheer poetry is produced by their reflections in the shimmering surface of a pond, which unique camera viewpoint was used for the climax of the footage. The film escapes the static quality often noted in nature studies by the dexterous changing of camera position; added to this are the natural movements created by the wind brushing softly through the dry leaves, or, again, by gentle ripples momentarily disturbing the water's glassy surface." Movie Makers, Dec. 1948, 475.
---
Date produced: 1938
Filmmaker(s):
---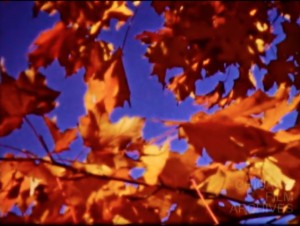 Date produced: 1946
Filmmaker(s):
Description:
"John R. Kibar has taken the subject of recording the hues of a fall countryside and has lifted it above the familiar medley of garish color. With an interesting variety of viewpoints and an artist's eye for compositions, he has achieved the flowing, rhythmic mood of nature in her most popular season for color filmers. Particularly in shots of trees reflected in streams and the sprightly dancing of golden leaves in the wind has Mr. Kibar surpassed the usual run of nature studies. Autumn Glory is replete with movement, but closeups of a colorful branch of berries or stocks of thistle against the sky serve as punctuation for the longer sequences. A human touch is added by including an artist in occasional shots, as he sketches the scenes shown in the major part of the film." Movie Makers, Dec. 1946, 486.
---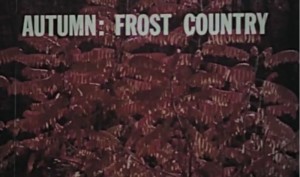 Date produced: 1969
Filmmaker(s):
Description:
"Autumn...Frost Country and Dunes both films made by David Adams of Santa Monica, Calif. rated high in the Class "C" list of winners. Both in color with optical sound. "Autumn...Frost Country" is an 8-minute film of changing leaves narrated with a poem written and recited by Robert Frost. "Dunes" is a 7-minute film depicting the vastness of the desert at Death Valley. The film does an excellent job of conveying the fact that, in spite of the soltitude of the desert, there is plenty of life to be observed there if one has patience," PSA Journal, Mar. 1970, 43.
---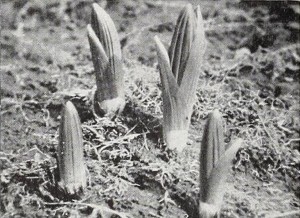 Date produced: 1942
Filmmaker(s):
Description:
"Most movie makers look about for suitable music for a picture, only after it has been completed. Herman Bartel, who produced Awakening, scores his films just the other way around. He listens to a composition that he likes until he thinks of picture material that will express its mood. Since Mr. Barters appreciation and selection of music are above reproach and since his ability to take a camera and a roll of film and make them sing is well known, we can only add that this is his finest film to date. It is very difficult to explain a Bartel picture. You can say that the subjects are flowers, trees, animals and the other common manifestations of nature, but what you must see to believe is that they have never been filmed in quite his way before. Mr. Bartel does not use parts of records and change from one to another with abrupt shifts in themes. Instead, he uses each record in full. In this film, the blend of picture and music is so matched that, in some scenes, reeds and bushes sway to the rhythm of the music. Needless to say, the camera work in this picture is superb. Other color films may be exposed as well, but they will never be exposed better because here is more than perfect exposure and lighting. Mr. Bartel has taken what existed and has made it say what he wanted it to say through skillful control of the devices at hand." Movie Makers, Dec. 1942, 489, 506.
---
Total Pages: 5