---
---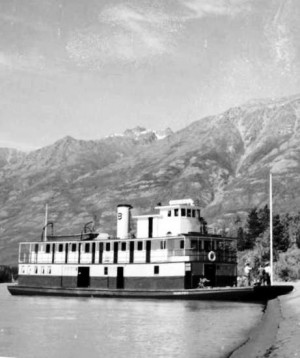 Date produced: 1935
Filmmaker(s):
Description:
"Mainly shows trip(s) up the Stikine by riverboat and placer mining activity [nearby]. Includes: waterfront view of Wrangell, Alaska; views of and from riverboat Hazel B No. 2 going upriver; the Three Sisters (islands in the river); riverboat at Telegraph Creek and barge at Dease Lake, and local activity; forest fire & fire-fighting; shots of Fokker F-11AHB flying boat designated CF-AUV (at dock and taking off) and a Fairchild floatplane; aerial shots in the vicinity; wreckage of aircraft CF-AUV (which crashed at McDame Lake, 13 July 1935); general scenery and wildlife. The placer mining footage, which is interspersed, includes shots of a small mining camp, sluice works, panning, hydraulic monitor operation, jerry-built mining equipment in use, etc. [The footage] was shot [ca. 1933-35] by Joseph J. Jackson, whose company "Three J's Placer Mines, Inc." prospected near the confluence of Thibert Creek with Dease Lake in [the years 1931-35]." (BC Archives)


---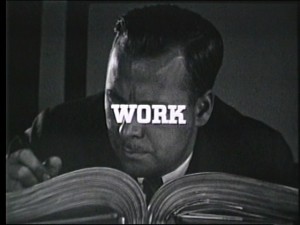 Date produced: 1934
Filmmaker(s):
Description:
"Among the Ten Best, Another Day, by Leslie Thatcher, ACL, is a splendid example of the relatively simple avant garde film, so popular among European amateurs but so seldom attempted by even the advanced workers of the American continent. Set against the background of Toronto, Another Day portrays in semi abstract fashion the dramatic changes which overtake the life and tempo of a great city as Saturday crosses the noontime deadline from work to play. Mr. Thatcher's conception of this theme is clean cut, his execution suave and technically brilliant. Dissolves, wipeoffs and double exposure are blended intelligently with matchless straight photography to enhance the beauty of striking angles and compositions. With the subject matter of such films ready to the hand of every amateur cameraman, it is a strange phenomenon that to date they are not attempted more often." Movie Makers, Dec. 1934, 513, 534.
---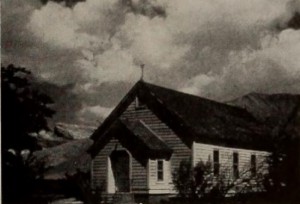 Date produced: 1953
Filmmaker(s):
Description:
"In Caineville, Glen H. Turner has now turned his camera on a Western ghost town, and with moments of sheer movie magic, he has brought it to life again. The slow turning by the wind of the leaves of an abandoned school book, and the slow pan to initials carved on a schoolhouse desk, evoke as if he were alive the youngster who carved them. In another scene, done with consummate smoothness, Mr. Turner shows an abandoned street on which a schoolboy, with books over his shoulder, slowly materializes into solid form — and then dissolves again into thin air. Surrounding Caineville always are the brooding mountains and the ever-encroaching river which implacably seeks to destroy the last vestiges of the crumbling village. Caineville is a triumph of imaginative creation over static material." Movie Makers, Dec. 1953, 320.
---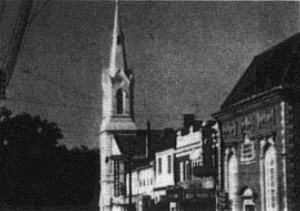 Date produced: 1961
Filmmaker(s):
Description:
"A battleground where the North and the South met in the struggle of the Civil War, where each fought for a cause he thought was right, is still a charming town of colonial beginning. There are many important landmarks held for posterity, and the famous river over which George threw the dollar. We visit this great city in the spring, summer, and fall. A refresher for our heritage" PSA Journal, Oct. 1961, 47.
---
Date produced: 1966
Filmmaker(s):
Description:
"Jericho is a little animated film concerning a couple of dogs which get into a fight and knock down the walls of Jericho. Kallenberg and his wife spent many hours searching for the exact plans and dimensions of the old Biblical town and built an exact replica for the film" PSA Journal, Sept. 1966, 35.
---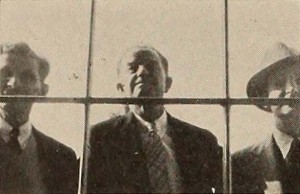 Date produced: 1938
Filmmaker(s):
Description:
"In their adroitly handled John Doe, Citizen, Frances Christeson and Harry Merrick have produced a photoplay of politics in city government that can be compared to a theatrical picture in dramatic values and clarity of treatment. Designed to teach students the value of the vote, the danger of neglecting to understand the issues in city affairs and some of the methods by which machine politicians keep themselves in power, this picture also shows how well amateurs can handle a serious film in dramatic form. Particularly notable, from the movie maker's viewpoint, is how cleverly and effectively the producers have circumvented such apparently insurmountable problems as showing a crowded town meeting in a large auditorium, night airplane shots of rows of homes with lighted windows and the construction of a new sea wall on the city's waterfront. Needless to say, these sequences were not handled by means of large studio sets and hundreds of extras; but they are just as effective as if they had been, and therein lies the genius of these remarkable movie makers." Movie Makers, Dec. 1938, 597.

"A fictional account of an election as it might occur in a small city. Illustrates the indifference of the average citizen to public affairs and emphasizes that if the government is not run by the people the government will run them." Educational Film Guide, 1953, 367.
---
Date produced: 1970
Filmmaker(s):
Description:
"The Lady Says Rain by Bernhard Krimphove of Bronx, N.Y. Bernhard has defied the old belief of keeping your camera indoors when it rains - he has produced a fine film of the wet moods of a city. This 6-minute 8mm film awarded an Honorable Mention" PSA Journal, Nov. 1970, 38.
---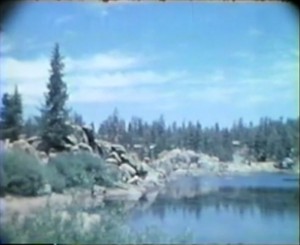 Date produced: 1986
Filmmaker(s):
Description:
"An edited home movie by Arthur H. Smith of Smith's later years, living with his wife Blanche in Big Bear Lake, California, including a description of his filmmaking process." Archive.org
---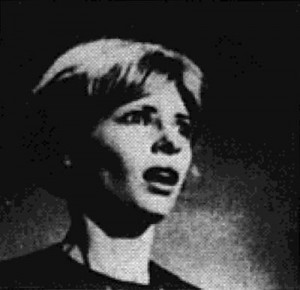 Date produced: 1963
Filmmaker(s):
Description:
"The audience, aided by the perspective eye of the motion picture camera, watches the converging paths of unrelated people. Gently, their separate activities draw them together briefly, to touch, and then send them on their separate ways again. A thoughtfully produced and completely enjoyable film that uses the best of the film-makers art. the skillful use of music as the "narrator" of the story brought to the maker of the film the George Cushman Trophy for the most effective use of sound on film" PSA Journal, Oct. 1963, 41-42.
---
Date produced: 1934
Filmmaker(s):
Description:
"Ramblings Around Sydney, by James A. Sherlock, ACL, is a carefully planned and photographed motion picture study of a city, a happy example of what care and cinematic sensitivity can do for this type of subject. Although Mr. Sherlock did not commit himself to any strong continuity theme, the picture yet has a delicate cohesiveness that defied the best efforts of the earlier amateur movie makers. Outstanding are the filter shots, the shots made of city streets in the rain and the night scenes. Throughout there is a careful choice of camera viewpoint which succeeds in revealing many aspects of the city in relatively short footage. The whole is welded into an enjoyable subject that would entertain any audience." Movie Makers, Dec. 1934, 547.
---
Total Pages: 2