---
---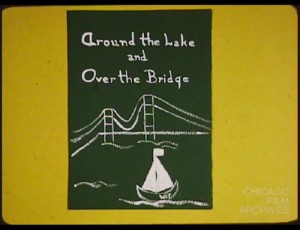 Date produced: 1965
Filmmaker(s):
Description:
"Travelogue of cities, towns, and outdoor activities found around Lake Michigan. There is a wide variety of footage, including sand dunes, beaches, parades, many shots of flowers, ships, industrial ports scenes, attractions of historic horse-and-buggy town Mackinaw City, a mansion on fire, Grand Hotel: World's Largest Summer Hotel, camping, rafting, farmers harvesting crops, and the Prudential Building in Chicago." Chicago Film Archives.
---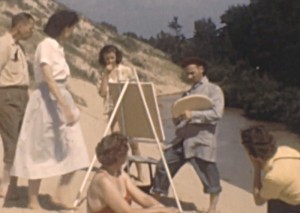 Date produced: 1955
Description:
An artist sets up his easel on a shore with the intention of painting a nature scene. Soon, people gather at the shore and thwart the artist's plan to paint.
---
Date produced: 1939
Filmmaker(s):
Description:
"Item is a production of Dr. Willinsky's cruise and trip to Argentina with his wife, Sadie. In the form of a travelogue, footage of cruise activities and entertainment, beaches, landmarks, and the local population is interspersed with captions and maps that were added in by Dr. Willinsky to provide context. Featured cities include Santos, Montevideo, Buenos Aires and Rio De Janero. Sadie is ocassionally spotted in the footage site-seeing and interacting with the locals." Ontario Jewish Archives.
---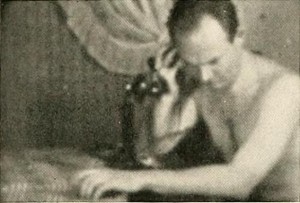 Date produced: 1937
Filmmaker(s):
Description:
"Beach Holiday, an 8mm. story in Kodachrome, deserves high praise because of its smooth and interesting treatment of material that is directly within the reach of every movie maker. Made by Raymond O'Connell, this subject is a fine example of natural continuity, done in a simple, straightforward manner. The interior shots, which show the family getting up in the morning, their planning and preparation for a day at the beach and, at the end of the film, their return home, afford excellent examples of good exposure and technical work on 8mm. interior scenes. Many of the transitions are well planned, notably a clever shot which shows the final packing of the picnic hamper at home. Its cover is raised in the kitchen, so that the hamper fills the entire frame. The cover is then lowered, revealing a beach scene in the background. The outdoor work gives an excellent exposition of a day at the beach, complete with swimming, sports and boardwalk amusements." Movie Makers, Dec. 1937, 628.
---
Date produced: 1925
Filmmaker(s):
Description:
"Mr and Mrs Behrens are seen on a beach with two young children and a toddler. The three youngsters climb on top of a large pile of sand. The tide is out and the rest of the beach is deserted. Location Skerries" (NWFA Online Database).
---
Date produced: 1943
Filmmaker(s):
---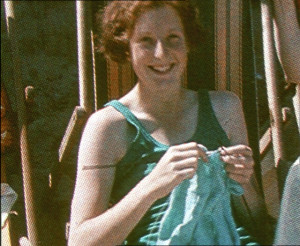 Date produced: 1934
Filmmaker(s):
---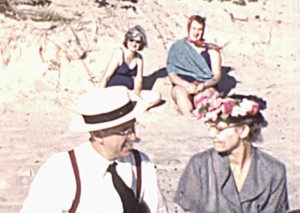 Date produced: 1953
Filmmaker(s):
Description:
An elderly couple visits the beach, where they observe young people engaged in sports and romance. These sights prompt the couple to reflect on the story of how they met at the same beach in their younger years.
---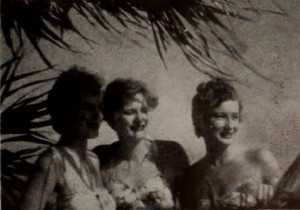 Date produced: 1953
Filmmaker(s):
Description:
"Stretching for more than a thousand miles along Australia's northeastern coast stands the Great Barrier Reef, a vast agglomeration of tide-swept coral islands and islets. For mariners who have threaded their way through these perilous formations, they hold little of enchantment. But to Alfred T. Bartlett (who confines his camera to the Whitsunday group) they are such stuff as dreams are made on — and he has portrayed them thus in The Enchanted Isles. Mr. Bartlett's canvas is a rich one, comprising all of the classic elements of romance: the sun-drenched strand, the nodding palms, the lovely girls and, always and ever-present, the clean blue of the sky and the yet-deeper blue of the circumambient waters. He has painted these elements both in large, lush compositions and with observing attention to the minutiae of vibrant life around him. Even his colors (via the magic of the pola screen) are richly sensuous in their depth of saturation. An unabashedly romantic narrative ("Have you ever dreamed a secret dream?" is the opening line) rounds out this affectionate and interpretive travel study." Movie Makers, Dec. 1953, 333-334.
---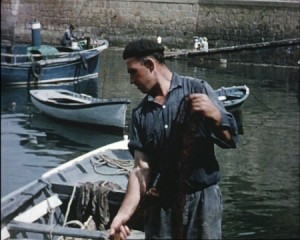 Date produced: 1959
Filmmaker(s):
Description:
Cortometraje documental sobre la costa vizcaína que hace un recorrido desde la playa de Ereaga hasta el Cabo Matxitxako. En la película se pueden ver imágenes del Puerto de Bilbao y de las playas de Ereaga, Arrigunaga, Azkorri y Sopelana. También se aprecian las localidades vizcaínas de Barrika, Plencia, Gorliz, Armintza, Bakio y San Juan de Gaztelugatxe.

Documentary short about the Biscayne Bay that depicts a tour from the Ereaga beach to Cape Matxitxako. The film shows images of the Bilbao Port and the beaches in Ereaga, Arrigunaga, Azkorri and Sopelana. Local Biscayne places are also seen: Barrika, Plencia, Gorliz, Armintza, Bakio and San Juan de Gaztelugatxe.

---
Total Pages: 4