---
---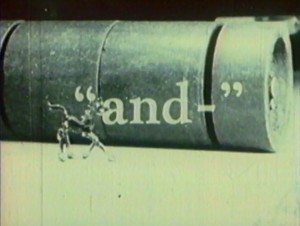 Date produced: 1940
Filmmaker(s):
Description:
"Perhaps the first experimental film made in British Columbia, this short uses found footage, painted and scratched emulsion, negative and reversed images, chaotic camera movements, and holes punched in the frame and filled with other images. Some portions are hand coloured." (British Columbia Archives.)
---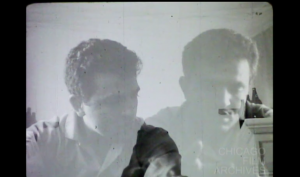 Date produced: 1970
Filmmaker(s):
Description:
"Columbia College student film about a young man receiving and responding to his Vietnam draft card." Chicago Film Archives
---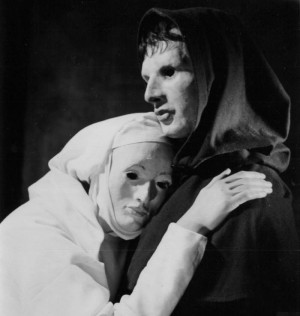 Date produced: 1949
Filmmaker(s):
Description:
"Unedited assembly of takes (some with slates) from Fox's unfinished film, intended as a symbolic rendition of the story of Abelard (d. 1142) and Heloise (d. 1164). Uses masked actors, expressionistic lighting and movement, and visual metaphors suggestive of various emotions." (British Columbia Archives)
---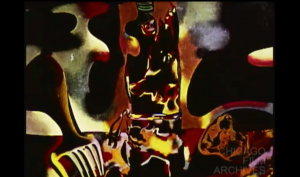 Date produced: 1969
Filmmaker(s):
Description:
"Abstract Patterns is a two-minute abstract film by Sol Falon of Teaneck, N.J. - a beautiful "shorty" of color and design that is fast moving and stimulating" PSA Journal, Nov. 1969, 56; "A short amateur experimental film featuring mid-century paintings from Pablo Picasso, Wassily Kadinsky, Piet Mondrianand Joan Miro. Disributed by the Society of Amateur Cinematographers (SAC)." Chicago Film Archives
---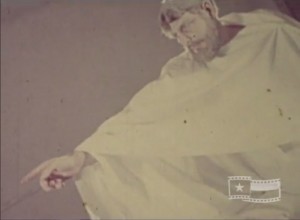 Date produced:
Filmmaker(s):
Description:
"This experimental film, made by Kenneth Anthony in the late 1960s, records the story of Adam and Eve. It opens with chimpanzees and recreates Michaelangelo's The Creation of Man. The production follows the traditional telling of the Biblical creation story. Eve accepts an apple, gives it to Adam, and God rebukes the two humans. The rest of the film is a collection of shots: a protest march, a swimsuit competition in a beauty pageant, a demolition derby, a Foreign Legion ceremony, indications of space exploration, and a photography exhibit, among others. These shots may not have been filmed by Anthony and may have been stock footage as they appear to include words in French. According to Anthony, the film was meant to be projected on multiple screens. It seems likely that the story of Adam and Eve would have been on a main screen with the shots from the latter half of the film projected onto accompanying screen or screens" Texas Archive of the Moving Image.
---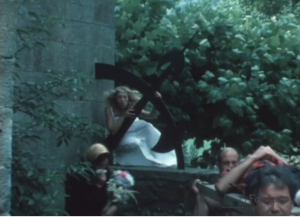 Date produced:
Filmmaker(s):
Description:
El filme comienza con un hombre vagando por el campo. Encuentra a una mujer vestida de blanco y comienzan a besarse, hasta que eventualmente caen sobre el pasto. El hombre lleva a la mujer vestida de blanco a conocer a una mujer mayor que la rechaza y la hace huir. El hombre va en su búsqueda y nota que ella tiene patas de pato, él cae al suelo y muera mientras ella coloca un pequeño costal café cerca de su pecho. La película muestra después a un grupo de hombres cargando su cuerpo hacia su ceremonia fúnebre mientras la mujer mayor llora detrás de la procesión y la mujer de blanco observa escondida en una esquina. Cuando el cuerpo es dejado solo, la mujer de blanco se aproxima para tomar el costal café y desaparece.

The film begins with a man wandering in the country. He finds a woman dressed in white and they begin to kiss, eventually falling on the grass. The man takes the woman dressed in white to meet an older woman who rejects her and makes her leave. He goes looking for the woman in white and sees that she has duck legs, he falls and dies while she places a small brown sack by his chest. The film then shows men carrying his body to his burial while the older woman cries behind the funeral procession and the woman in white watches hiding in a corner. When the body is left alone, the woman in white approaches him and takes the brown sack back and leaves.
---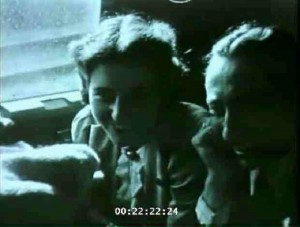 Date produced: 1942
Description:
"Title onscreen indicates that the footage shows an outing of the Munich amateur film club to Dachau, 1942. . . . They arrive at the station and begin filming in the residential/commercial areas of the town (NOT the camp)." United States Holocaust Memorial Museum.
---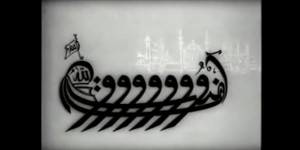 Date produced: 1969
Filmmaker(s):
Description:
"The question 'How was the mentü ship Steered' bears two meanings: as inference in the sense of 'faith,' as well as the relation between the notions of 'imagery, logos, and action.' The answer is 'divine love,' regardless of the form of the question: the Amentü ship is navigated by the love of God. " Zeynep Gemuhluoglu, tsa.org: https://www.tsa.org.tr/en/yazi/yazidetay/67/%EF%BF%BD%EF%BF%BDmentu-gemisi-nasil-yurudu (16 Oct 2019).
---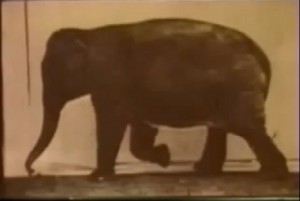 Date produced: 1968
Filmmaker(s):
Description:
"Between 1877 and 1885, an English photographer, Eadweard Muybridge, conducted detailed experiments analyzing human and animal motion using rapid photography. In 1968, John Straiton took the published works of Muybridge and created from them a fascinating and hilarious film. A tribute to the serious maker of the first nudie before the invention of movies." Canadian Filmmakers Distribution Centre.
---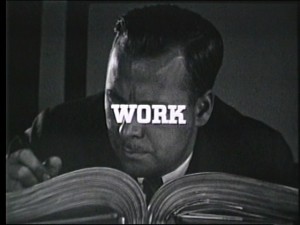 Date produced: 1934
Filmmaker(s):
Description:
"Among the Ten Best, Another Day, by Leslie Thatcher, ACL, is a splendid example of the relatively simple avant garde film, so popular among European amateurs but so seldom attempted by even the advanced workers of the American continent. Set against the background of Toronto, Another Day portrays in semi abstract fashion the dramatic changes which overtake the life and tempo of a great city as Saturday crosses the noontime deadline from work to play. Mr. Thatcher's conception of this theme is clean cut, his execution suave and technically brilliant. Dissolves, wipeoffs and double exposure are blended intelligently with matchless straight photography to enhance the beauty of striking angles and compositions. With the subject matter of such films ready to the hand of every amateur cameraman, it is a strange phenomenon that to date they are not attempted more often." Movie Makers, Dec. 1934, 513, 534.
---
Total Pages: 15