---
---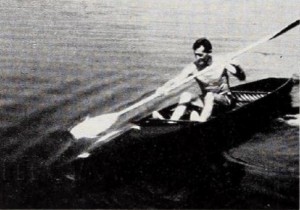 Date produced: 1951
Filmmaker(s):
Description:
"There are precious few sails in this production which William Messner has called Blades and Sails. But there is a powerful lot of cinema in its smooth 650 feet of Kodachrome. And there is a wealth of flashing blades. The blades are bandied about by Ernest Riedel, a gaunt length of rawhide and muscle, otherwise known as the national, international and Olympic canoe champion. During the smoothly plotted course of Riedel's exposition of canoeing techniques. Mr. Messner demonstrates his own championship calibre behind the camera. His angles are so right as to seem effortless — though you suspect they're not. His follow-through is as deft as a sweeping blade and his cutting as crisp as a speeding birchbark. Blades and Sails is informative, entertaining and sound cinema — which is quite a combination in any man's movie." Movie Makers, Dec. 1951, 410.
---
Date produced: 1937
Description:
"doc. turistico"/tourism documentary
---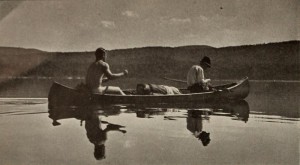 Date produced: 1936
Filmmaker(s):
Description:
"The refreshing story of a voyage by river into the Canadian wilds, presented by F. R. Crawley in Glimpses of a Canoe Trip, is really deserving of a less modest introduction than that implied by the word, "glimpses." Here, within one reel, is as comprehensive a movie tale of a trip by canoe as one could desire. The entertaining continuity, based on the natural sequence of events, is not loaded with unimportant detail; instead, footage is conserved for the more interesting episodes involved in paddling and portages. These are given a well rounded treatment that has genuine entertainment value coupled with a freshness of approach born of the enthusiasm of the maker. This sort of thing communicates itself to the audience, especially when photography, editing and titling are as well handled as they are here." Movie Makers, Dec. 1937, 629.
---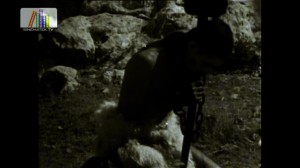 Date produced: 1969
Filmmaker(s):
Description:
"Ruhi Su ve Rahmi Saltuk türküleri eşliğinde yoksulluk ve emek sömürüsünü ve mücadeleyi, direnişi farklı, ilginç bir kurgu ile anlatmış. 13 dakikalık 1969 yılı koşullarını düşünerek izlemek gerekiyor." Sinematek.tv: http://sinematek.tv/kordugum-1969-2/ (15 Oct 2019).
"Accompanied by Ruhi Su and Rahmi Saltuk's folk songs, the film tells the story of poverty, struggle, and resistance in a different way, with an interesting montage. This 13-minute-long film requires audiences to acknowledge the contexts of the year 1969 in viewing." Sinematek.tv: http://sinematek.tv/kordugum-1969-2/ (15 Oct 2019).
---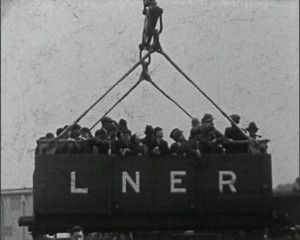 Date produced: 1939
Filmmaker(s):
Description:
"A variety of steam engines and carriages are seen around the yard at Thorpe Station, as well as dignitaries making speeches at the exhibition's opening" (EAFA Database).
---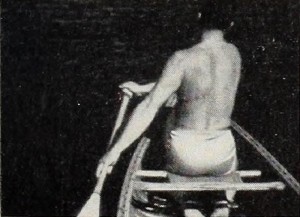 Date produced: 1950
Filmmaker(s):
Description:
"To realize that paddling bow position in a canoe can be the sole subject of an entire film should surprise any reasonable movie maker. But when you consider that Paddle Up Front! is a physical-education teaching film, it is not so surprising. Naturally, the continuity treatment is repetitious, as all teaching-film plans are likely to be. But C. Roy Terry, jr., production director, ably demonstrates that the person who occupies the forward position in a canoe has an important job when it is done properly. The photography by Ellis A. Ring is workmanlike, particularly in cross lighted scenes which point up the muscle movements in various strokes by the paddler. The didactic narrative seems unnecessarily obvious in places, but it probably is justified when one considers the specific purpose of the film." Movie Makers, Dec. 1950, 468.
---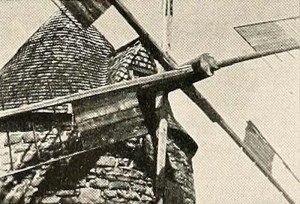 Date produced: 1937
Filmmaker(s):
Description:
"The majesty of one of North America's greatest rivers is the theme of Walter Downs's Saga of the St. Lawrence. Stunning Kodachrome views of this mighty stream picture it from the decks of a river steamer. The ship is used as a mechanism for carrying the continuity theme forward and for providing smooth "trucking" shots of the passing shoreline. Brief stops offered the opportunity for sequences that show the character of the country and its people with the sympathy and understanding of one who knows the region well. These also punctuated the film in a pleasant and interesting fashion. The picture is accompanied by a musical background and some sound effects, all done by double turntable. This is a gracious and capable film of high photographic quality." Movie Makers, Dec. 1937, 630.
---
Date produced: 1936
Filmmaker(s):
Description:
"Last, but by no means least on the list of honorable mentions, is Duncan MacD. Little's 'Voyageur's Trail,' a news film of a four-day canoe race in Canada. This film, photographed perforce under whatever conditions happened to obtain at the moment the action occurred, represents a remarkable achievement in amateur news filming, for which Little is to be commended in the highest terms." American Cinematographer, Feb. 1938, 78.
---