---
---
Date produced:
Filmmaker(s):
Description:
"Un-staged documentary footage shot and edited by Sallie Wagner. Sallie's description of the film: 'Shorty Boys, Little Shorty building a hogan, Crip Chee and his hogan, grandson in doorway. Blackrock in front of hogan, Tchindi, Rose Martin doing laundry, cooking shelter at squaw dance, Hosteen Glish getting water, Bent Knee getting wood, Hosteen Glish making a canoe out of a log, Hosteen Glish's granddaughter weaving, digging yucca root for soap, Navajo washing her hair, Hosteen Glish making a cradle board'." New Mexico State Archives.
---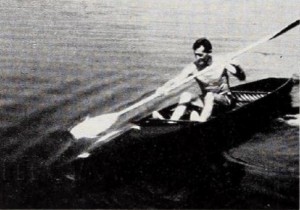 Date produced: 1951
Filmmaker(s):
Description:
"There are precious few sails in this production which William Messner has called Blades and Sails. But there is a powerful lot of cinema in its smooth 650 feet of Kodachrome. And there is a wealth of flashing blades. The blades are bandied about by Ernest Riedel, a gaunt length of rawhide and muscle, otherwise known as the national, international and Olympic canoe champion. During the smoothly plotted course of Riedel's exposition of canoeing techniques. Mr. Messner demonstrates his own championship calibre behind the camera. His angles are so right as to seem effortless — though you suspect they're not. His follow-through is as deft as a sweeping blade and his cutting as crisp as a speeding birchbark. Blades and Sails is informative, entertaining and sound cinema — which is quite a combination in any man's movie." Movie Makers, Dec. 1951, 410.
---
Date produced: 1937
Description:
"doc. turistico"/tourism documentary
---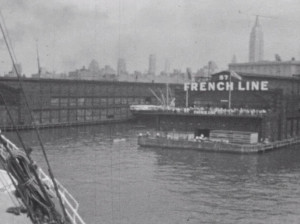 Date produced: 1932
Filmmaker(s):
Description:
A short travelogue that chronicles a round trip from New York City to France and back. Includes footage of the ship's departure from NYC, a view of the statue of liberty, the deck of the SS France ocean liner, as well as brief shots of St. Lazare station in Paris.
---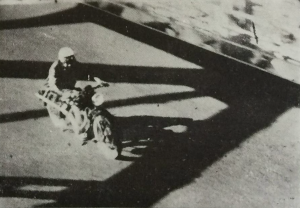 Date produced: 1935
Filmmaker(s):
Description:
"a soggetto breve"/ short fiction

"EVA E LA MACCHINA
Eva e la Macchina soggetto e regla di Leone Viola, fotografia e montaggio di Fernando De Marzi, interpreti Parisina Poggi, Carlomaria Der­mal, Guido Cerato, svolge come tema il contrasto e nello stesso tempo il rapporto tra il maschio in possesso della femmina e il motociclista nel pos­sesso della sua macchina. L'ambiente e per una parte primitivo e naturale, per l'altra invece si svolge presso un ponte di ferro e un passaggio a livello. I due motivi corrono parallelamente sino alla fine, allorché il Viola persegue il motivo del­la macchina sola, sino al finale gocciolare dell'o­lio, il cui parallelo rimane soltanto presunto. Eva e la Macchina si avvale di un ottimo ritmo di montaggio, dove al crescendo assai bene ottenuto della parte centrale succede il finale altrettanto realizzato nella sua calma compostezza."

"EVA AND THE CAR Eva e la macchina (Eva and the Machine), screenplay and direction by Leone Viola, photography and editing by Fernando De Marzi, starring Parisina Poggi, Carlomaria Dermal, Guido Cerato, develops as its theme the contrast and simultaneous relationship between the male in possession of the female and the motorcyclist in possession of his machine. The environment is on the one hand primitive and natural, and on the other, the film takes place near an iron bridge and a level crossing. The two motifs run parallel until the end, when Viola pursues the motif of the machine alone, until the final drip of oil, whose parallel remains only presumed. Eva and the Machine avails itself of an excellent rhythm of montage, where the very successful crescendo of the central part is followed by the finale equally successful in its calm composure."
— Il ventuno 24 (Review of the G.U.F. of Venice) January 1935, p. 15
---
Date produced: 1939
---
Date produced: 1934
Filmmaker(s):
Description:
"dis. an. didattici"/animated educational doc
---
Date produced: 1937
Description:
"doc. turistico"/tourism documentary
---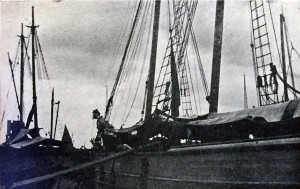 Date produced: 1936
Filmmaker(s):
---
Date produced: 1936
Filmmaker(s):
Description:
"doc. a fantasia"/avant-garde documentary
---
Total Pages: 2