---
---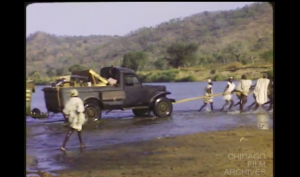 Date produced: 1947
Filmmaker(s):
Description:
"Details a journey from New York to Lagos and beyond the interior of Nigeria. Footage includes shots of daily traditional life in the village and concludes with a battle scene between two tribes brandishing spears and bows and arrows." Chicago Film Archives
---
Date produced: 1928
Filmmaker(s):
Description:
"Filmmaking brothers Sidney and Harold Preston present a beautifully shot record of time and place, taking us to the great Lancashire seaside resort in the interwar years. Whether enjoying the bird's eye view from the top of the tower, trying out the Pleasure Beach rides, or just befriending the donkeys on the beach, the three generations of the Preston family are clearly having a grand day out." (BFI Player)
---
Date produced:
Filmmaker(s):
Description:
"Un-staged documentary footage shot and edited by Sallie Wagner. Sallie's description of the film: 'Shorty Boys, Little Shorty building a hogan, Crip Chee and his hogan, grandson in doorway. Blackrock in front of hogan, Tchindi, Rose Martin doing laundry, cooking shelter at squaw dance, Hosteen Glish getting water, Bent Knee getting wood, Hosteen Glish making a canoe out of a log, Hosteen Glish's granddaughter weaving, digging yucca root for soap, Navajo washing her hair, Hosteen Glish making a cradle board'." New Mexico State Archives.
---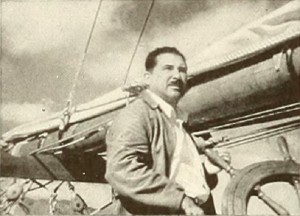 Date produced: 1940
Filmmaker(s):
Description:
"When the schooner yacht Enchantress put out from San Pedro for a five weeks' marlin fishing cruise in the Gulf of Lower California, fortunately James H. McCarthy was on board with camera, Kodachrome and a filming plan. The result was Before the Wind, as happy a movie yarn of a pleasure cruise as we have ever seen. A spirit of jollity and a general good time pervade this chronicle, which is adequately strung on the thread of a series of entries in the ship's log of the Enchantress. This casual continuity is entirely sufficient, for each episode is beautifully sequenced, and the whole film reflects a consistent happy go lucky holiday spirit. Exquisite shots of the schooner in translucent California Gulf waters, numerous studies of ship life, handsomely lighted interior views in cabins and engine room are all technical accomplishments in this picture. The sequences of marlin fishing and of clam digging on the Mexican shore are gems of good film planning and good cutting. The movie is presented with an intelligently planned musical accompaniment that really fits the film, but it is the natural handling of sequences of people on a carefree sea vacation that makes this picture superb entertainment." Movie Makers, Dec. 1940, 577.
---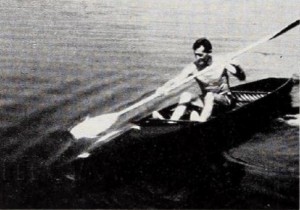 Date produced: 1951
Filmmaker(s):
Description:
"There are precious few sails in this production which William Messner has called Blades and Sails. But there is a powerful lot of cinema in its smooth 650 feet of Kodachrome. And there is a wealth of flashing blades. The blades are bandied about by Ernest Riedel, a gaunt length of rawhide and muscle, otherwise known as the national, international and Olympic canoe champion. During the smoothly plotted course of Riedel's exposition of canoeing techniques. Mr. Messner demonstrates his own championship calibre behind the camera. His angles are so right as to seem effortless — though you suspect they're not. His follow-through is as deft as a sweeping blade and his cutting as crisp as a speeding birchbark. Blades and Sails is informative, entertaining and sound cinema — which is quite a combination in any man's movie." Movie Makers, Dec. 1951, 410.
---
Date produced: 1931
Filmmaker(s):
Description:
"By Sea To Florida, 400 ft., 16mm., made by Porter Varney of Bradenton, Fla., is a film record of a sea trip which derives its importance from the fact that the photography and choice of viewpoint are consistently exceptional. Parts of the ship, such as the rigging and cordage, the portholes, the lifeboat davits, etc., were used with rare artistry as aids to composition and effect. An expert use of filters produced exceptionally pleasing and truthful black and white rendition of the sea and the movement and sway of the ship. Continuity was effectually obtained by a shifting of the camera viewpoint, emphasizing the harbor, the high seas and the arrival in Florida. A startling climax to the film was given by a series of shots of an approaching hurricane captured by Mr. Varney 's intrepid camera." Movie Makers, Dec. 1931, 685.
---
Date produced: 1932
Filmmaker(s):
Description:
"Canadian Capers, filmed by Hamilton H. Jones, ACL, is a superlatively good vacation picture, complete in every important detail and containing several magnificent examples of sequencing. Among these is a satisfying study of a railway train. Mr. Jones neglected none of the cinematically interesting views that are unique to this subject and included several, such as scenes inside the engine cab, that ordinarily could not be secured. This picture has the important quality of conveying to the audience the maker's enthusiasm for the subjects filmed." Movie Makers, Dec. 1932, 560.
---
Date produced: 1925
Filmmaker(s):
Description:
"Miscellaneous scenes of the sea. Includes brief shots of some boats moored in a foreign harbour and various travelling shots of the sea, taken from on board ship. Concludes with family footage of a young girl walking along a garden path, holding hands with two women and a brief shot of a couple of children playing on a swing" (NWFA Online Database).
---
Date produced: 1937
Description:
"doc. turistico"/tourism documentary
---
Date produced: 1934
Filmmaker(s):
Description:
"Opened in November 1903, the Colne and Trawden Light Railway ran along the Burnley and Keighley roads though the town. The line closed for good on 6th January 1934, shortly after these scenes were shot, so the film marks the end of an era for this Lancashire town." (BFI Player)
---
Total Pages: 7