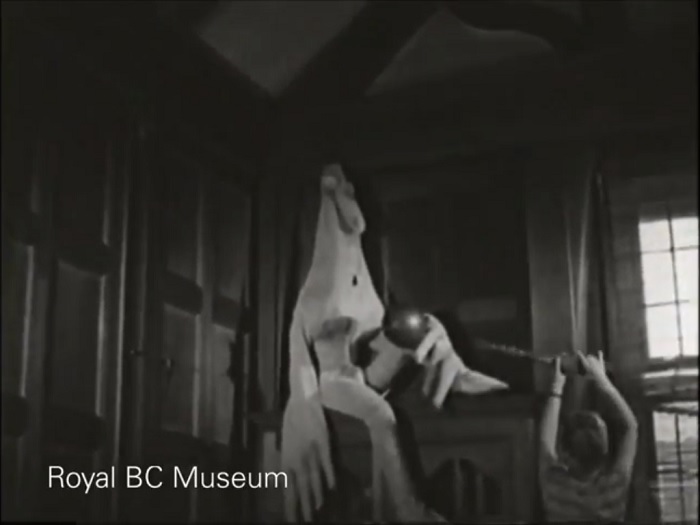 Identifier:
AAAA2810 (Source: http://search-bcarchives.royalbcmuseum.bc.ca/suite-two-memo-to-oscar-2)
Date produced: 1947
Filmmaker(s):
Production credits:
Country of Production:
Canada
Duration:
00:14:00
Length:
398 ft
Format:
16mm
Colour:
B&W
Sound Notes:
Silent
Awards/Recognition:
BC Archives list of titled amateur films
First Annual Canadian Film Awards, 1949 - Honourable Mention, Amateur Category
Description:
"Produced as a gift to Dorothy Burritt's husband, filmmaker Oscar Burritt (who was working in Toronto at the time), this is an offbeat study of life at their Vancouver apartment -- suite 2, 1960 Robson Street. The camera explores the apartment and the household memorabilia, and Dorothy is seen sitting for a portrait by painter Peter Bortkus. Later some friends drop by for a screening of Sacha Guitry's film Pearls of the Crown, followed by a party. Among the guests are Moira Armour, film editor Maureen Balfe, UBC student Stanley Fox, photographer Peter Varley, and an unnamed figure wearing a bird costume. Most of the people shown would have been involved with the National Film Society of Canada (Vancouver Branch). Suite Two won honourable mention (amateur category) at the first Canadian Film Awards in 1949." (BC Archives)

The film was restored in 1986 by the British Columbia Archives.
Resources:
"Item AAAA2810 - Suite two : a memo to Oscar." Stanley Fox fonds, British Columbia Archives.
Locations:
Club Affiliation:
National Film Society of Canada (Vancouver Branch)
Subjects:
Genre:
Form:
Tags:
Repository:
BC Archives, Royal BC Museum
Screenings:
February 1, 1999: Included in the program "Creative Filmmakers in 1940s Vancouver" at the Victoria Independent Film & Video Festival: Victoria, BC
March 28, 2019: Featured (with live musical accompaniment by Ora Cogan) in the program "Museum Happy Hour: Moving Images" at the Royal BC Museum: Victoria, BC
Video Link:
Video Link:
Video Link:
---