---
---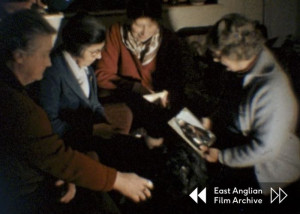 Date produced: 1965
Filmmaker(s):
Description:
'Silent film shot by Miss Philippa Miller recording scenes of people and activities around the 1930s-style bay-fronted terraced houses and gardens in a small residential close at different seasons of the year. Miss Miller lived in Norwich so the film has provisionally been linked to Norwich, but identification of the location would be welcome. The film captures the relaxed and friendly relationship between the women, men and children filmed and Miss Miller behind the camera. From the film stock marks it appears that the film was shot between 1965 and 1967.
All but two of the scenes are filmed outdoors. Indoors we see four women sitting together looking at two boxed costume dolls and stroking a black poodle, and a brief scene of an elderly lady. The exterior scenes were filmed during winter, spring and summer and capture people's activities and domestic chores around their homes and gardens, their comings and goings, and various pet dogs. Scenes include: women clearing a path through snow; a row of ten sparrows on a ledge above a snowy roof; a man washing a car with cloth and bucket of water as laundry billows on a washing line; a woman dressed to go out in hat and coat carrying bags; children playing with a dog, a football, a toy pram and a toy tractor; a bride in white outfit with bouquet standing with a man, perhaps her father, and a woman chauffeur in peaked cap helping people into a car as they leave for a wedding; crocuses; another man washing a car; a boy on a tricycle; a knife grinder at work, operating his machine by treadle within a handcart with large wheels; a man mowing the lawn a man painting the front gate of a spring garden; a young man and woman; a man up a ladder cleaning windows; women with two children in matching coats; a house under construction with the timber frame of the upper storey and roof open; a woman hanging out sheets on a washing line; a woman shaded beneath a floral parasol standing in front of flowering rose bushes; a woman setting off on a bicycle; a woman holding a baby; children sitting on a lawn and playing with modelling clay; a young man; a woman at a window; a chaffinch; rose bushes; another lady dressed in hat and coat with bag going out; a woman playing ball with the black poodle; a man using an axe to chop at the roots in a hole around a tree stump' (EAFA).
---
Date produced: 1934
Filmmaker(s):
Description:
"Bill Turnbull of Denver entered several 8mm subjects of the Chicago Fair. To our mind they were among the very best pictures of that event that had been submitted to us in the past two years. His pictures were well cut, nicely edited and deserving of honorable mention." American Cinematographer, Feb. 1936, 73.
---
Date produced: 1949
Filmmaker(s):
Description:
"This film shows pictographs on Drum Island, Nett Lake and spirit houses at Kathio, Mille Lacs. Also includes footage showing Ojibwe games (stick game, moccasin game and bowl game) played at the 1949 Territorial Centennial at Itasca State Park and a pow-wow at Lake Calhoun during the 1949 Minneapolis Aquatennial." Minnesota Historical Society.
---
Date produced: 1935
Filmmaker(s):
Description:
"One of the most difficult of amateur subjects, a record of a child's vacation, is presented most ably in Adirondack Adventure, by Frank Gunnell, ACL. The photography was a joy to behold and showed quite clearly that a great deal of care and experience was back of it. Fine outdoor lighting, which made the most of every scene, predominated. The continuity of this competent picture was developed in such a fashion as to feature Mr. Gunnell's small son naturally and unobtrusively. Incidents which make up the picture are handled clearly and yet with a light touch. Only a movie maker would appreciate the fact that the sequences were far from casual but, instead, were staged carefully. The real charm of a summer vacation has been preserved in this fine picture." Movie Makers, Dec. 1935, 534.
---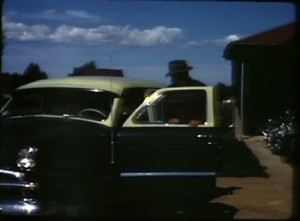 Date produced: 1951
Filmmaker(s):
Description:
"All In A Day - Consistently good photography marks this humorous document of the trials and tribulations that beset a man who goes fishing despite the objections of his wife. Overruling his wife's plea that he take her to visit her mother, the man sets out on his trip early the next morning. His first disappointment comes when the pal who was to accompany him bows out. Setting out alone, trouble comes in bunches. He gets a ticket for speeding, then a flat tire, and when he arrives at the lake selected for fishing, the boat is flooded with water. After bailing it out, the man rows out on the lake, forgetting his lunch, tackle, etc., and he must return to shore - further building up his state of high dudgeon. Before night falls, he's fallen in the lake, not to mention the fact he caught nary a fish, so he returns home a sadder but wiser man. But even then, his troubles are not over. His wife, who promised he'd 'be sorry' for going on the trip, locks him out of the house. In the closing scene he finds solace in his little son, who remains his only friend. One outstanding feature of this film is the maker's ability to cut scenes as he shoots. Result is each scene dovetails snugly with the next, and this greatly simplified, we are sure, the task of editing the film." American Cinematographer, May. 1952, 211.
---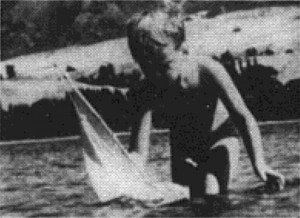 Date produced: 1960
Filmmaker(s):
Description:
"Lindsay takes us on one of his family holidays into the mountain and lake areas. We are among the snow-capped hills, lush valleys, and many wild flowers, motoring and water-skiing on the lake" PSA Journal, Nov. 1960, 41.
---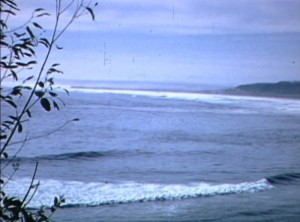 Date produced: 1957
Filmmaker(s):
Description:
Travelogue that visits tourist destinations across several countries in South America.
---
Date produced:
Filmmaker(s):
Description:
"Un-staged documentary footage shot and edited by Sallie Wagner. Sallie's description of the film: 'Shorty Boys, Little Shorty building a hogan, Crip Chee and his hogan, grandson in doorway. Blackrock in front of hogan, Tchindi, Rose Martin doing laundry, cooking shelter at squaw dance, Hosteen Glish getting water, Bent Knee getting wood, Hosteen Glish making a canoe out of a log, Hosteen Glish's granddaughter weaving, digging yucca root for soap, Navajo washing her hair, Hosteen Glish making a cradle board'." New Mexico State Archives.
---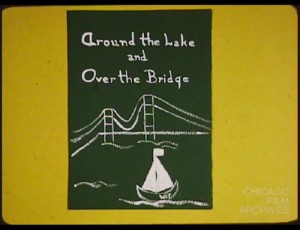 Date produced: 1965
Filmmaker(s):
Description:
"Travelogue of cities, towns, and outdoor activities found around Lake Michigan. There is a wide variety of footage, including sand dunes, beaches, parades, many shots of flowers, ships, industrial ports scenes, attractions of historic horse-and-buggy town Mackinaw City, a mansion on fire, Grand Hotel: World's Largest Summer Hotel, camping, rafting, farmers harvesting crops, and the Prudential Building in Chicago." Chicago Film Archives.
---
Date produced: 1968
Filmmaker(s):
---
Total Pages: 14