---
---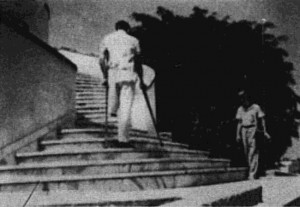 Date produced: 1959
Filmmaker(s):
Description:
"The Title is taken from the opening scene of a shoeshine box busy shining shoes with the help of a small boy. On the side of the box is the price of the shine, 10¢. An episode in a series of events in which the little box is every presented. A simple, yet touching portrayal in which the audience is so carefully drawn to live those few minutes with a wonderful little boy. The film leads but does not close in on us, our emotions may move with our interpretation. The maker, Antonio Cernuda, with a display of the artist and philosopher, has earned his second Gold Medal Award" PSA Journal, Nov. 1959, 47-48.
---
Date produced: 1949
Filmmaker(s):
Description:
"This film shows pictographs on Drum Island, Nett Lake and spirit houses at Kathio, Mille Lacs. Also includes footage showing Ojibwe games (stick game, moccasin game and bowl game) played at the 1949 Territorial Centennial at Itasca State Park and a pow-wow at Lake Calhoun during the 1949 Minneapolis Aquatennial." Minnesota Historical Society.
---
Date produced: 1966
Filmmaker(s):
Description:
"The Abandoned House is a nostalgic treatment of a girl who returns to the home where she was raised and reflects upon her childhood there" PSA Journal, Sept. 1966, 34-35.
---
Date produced: 1935
Filmmaker(s):
Description:
"One of the most difficult of amateur subjects, a record of a child's vacation, is presented most ably in Adirondack Adventure, by Frank Gunnell, ACL. The photography was a joy to behold and showed quite clearly that a great deal of care and experience was back of it. Fine outdoor lighting, which made the most of every scene, predominated. The continuity of this competent picture was developed in such a fashion as to feature Mr. Gunnell's small son naturally and unobtrusively. Incidents which make up the picture are handled clearly and yet with a light touch. Only a movie maker would appreciate the fact that the sequences were far from casual but, instead, were staged carefully. The real charm of a summer vacation has been preserved in this fine picture." Movie Makers, Dec. 1935, 534.
---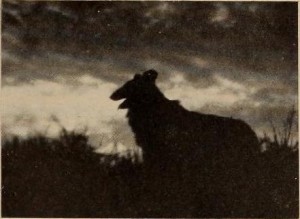 Date produced: 1949
Filmmaker(s):
Description:
"Raymond Berger has based his film on the familiar story of a dog that finds his way back home from a long distance, paralleled with a little girl's grief at the dog's absence. Imprisoned accidentally in the luggage compartment of a parked car, Lassie, a magnificent Collie, is driven miles from home before his equally accidental release. As the dog turns homeward, Mr. Berger maintains the suspense of his adventures over difficult terrain with admirable skill. A little closer cutting in the final re- union scenes at home would have heightened the dramatic quality. The few long shots in this 8mm. film are outstandingly executed, and there are touching closeups of the little girl as she mourns her pet." Movie Makers, Dec. 1949, 468.
---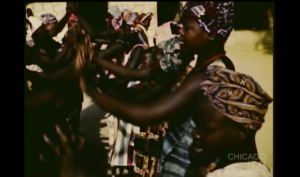 Date produced: 1947
Filmmaker(s):
Description:
"Silent film set in a small African village. The King takes his young son, the Prince, on a journey to teach him lessons on how to be a great leader by showing appreciation and care for the people they rule. The King guides the Prince to help care for the ill suffering from leprosy, learn skills like farming the land, making clothing and building shelter, and enrolls him in school to get an education and learn religion. The film shows many skills and medical processes of African villagers in detail from start to finish." Chicago Film Archives
---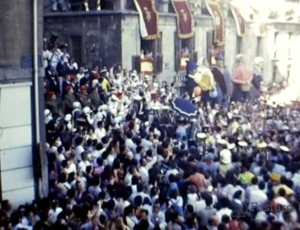 Date produced: 1981
Filmmaker(s):
Description:
El filme comienza con personas preparándose para la fiesta del pueblo. Gente cocina, decora, come y bebe vino. A esto siguen imágenes de una competencia de motocicletas, gente en las calles comprando largas tiras de ajo, competencias en el pueblo, arquitectura y esculturas, calles muy llenas y finalmente tomas de juegos de feria durante la noche.

The film begins with people getting ready for a party of the town. People are cooking, decorating, eating and drinking wine. There are images of a motorcycle competition, people in the streets buying large strips of garlic, competitions in the town, architecture and sculpture, very crowded streets and finally a few shots of games in a fair at night.
---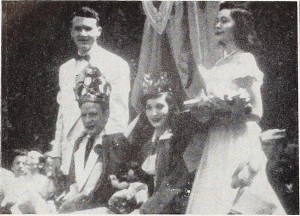 Date produced: 1950
Filmmaker(s):
Description:
"With the help of almost unbelievable luck from the weather man, Helen C. Welsh has achieved a high level of what is essentially newsreel filming. Her subject matter is in itself appealing — displays of tulips in a public park, children wearing amazing holiday headgear, dancers performing Old World figures, all climaxed by the pageantry of the coronation of a new king and queen of the festival. But Miss Welsh handles it expertly. Her viewpoints are varied and her camera work accomplished, while a wisely sparse and well recorded narrative ties the whole presentation into an attractive package. Albany's Tulip Festival is colorful, entertaining and fulsome as a record of a city's spring holiday." Movie Makers, Dec. 1950, 464.
---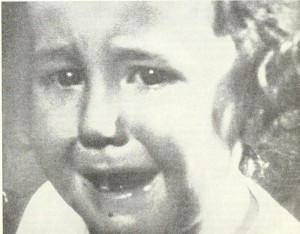 Date produced: 1936
Filmmaker(s):
Description:
"Another Happy Day" was the winner in the home movie classification, the prize going to T. Lawrenson of Dundee, Scotland. Mr. Lawrenson is a member of the Institute of Amateur Cinematographers of London. Also is he a veteran of the American Cinematographer's contests, having been one of the three major prize winners of 1935. Also is the chief actor in the home movie a veteran, a child who now has reached seemingly the mature age of four years, and who of course was but two when he made his debut on the home movie stage in 'Happy Day.' He is a black-eyed, camera-unconscious and personable youngster, who proceeds on his lawful occasions in complete indifference to a live lens." American Cinematographer, Jan. 1938, 27.
---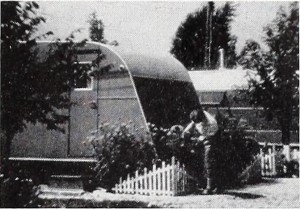 Date produced: 1951
Filmmaker(s):
Description:
"In the process of viewing Around Lot 34, one is reminded of the gag in old comedies where an impossible number of persons emerge from an automobile. Only in this case it is the incredible amount and variety of produce and flowers grown in the area of a trailer plot. Henry J. Auger has made a "dawn to dusk" film of trailer life, but he has lifted it above a humdrum record by occasional inserts of humor that are wisely not belabored. Mr. Auger makes life in a trailer park seem relaxed and pleasant indeed — with Mother doing all the chores. The result is a film of warmth, refreshingly portrayed." Movie Makers, Dec. 1951, 411.
---
Total Pages: 23