---
---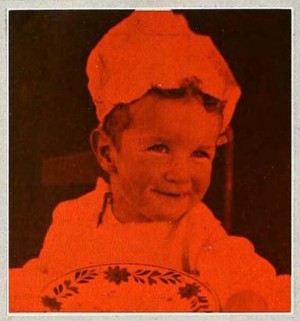 Date produced: 1930
Filmmaker(s):
Description:
"The Spruyt's film of their children was made with a particular purpose in mind. In Holland the venerable Dutch grandparents of the children were to celebrate their fortieth wedding anniversary and particularly wanted their three sunny haired grandchildren with them for the occasion. Since such a journey could not be made at that time, the film was planned. After an easy introduction into the life of the children, we see them in secret conclave planning a special "surprise" for their grandparents across the sea. As the plot thickens, a secret paper is involved and, after a glorious birthday party of the youngest, there comes the denouement. The children have prepared a scroll, bearing the family's greetings to the distant relatives. With the scroll was sent the film giving the story of its preparation. This ingenious continuity was carried out with excellently chosen and varied camera angles and consistently good photography. Most notable are the many child portrait shots." Movie Makers, Dec. 1930, 759.
---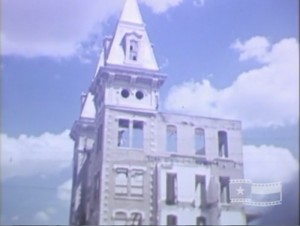 Date produced: 1953
Filmmaker(s):
Description:
"This collection of 16mm clips was originally shot and compiled in the 1950s by W.H. Tilley. Footage features images of downtown St. Louis (including St. Louis Union Station), Philadelphia's Independence Hall, 'Demolishing of Deaf School' (1956), the Texas State Capitol and Congress Avenue, Barton Springs (1953), exterior and interior views of the Tilley home (1953), the flag and Capitol building at sunrise, and sightseeing in Montreal (including parades, a carriage, and views from Mt. Royal)" Texas Archive of the Moving Image.
---
Date produced: 1966
Filmmaker(s):
Description:
"The Abandoned House is a nostalgic treatment of a girl who returns to the home where she was raised and reflects upon her childhood there" PSA Journal, Sept. 1966, 34-35.
---
Date produced: 1935
Filmmaker(s):
Description:
"One of the most difficult of amateur subjects, a record of a child's vacation, is presented most ably in Adirondack Adventure, by Frank Gunnell, ACL. The photography was a joy to behold and showed quite clearly that a great deal of care and experience was back of it. Fine outdoor lighting, which made the most of every scene, predominated. The continuity of this competent picture was developed in such a fashion as to feature Mr. Gunnell's small son naturally and unobtrusively. Incidents which make up the picture are handled clearly and yet with a light touch. Only a movie maker would appreciate the fact that the sequences were far from casual but, instead, were staged carefully. The real charm of a summer vacation has been preserved in this fine picture." Movie Makers, Dec. 1935, 534.
---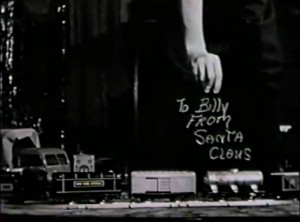 Date produced: 1942
Filmmaker(s):
---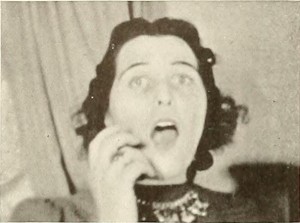 Date produced: 1940
Filmmaker(s):
Description:
"When Ernest Kremer wanted to make a film which would include his family and, at the same time, be entertaining to outsiders, he devised An Anaesthetic Fantasy, an ingenious tale of the nightmare of a dental patient under laughing gas. The patient imagines that he returns home, and there things begin to happen that confound him and the audience, too. Clever trick work, dissolves and stop motion are used to create this section of the film. Mr. Kremer has proved that the 8mm. worker need not bow to his 16mm. brothers when it comes to producing cine illusions. The film was presented with a delightfully appropriate selection of musical records played on a dual turntable outfit." Movie Makers, Dec. 1940, 601-602.
---
Date produced: 1937
Filmmaker(s):
Description:
"Kodachrome travelogue, photographed from 1935-1937, of Alexander Black's ancestral sites in Edinburgh, Scotland, and his return home to New York City, including six shots of the recently constructed Empire State Building at different times of day and night." UC Berkeley Library.
---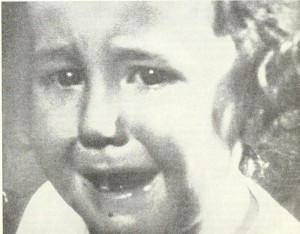 Date produced: 1936
Filmmaker(s):
Description:
"Another Happy Day" was the winner in the home movie classification, the prize going to T. Lawrenson of Dundee, Scotland. Mr. Lawrenson is a member of the Institute of Amateur Cinematographers of London. Also is he a veteran of the American Cinematographer's contests, having been one of the three major prize winners of 1935. Also is the chief actor in the home movie a veteran, a child who now has reached seemingly the mature age of four years, and who of course was but two when he made his debut on the home movie stage in 'Happy Day.' He is a black-eyed, camera-unconscious and personable youngster, who proceeds on his lawful occasions in complete indifference to a live lens." American Cinematographer, Jan. 1938, 27.
---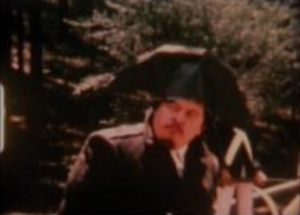 Date produced: 1971
Filmmaker(s):
Description:
"Se trataba del regreso de un soldado de origen mexicano a la Ciudad de México después de haber combatido en Vietnam con las tropas estadounidenses. El hombre llega a la estación del ferrocarril de Buenavista y recorre la ciudad para acabar finalmente en el departamento de su hermano. Busca trabajo y no lo encuentra. Por la voz off que sigue el hilo de sus pensamientos, nos enteramos que a su mente guerrera le cuesta trabajo adaptarse a la vida pacífica. La película intercala una serie de secuencias oníricas que de alguna manera ilustran su delirio belicista: sueña que es un soldado griego que asesina al niño que lo molesta en el taxi colectivo (un pesero) que lo conduce a casa de su hermano; imagina en el personaje que lo entrevista cuando aplica para obtener un trabajo a Napoleón Bonaparte (interpretado por Juan José Gurrola) dirigiendo una batalla; o sueña que es un caballero medieval que asesina a su familia en un pacífico día de campo. Finalmente el personaje no encuentra cabida en la sociedad pacífica y acude –todavía en traje de caballero medieval – al aeropuerto para comprar un boleto de avión "a la guerra más próxima"" (Vázquez Mantecón, 2012).

"It is about the comeback of a Mexican soldier to Mexico City after fighting in Vietnam along with American troops. The man arrives to the train station in Buenavista y goes around the city to end up at his brother's apartment. He looks for a job and cannot find one. The off voice, that follows his train of thought, tells us that his war mind has trouble adapting to a peaceful life. The film inserts a series of dreamlike sequences that in a way illustrate his war delirium: he dreams he is a greek soldier that murders the kid that bothers him in a collective cab that drives him to his brother's house; he imagines the character that interviews him when he is looking for a job is Napoleon Bonaparte (played by Juan José Gurrola) directing a battle: or he dreams he is a medieval knight that murders his family in a peaceful day in the country. Finally the character doesn't find a place in a peaceful society and goes –still in medieval armor– to the airport to buy a by a plane ticket to the "nearest war" " (Vázquez Mantecón, 2012).
---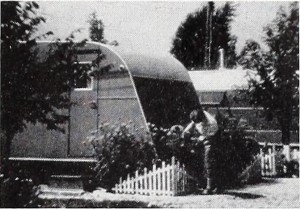 Date produced: 1951
Filmmaker(s):
Description:
"In the process of viewing Around Lot 34, one is reminded of the gag in old comedies where an impossible number of persons emerge from an automobile. Only in this case it is the incredible amount and variety of produce and flowers grown in the area of a trailer plot. Henry J. Auger has made a "dawn to dusk" film of trailer life, but he has lifted it above a humdrum record by occasional inserts of humor that are wisely not belabored. Mr. Auger makes life in a trailer park seem relaxed and pleasant indeed — with Mother doing all the chores. The result is a film of warmth, refreshingly portrayed." Movie Makers, Dec. 1951, 411.
---
Total Pages: 15