---
---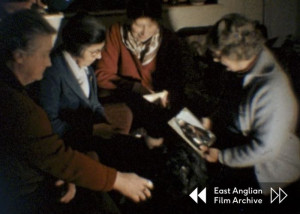 Date produced: 1965
Filmmaker(s):
Description:
'Silent film shot by Miss Philippa Miller recording scenes of people and activities around the 1930s-style bay-fronted terraced houses and gardens in a small residential close at different seasons of the year. Miss Miller lived in Norwich so the film has provisionally been linked to Norwich, but identification of the location would be welcome. The film captures the relaxed and friendly relationship between the women, men and children filmed and Miss Miller behind the camera. From the film stock marks it appears that the film was shot between 1965 and 1967.
All but two of the scenes are filmed outdoors. Indoors we see four women sitting together looking at two boxed costume dolls and stroking a black poodle, and a brief scene of an elderly lady. The exterior scenes were filmed during winter, spring and summer and capture people's activities and domestic chores around their homes and gardens, their comings and goings, and various pet dogs. Scenes include: women clearing a path through snow; a row of ten sparrows on a ledge above a snowy roof; a man washing a car with cloth and bucket of water as laundry billows on a washing line; a woman dressed to go out in hat and coat carrying bags; children playing with a dog, a football, a toy pram and a toy tractor; a bride in white outfit with bouquet standing with a man, perhaps her father, and a woman chauffeur in peaked cap helping people into a car as they leave for a wedding; crocuses; another man washing a car; a boy on a tricycle; a knife grinder at work, operating his machine by treadle within a handcart with large wheels; a man mowing the lawn a man painting the front gate of a spring garden; a young man and woman; a man up a ladder cleaning windows; women with two children in matching coats; a house under construction with the timber frame of the upper storey and roof open; a woman hanging out sheets on a washing line; a woman shaded beneath a floral parasol standing in front of flowering rose bushes; a woman setting off on a bicycle; a woman holding a baby; children sitting on a lawn and playing with modelling clay; a young man; a woman at a window; a chaffinch; rose bushes; another lady dressed in hat and coat with bag going out; a woman playing ball with the black poodle; a man using an axe to chop at the roots in a hole around a tree stump' (EAFA).
---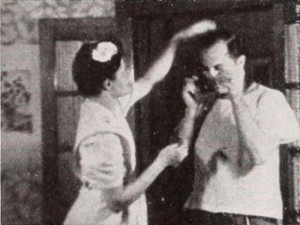 Date produced: 1944
Filmmaker(s):
Description:
"Werner Henze has shown in Bohemian Baloney that artists can make fun of themselves and their profession. An artist and his wife had planned to have a quiet evening at the movies when a telephone call warns of a visit by a wealthy prospective buyer of pictures and her meek husband. How the young couple suddenly transform their own characters and their tasteful and immaculate living room into a scene of "arty" surroundings is gaily depicted with just the right amount of farce. The compositions and lighting are excellent and there are gay, unexpected twists throughout, particularly when a self portrait of the artist comes to life." Movie Makers, Dec. 1944, 495.
---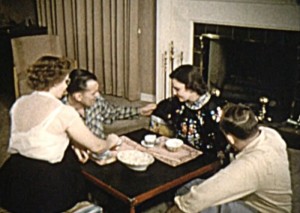 Date produced: 1954
Description:
A married couple responds to a newspaper ad seeking homes for foreign delegates visiting America. The couple receives the news that their guests are coming from Hong Kong, China, and they begin to alter their home and appearances to adjust to Chinese customs. However, when the delegates arrive, they do not meet the couple's expectations.
---
Date produced: 1978
Filmmaker(s):
---
Date produced: 1935
Filmmaker(s):
Description:
"Structurally sustained by only the slimmest of plot incidents, Dummy Walks Out is in essence an etude in cinematics, sparkling with brilliant photography and bravura with striking angles. An evening of bridge, consistently bad cards to one player and, in time, the dummy walks out — such is the simple scheme of this masterpiece in miniature. Throughout its brief footage, however, the producers, M. P. Gamber. ACL, and Walter Mills, ACL, have contrived a gleaming glossary of cinematic imagination which delights the eye and beggars analysis. Near shot, closeup and extreme closeup (in several scenes, a single playing card fills the entire screen) follow one another with graphic beauty. Dummy Walks Out is a brilliant answer to the timid souls who "alibi" that the Eights can't take it." Movie Makers, Dec. 1935, 534, 550.
---
Date produced: 1934
Filmmaker(s):
Description:
"Among the pictures awarded Honorable Mention is An Evening at Home, by Arthur E. Ojeda, ACL, a rare achievement in film planning — the family picture of interest outside the family. In it the father arrives home from his work and is greeted by the children. Soon, after the bedtime story, they toddle off upstairs, leaving the domestic stage clear for the grownups' dinner and the subsequently arriving neighbors. There follow a shaker of friendly drinks and a session of jigsaw puzzling after which the guests depart. The last lights go out and the film is over. Mr Ojeda's treatment of this theme is clearly sequenced, told without titles and mostly in closeups. Honorable mention was well deserved by the definite interest which he brought to the subject. With more perfect technical execution, an even greater honor might have been won by this family film." Movie Makers, Dec. 1934, 546.
---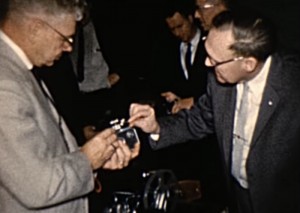 Date produced: 1961
Filmmaker(s):
Description:
The G.R.A.M.C. holds an open house on November 1, 1961. This film documents the event, showing amateur filmmakers dining, conversing with one another, and examining cameras.
---
Date produced: 1965
Description:
"Hazards, which won the MPD Club Film Award, centers around a man who would rather be by himself than entertain friends who are about to call. He commands his wife to tell them he is in Montreal, but by story's end he finds deception can be a rather embarrassing thing" PSA Journal, Sept. 1965, 51.
---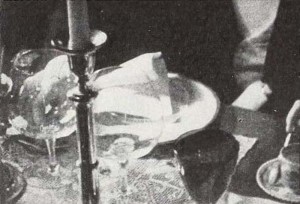 Date produced: 1932
Filmmaker(s):
Description:
"I'd Be Delighted To!, directed and photographed by S. Winston Childs, jr., ACL, is that kind of production often planned but seldom made — a film story told entirely in closeups. Presenting the simple incident of a dinner a deux in a gentleman's apartment, the picture runs through 400 feet of brilliantly chosen, strikingly filmed, significant closeups. It is adroit, amusing and sophisticated, and a splendid example of what, with skill and care, can be done in this distinctly advanced amateur filming method." Movie Makers, Dec. 1932, 562.
---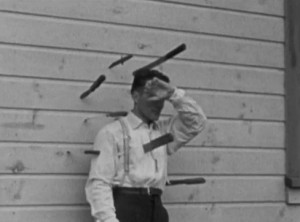 Date produced: 1938
Filmmaker(s):
---
Total Pages: 2