---
---
Date produced: 1936
Filmmaker(s):
Description:
"Frances Christeson and Harry Merrick have shown in their film, Architecture and Fine Arts, what can be done with the motion picture camera by sensitive, yet systematic, movie makers. Produced under the supervision of A. C. Weatherland, dean of the College of Architecture and Fine Arts at the University of Southern California, the picture shows students at work and gives glimpses of class room technique in teaching most of the fine arts. Although no section of the film is long or detailed enough to serve the purpose of teaching, the film, as a whole, gives a very clear and concise picture of the scope of the work of the architecture and fine arts college of the University of Southern California. Technically and cinematically, this record is superb; beautiful compositions, carefully selected and composed scenes, combined with titles of distinction, make it a truly outstanding production. Included in the picture, that is for the most part in black and white, are color sequences of stained glass windows." Movie Makers, Dec. 1936, 542.
---
Date produced: 1942
Filmmaker(s):
---
Date produced: 1935
Filmmaker(s):
Description:
short film
"Il film descrive le sensazioni che la musica popolare di un "pianino" girovago produce in determinati individui che si trovano in altrettante determinate situazioni"

"The film portrays the feelings that the popular music of a wandering "little piano" produces in particular individuals in similarly particular situations."

—Notizario delle sezioni cinematografiche dei gruppi universitari fascisti a cura del ministero della cultura popolare, September 1938 p. 9
---
Date produced: 1933
Filmmaker(s):
Description:
"Glimpses of Rural Hungary was the first film ever made by Elizabeth Rearick but its excellence must be credited to more than beginner's luck. It represents a willingness to follow instructions carefully and an ability to compose scenes as they are selected. The picture contains a charming record of the people and customs of Hungary, but capturing this was secondary, for Miss Rearick planned the film to be principally a record of folk dances. Most unusually accurate exposure and focusing make the film outstanding in its technical aspects. Clear, crisp, steady pictures inevitably do a great deal to present a subject in a delightful way. One of the remarkable features of the film was the rock steadiness of the camera, although Miss Rearick did not use a tripod at any time. The sequencing is worked out well and, although the film is intended for use in physical education work, it has a tremendous general interest value. The entire finished product is one of which an experienced filmer might well be proud." Movie Makers, Dec. 1933, 500.
---
Date produced: 1936
Filmmaker(s):
Description:
"doc. a fantasia"/avant-garde documentary
---
Date produced: 1933
Filmmaker(s):
---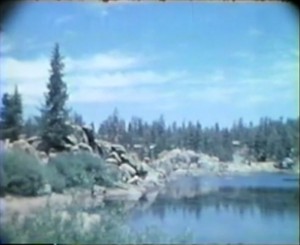 Date produced: 1986
Filmmaker(s):
Description:
"An edited home movie by Arthur H. Smith of Smith's later years, living with his wife Blanche in Big Bear Lake, California, including a description of his filmmaking process." Archive.org
---
Date produced: 1942
Description:
documentary chronicle
---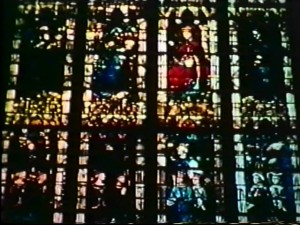 Date produced: 1932
Filmmaker(s):
Description:
"Studies in Blue and Chartres Cathedral, a cerulean cinema achievement, one 400 foot reel in full Kodacolor by John V. Hansen, ACL, shows what an artist's and a colorist's eye can select and record. While this film is in some sense a travel record, Mr. Hansen definitely made it a point to choose those scenes and vistas that revealed the open sky, whether seen in patches through the interlaced branches of trees or as a dim, distance haze, shimmering up from the tops of far off mountains. Here are deep blue skies overhead, merging into white mist at the horizon, apple green, azure, so many hues that it is a revelation to see that a mechanical process can so beautifully record nature. Mr. Hansen presents to the audience's eyes such a varying kaleidoscope of blending colors in his continuity that it is difficult to do the entire effect justice by mere description. But among his outstanding technical achievements are the recording of sunlit glades in a dense forest, especially effective cloud and sunset shots, distant and close shots and side lighting and backlighting in profusion. A further, outstanding triumph in color technique was shown in Mr. Hansen's recording of the vivid, glowing hues of the stained glass windows, taken from the interior of the cathedral at Chartres. Here, he succeeded in capturing that peculiar, deep dyed transparency found only in the colors of old stained glass. It is questionable if any other method of reproducing color can give such a real and beautiful rendition of stained windows as the motion picture. Certainly no color printing process can compete. The film was rounded out by some charming long shots of the carefully cultivated, rolling hills of Denmark." Movie Makers, Dec. 1932, 538, 560.
---
Date produced:
Filmmaker(s):
Description:
"Un-staged documentary footage shot and edited by Sallie Wagner. Sallie's description of the film: 'Trading post at Wide Ruins, "Trader Burnt Hat" - Bill Lippincott, Sallie, Antoinette Badgley - mother, baby, Sallie, group of three left to right - Gaddy, John Joe, and ? , Tom Big Gun - raising his arm quickly Hosteen Belahi. Little Woman - captive of [Kit] Carson [survived the Long Walk and Navajo incarceration at Ft. Sumner], John Joe's wife (gold skirt) and daughter, Mary Toddy and John Toddy, young children, Joe Toddy, Nashoshi Begay, Paul Jones in trading post trading with Bill Cousins, wife and child of Tom Big Gun, Lukachuka - also captive of Carson (Blackrock's brother - both medicine men). Navajo Refugee Site "Kinazin" (which means Standing House) near Wide Ruins, Pat Norton inside "Kinazin" ruins, Cliff Ruin in Canyon del Muerto, ceremonial jar washed out by rain, Bill Lippincott - Elvin Jonas and Jack Norton excavating the pot, climbing cliff at Canyon de Chelly - Larry Bell and Doyle Mulligan, Sallie and Bill looking at pictographs below Wide Ruins, pictographs near spring north of trading post, Navajo Fence at Wide Ruins, numerous sunsets'." New Mexico State Archives.
---