---
---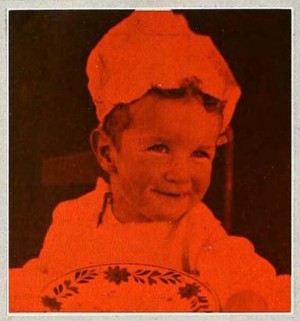 Date produced: 1930
Filmmaker(s):
Description:
"The Spruyt's film of their children was made with a particular purpose in mind. In Holland the venerable Dutch grandparents of the children were to celebrate their fortieth wedding anniversary and particularly wanted their three sunny haired grandchildren with them for the occasion. Since such a journey could not be made at that time, the film was planned. After an easy introduction into the life of the children, we see them in secret conclave planning a special "surprise" for their grandparents across the sea. As the plot thickens, a secret paper is involved and, after a glorious birthday party of the youngest, there comes the denouement. The children have prepared a scroll, bearing the family's greetings to the distant relatives. With the scroll was sent the film giving the story of its preparation. This ingenious continuity was carried out with excellently chosen and varied camera angles and consistently good photography. Most notable are the many child portrait shots." Movie Makers, Dec. 1930, 759.
---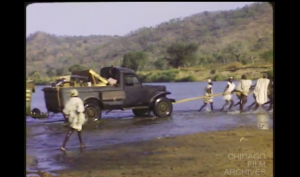 Date produced: 1947
Filmmaker(s):
Description:
"Details a journey from New York to Lagos and beyond the interior of Nigeria. Footage includes shots of daily traditional life in the village and concludes with a battle scene between two tribes brandishing spears and bows and arrows." Chicago Film Archives
---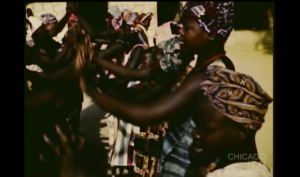 Date produced: 1947
Filmmaker(s):
Description:
"Silent film set in a small African village. The King takes his young son, the Prince, on a journey to teach him lessons on how to be a great leader by showing appreciation and care for the people they rule. The King guides the Prince to help care for the ill suffering from leprosy, learn skills like farming the land, making clothing and building shelter, and enrolls him in school to get an education and learn religion. The film shows many skills and medical processes of African villagers in detail from start to finish." Chicago Film Archives
---
Date produced:
Filmmaker(s):
Description:
"Un-staged documentary footage shot and edited by Sallie Wagner. Sallie's description of the film: 'Shorty Boys, Little Shorty building a hogan, Crip Chee and his hogan, grandson in doorway. Blackrock in front of hogan, Tchindi, Rose Martin doing laundry, cooking shelter at squaw dance, Hosteen Glish getting water, Bent Knee getting wood, Hosteen Glish making a canoe out of a log, Hosteen Glish's granddaughter weaving, digging yucca root for soap, Navajo washing her hair, Hosteen Glish making a cradle board'." New Mexico State Archives.
---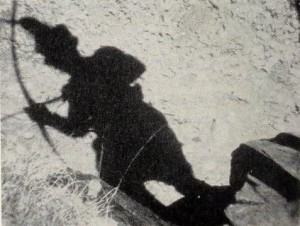 Date produced: 1950
Filmmaker(s):
Description:
"In The Barrier, Glen H. Turner, Maxim Award winner in 1949 with One Summer Day, shows that the excellence of that production was no happy accident. Although the two films are as different as night and day, both are instinct with the same qualities of creative imagination and true understanding of the movie medium. This year's production, as we understand it, is bi-lingual in its message. On the screen Mr. Turner tells a robust adventure tale, in which a wandering western horseman, attacked by unfriendly Indians, has to fight his way out of their clutches and (even more menacing) over the heart-stopping challenge of a great stone barrier to his freedom. Around this screen action, and carried by the narrative, the producer also draws a frame of universal reference to all of life's challenging struggles. Pictorially, the acting of the horseman is powerful and convincing, while Turner's camera treatment of his adventures creates a spine-chilling sense of danger and drama. Especially effective is the producer's handling of the Indians, whose menacing presence is suggested only — by moving shadows, braceleted brown arms or moccasined stealthy feet." Movie Makers, Dec. 1950, 466.
---
Date produced: 1939
Filmmaker(s):
Description:
"This film shows the Kegg family stripping basswood and birch barks and using the bark to make baskets and canoes." Worldcat.org
---
Date produced:
Filmmaker(s):
---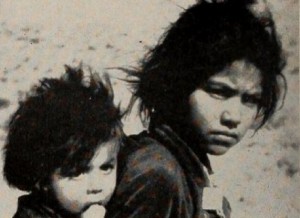 Date produced: 1947
Filmmaker(s):
Description:
"In Dineh, Henry E. Hird. whose broad sympathies have brought his talents to bear upon so many unselfish projects, has taken up an effective cudgel in behalf of the Navajo Indians in the United States. Dineh, "The People," is the Navajo word for their tribe. Mr. Hird went to the Navajo country with the simple purpose of making a record film of that proud and self reliant Indian people. From what he saw there and from his conversations with many Indian citizens, he became convinced that now, if ever, the Navajos need understanding and practical aid. His film, therefore, not only accomplishes his primary aim — of recording an interesting racial group — but, in scenes and particularly in narrative, it pleads the economic and social case of the Navajos. Mr. Hird's cinematography is of very high order, as is usual in his films. His continuity is intelligent and interesting, and his narrative is a fine plea for a worthy segment of the citizenship of the United States." Movie Makers, Dec. 1947, 514.
---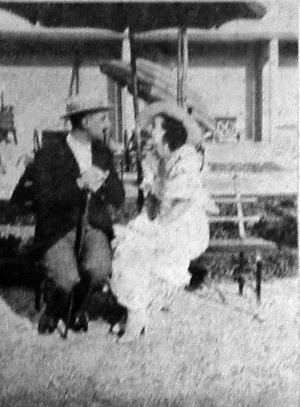 Date produced: 1934
Filmmaker(s):
Description:
"avant-garde documentary"

"Fiera di tipi, realizzata da Leone Viola con la collaborazione tecnica di Fernando de Marzi, si svolge tutta sullo sfondo della Fiera di Padova ed ha una trama impostata su ben sette personaggi di primo piano. Ma i realizzatori hanno saputo imprimere a ciascuno di essi una fisonomia inconfondibile creando anche due gustose macchiette: ma i caratteri non sono caricati: la vicenda scorre dall'uno all'altro dei personaggi, si imbroglia, si ricompone: la Fiera di Padova è di sfondo all-azione che senza fiera non esisterebbe; tanto tutti gli episodi sono strettamente connessi a quella manifestazione. La fotografia, dovuta a Dodi Calcagno, è in qualche punto un po' oscura, altrove assume un brillante risalto. Le doti narrative dei realizzatori si manifestano in questo film della durata di un'ora, ed è intanto — a parte gli altri pregi del film—non poco. Qualche lieve ritocco al montaggio si renderebbe necessario, allo scopo di raggiungere una completa omogeneità narrrativa. Noi parlando nel nostro passato numero prevedevamo il successo che questo film ha ottenuto, che sarà di incoraggiamento ai giovani volenterosi."

"Fiera di tipi, directed by Leone Viola with the technical collaboration of Fernando de Marzi, takes place against the backdrop of the Padua Fair and has a plot based on seven leading characters. But the creators were able to give each of them an unmistakable physiognomy, also creating two tasty little characters: but the characters are not privileged: the story flows from one character to the other, is cheated, is recomposed: the Fair of Padova is the background to the action that would not exist without the fair; all the episodes are closely related to that event. The photography, by Dodi Calcagno, is at some points a little obscure, elsewhere it takes on a brilliant prominence. The narrative talents of the filmmakers are manifested in this one-hour film, and is meanwhile - apart from the other merits of the film - not insignificant. A few slight adjustments to the editing would be necessary in order to achieve complete narrative homogeneity. We, speaking of it in our past issue, predicted the success this film has achieved, which will be an encouragement to willing young people."

From "Gazzetta di Venezia" republished in "Cine-club Padova," Eco del cinema, n. 130, 1934
---
Date produced: 1932
Filmmaker(s):
---
Total Pages: 3