---
---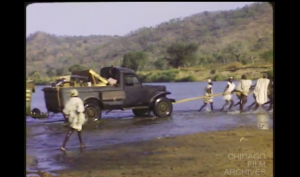 Date produced: 1947
Filmmaker(s):
Description:
"Details a journey from New York to Lagos and beyond the interior of Nigeria. Footage includes shots of daily traditional life in the village and concludes with a battle scene between two tribes brandishing spears and bows and arrows." Chicago Film Archives
---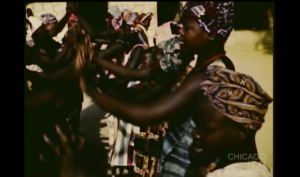 Date produced: 1947
Filmmaker(s):
Description:
"Silent film set in a small African village. The King takes his young son, the Prince, on a journey to teach him lessons on how to be a great leader by showing appreciation and care for the people they rule. The King guides the Prince to help care for the ill suffering from leprosy, learn skills like farming the land, making clothing and building shelter, and enrolls him in school to get an education and learn religion. The film shows many skills and medical processes of African villagers in detail from start to finish." Chicago Film Archives
---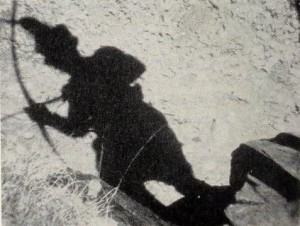 Date produced: 1950
Filmmaker(s):
Description:
"In The Barrier, Glen H. Turner, Maxim Award winner in 1949 with One Summer Day, shows that the excellence of that production was no happy accident. Although the two films are as different as night and day, both are instinct with the same qualities of creative imagination and true understanding of the movie medium. This year's production, as we understand it, is bi-lingual in its message. On the screen Mr. Turner tells a robust adventure tale, in which a wandering western horseman, attacked by unfriendly Indians, has to fight his way out of their clutches and (even more menacing) over the heart-stopping challenge of a great stone barrier to his freedom. Around this screen action, and carried by the narrative, the producer also draws a frame of universal reference to all of life's challenging struggles. Pictorially, the acting of the horseman is powerful and convincing, while Turner's camera treatment of his adventures creates a spine-chilling sense of danger and drama. Especially effective is the producer's handling of the Indians, whose menacing presence is suggested only — by moving shadows, braceleted brown arms or moccasined stealthy feet." Movie Makers, Dec. 1950, 466.
---
Date produced: 1939
Filmmaker(s):
Description:
"This film shows the Kegg family stripping basswood and birch barks and using the bark to make baskets and canoes." Worldcat.org
---
Date produced:
Filmmaker(s):
---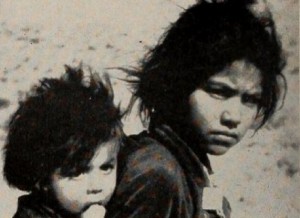 Date produced: 1947
Filmmaker(s):
Description:
"In Dineh, Henry E. Hird. whose broad sympathies have brought his talents to bear upon so many unselfish projects, has taken up an effective cudgel in behalf of the Navajo Indians in the United States. Dineh, "The People," is the Navajo word for their tribe. Mr. Hird went to the Navajo country with the simple purpose of making a record film of that proud and self reliant Indian people. From what he saw there and from his conversations with many Indian citizens, he became convinced that now, if ever, the Navajos need understanding and practical aid. His film, therefore, not only accomplishes his primary aim — of recording an interesting racial group — but, in scenes and particularly in narrative, it pleads the economic and social case of the Navajos. Mr. Hird's cinematography is of very high order, as is usual in his films. His continuity is intelligent and interesting, and his narrative is a fine plea for a worthy segment of the citizenship of the United States." Movie Makers, Dec. 1947, 514.
---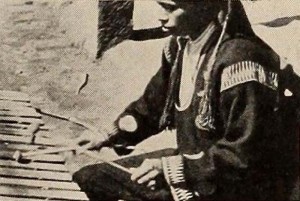 Date produced: 1938
Filmmaker(s):
Description:
"Opening with a superb trick title in Kodachrome, Guatemalan Rainbow, by the late Ripley W. Bugbee and Robert W. Crowther, carries the audience on an ocean voyage from New York City to the mountain villages of Guatemala, where Mayan mysteries are still celebrated and where the world is a riot of indescribable color. No sequences of the leisure and pleasure of shipboard life have excelled those in this picture. Dexterously, the ritual of afternoon tea was captured with the same finish as if the scenes had been directed in a studio. Active sports and lazy afternoons are recalled in the picture with idyllic beauty. After several minutes of rather less interesting and distinguished footage, the production reaches another high in the presentation of the descendants of the Mayans, whose markets, customs and religious observances are dramatically and expertly chronicled. The whole is accompanied by a satisfactory musical setting." Movie Makers, Dec. 1938, 619.
---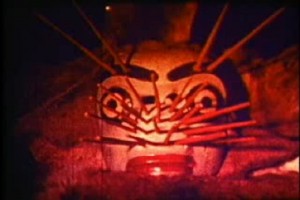 Date produced: 1953
Filmmaker(s):
Description:
"Mungo Martin demonstrates the making of a Bee Mask. Tony Hunt models the mask and provides a short rendition of the Bee Mask Dance" (Duffy, 140).
This film is also known as Mungo Martin Makes a Mask.
---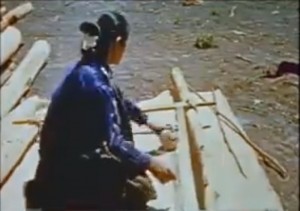 Date produced: 1941
Filmmaker(s):
Description:
"E. Tad Nichols, III, born in the West, has been in the saddle almost since he first toddled. Much of his time has been spent among the Western Indians, and he has an intimate knowledge of their ways. So skillfully has he planned and edited each sequence of Navajo Rug Weaving that the audience has the rare satisfaction which comes from seeing just the right amount of each step of this ancient art that has held one method and course for many centuries. The direction and filming are of such excellence that the viewer almost seems to be present for the carding, spinning, dyeing and actual weaving of the rugs. Here is the human record film at its best." Movie Makers, Dec. 1945, 495.
---
Date produced: 1950
Filmmaker(s):
Description:
"Our Friendly Enemies: This unique title has its origin in the fact that the Seminoles are the only native American Indians who have never signed a peace treaty with the government. Ralph E. Gray has chronicled in color with his 16mm Cine Special camera the contemporary life of the Seminoles living in Florida, picturing their activities against the backdrop of modern-day living and habits. Gray's reputation for camera and good editing has resulted in very professional results on the screen. Narration and sound effects on the recorded track round out the superior treatment of this better than average amateur effort." American Cinematographer, May 1951, 190.
---
Total Pages: 2