---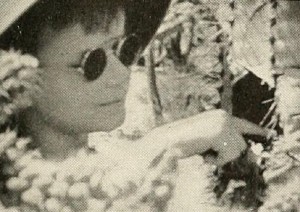 Date produced: 1940
Filmmaker(s):
Description:
"Sahuaro Land, by Frank E. Gunnell, is as clever and painless a teaching film as one may find in many a classroom screening. Here, in a colorful Arizona cactus desert, we find the surefire ingredients of a boy and his dog. The boy is an enthusiastic nature student who, in the course of his explorations of the region, contrives to make sundry entries in his notebook, which find their way to the screen. These data are all so natural a part of the story, however, that the information conveyed does not assume the rather forbidding status of an instructional title in any case. The outdoor color work is excellent, and the viewpoints are well chosen. Mr. Gunnell's use of telephoto technique for making closeup studies of distant, inaccessible objects (such as the bloom atop a tall cactus) was particularly effective. We learned a lot from this film." Movie Makers, Dec. 1940, 604.
---
Date produced: 1935
Filmmaker(s):
Description:
"Springtime in California, by F. B. Judson, ACL, is an example of what every Kodachrome filmer would be proud to have made, because it studies Nature in her most extensively colorful manifestations, with complete freedom of camera viewpoint, offering closeups, medium shots and long views, all of them richly hued. This film indicates a delicate appreciation of color on the part of its maker, who. having a highly chromatic subject to his hand, did not let it run away with him. but kept it well under control, with the result that he delights with his management of pastel shades, where another might have omitted these and substituted garish footage so easily available in the highly colored California landscape. Mr. Judson is awarded Honorable Mention because he has done a typical thing — a Kodachrome landscape study — with restraint and liveliness, combining two qualities not always found together." Movie Makers, Dec. 1935, 553.
---
Date produced: 1932
Filmmaker(s):
Description:
"Garden Closeups, by W. T. McCarthy, ACL, demonstrates its right to be placed among the ten best films because of the painstaking care and time expended in its preparation and because of the exceptional results achieved. The film covers a subject which is almost entirely in miniature, but which, in its motion picture interpretation, reveals a whole new world which only the eye of a discriminating filmer and a nature lover could catch. Here are excellent closeups of the common varieties of garden flower, pictured so skillfully that the technique used is forgotten and the actual, living flower seems revealed on the screen, sometimes swaying gently in the breeze, sometimes rifled by a gigantic bumblebee pictured in alarming closeup. Another sequence will show the honeycombed intricacies of a wasp's nest, a time condensation technique showing its gradual cessation of activity as the winter comes on. An outstanding achievement in closeup technique showed the praying mantis in the very unprayerful act of devouring its victim. The film was made almost entirely with the aid of a telephoto lens with special extension, which enabled the patient cameraman to capture his flower and insect subjects from a moderate distance. Focus and exposure alike show the result of painstaking care in Garden Closeups." Movie Makers, Dec. 1932, 560.
---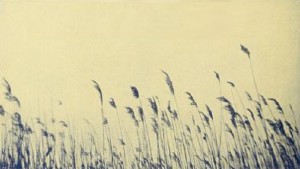 Date produced: 1930
Filmmaker(s):
Description:
"The first on the list, Rushes, 300 ft., 16mm., filmed by J. V. D. Bucher, is an unusual effort, for it presents a continuity theme woven about a single subject, the wild rice plants in a marsh. It well illustrates what distinctive subjects for amateur movie making are offered by scenes close at hand that are often ignored. It is a satisfyingly beautiful study of the rushes, telling the story of their resistance to the assaults of nature, climaxed with their defeat by fire. The plan offered a large number of exposure problems which were successfully handled. Of particular beauty are the scenes of the burning rushes, taken with a fast lens, and fog effects and closeups of the plants' plume like heads, taken with filters against cloudy skies. The continuity motif used is simple and yet unites the subject into a complete entity rather than a series of disjointed sequences which happened to be taken of the same subject." Movie Makers, Dec. 1930, 758.
---
Total Pages: 4