---
---
Date produced: 1951
Filmmaker(s):
Description:
"Harold Ramser's 'Acapulco—Mexican Riviera' is a beautiful Kodachrome documentary of the colorful Mexican resort city." American Cinematographer, May 1952, 224.
---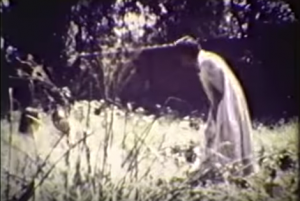 Date produced: 1973
Filmmaker(s):
Description:
" Ah, verda'? planteaba una extraña combinación entre la militancia política y la contracultural. Jugaba con el ataque a los símbolos del orden nacional y estatal (la bomba en el Monumento a la Revolución y en el PRI, los judiciales persecutores), la crítica a la sociedad de consumo representada por la huida de la pareja de jóvenes entre los espectaculares, la liberación sexual (la combi zarandeada porque dentro hacen el amor, o la urgente calentura de los monjes una vez que han probado el LSD y cruzado las puertas de la percepción), y la representación de la fantasía jipiteca de que el mundo sería más alivianado si todos probaran las drogas duras" (Vázquez Mantecón, 2012).

" Ah, verda' [Ah, right?] was a strange combination between political and countercultural militancy. It played with the attack to symbols of state and national order (a bomb in the Monument to the Revolution and in PRI offices [Revolutionary Institutional Party], the chasing police men), a critique to a consumer society represented by a young couple running away in between billboards, the sexual liberation (a truck shaken because someone is making love inside, the sex desire of monks once they have tried LSD and crossed the gates of perception), and the representation of the mexican hippies' fantasy in which the world would be cooler if everyone tried hard drugs" (Vázquez Mantecón, 2012).
---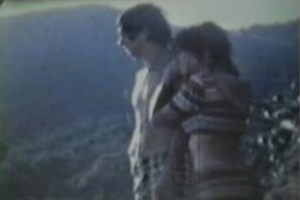 Date produced: 1971
Filmmaker(s):
Description:
"Era una película que desarrollaba un tema muy propio de la contracultura de la época: la posibilidad de regresar a la naturaleza para vivir una vida al margen de la contaminación y de la vida moderna. Se trataba de una cinta de menos de diez minutos de duración, que contaba una historia breve pero ilustrativa de la naturaleza de los debates entre los jóvenes mexicanos cercanos a la contracultura. [...] La historia de Sergio García hacía una crítica al escapismo hippie, esperanzado por la posibilidad de crear un mundo alterno al de la realidad del capitalismo industrial" (Vázquez Mantecón, 2012).

"It was a film that developed a topic very related to the counterculture of the time: the possibility of going back to nature to live a life away from pollution and the modern life. The film lasted less than 10 minutes, and it told a brief but illustrative story about the nature of the debates between the Mexican youth that was close to the counterculture. [...] The story by Sergio García was a critique of the hippie escapism, hopeful for the possibility of creating an alternate world to the reality of industrial capitalism" (Vázquez Mantecón, 2012).
---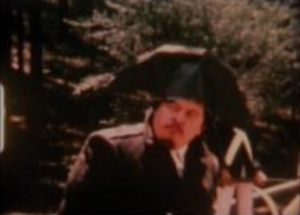 Date produced: 1971
Filmmaker(s):
Description:
"Se trataba del regreso de un soldado de origen mexicano a la Ciudad de México después de haber combatido en Vietnam con las tropas estadounidenses. El hombre llega a la estación del ferrocarril de Buenavista y recorre la ciudad para acabar finalmente en el departamento de su hermano. Busca trabajo y no lo encuentra. Por la voz off que sigue el hilo de sus pensamientos, nos enteramos que a su mente guerrera le cuesta trabajo adaptarse a la vida pacífica. La película intercala una serie de secuencias oníricas que de alguna manera ilustran su delirio belicista: sueña que es un soldado griego que asesina al niño que lo molesta en el taxi colectivo (un pesero) que lo conduce a casa de su hermano; imagina en el personaje que lo entrevista cuando aplica para obtener un trabajo a Napoleón Bonaparte (interpretado por Juan José Gurrola) dirigiendo una batalla; o sueña que es un caballero medieval que asesina a su familia en un pacífico día de campo. Finalmente el personaje no encuentra cabida en la sociedad pacífica y acude –todavía en traje de caballero medieval – al aeropuerto para comprar un boleto de avión "a la guerra más próxima"" (Vázquez Mantecón, 2012).

"It is about the comeback of a Mexican soldier to Mexico City after fighting in Vietnam along with American troops. The man arrives to the train station in Buenavista y goes around the city to end up at his brother's apartment. He looks for a job and cannot find one. The off voice, that follows his train of thought, tells us that his war mind has trouble adapting to a peaceful life. The film inserts a series of dreamlike sequences that in a way illustrate his war delirium: he dreams he is a greek soldier that murders the kid that bothers him in a collective cab that drives him to his brother's house; he imagines the character that interviews him when he is looking for a job is Napoleon Bonaparte (played by Juan José Gurrola) directing a battle: or he dreams he is a medieval knight that murders his family in a peaceful day in the country. Finally the character doesn't find a place in a peaceful society and goes –still in medieval armor– to the airport to buy a by a plane ticket to the "nearest war" " (Vázquez Mantecón, 2012).
---
Date produced: 1945
Filmmaker(s):
Description:
"Ralph E. Gray has once again turned his inquiring and sympathetic camera upon the people and places of Mexico. The result is Arts and Crafts in Mexico, an authentic and altogether admirable record of that country's hereditary handicrafts. Here, in almost lavish detail, is an intent family of woodworkers, fascinating in their casual skills with hands and feet. Here are senoritas who both weave and wear the lovely silken rebozo, which shares honors only with the serape as the mantle of Mexico. One sees with equal clarity and charm the fashioning of pottery, the firing of copper vessels and the fine crafting of Mexico's soft and gleaming silver. Even the great Diego Rivera, pictured at work in a sequence which is a genuine "'beat," is engagingly included within the family of Mexico's artisans. Mr. Gray has compiled a cinematic document of great beauty, genuine human interest and authentic social value." Movie Makers, Dec. 1945, 494.
---
Date produced: 1960
Description:
"Edited film by Floyd Henry Wells, a retired salesman and a member of the Wally Byam Caravan Club of Airstream trailers, chronicles travel with a Wally Byam club down the Baja Peninsula. Film documents scenic landscapes, road signs and natural wonders along the Baja Pen and scenes of cities, town, churches and markets in Mexico. Film also captures local peoples including Mexican bands and dancers and a bakery with an outdoor stone oven. Some identified locations include Ensenada, Rancho Santa Ynez, El Presidente (motor lodges), Santa Rosalia, Tropic of Cancer, La Paz, Alamos, El Caracol and the Hotel los Portales. Film is narrated by his wife, Ruth Wells, who identifies many of the locations and events depicted with some historic comments or trivia. Wells also comments on various issues of importance to travelling by an Airstream trailer such as water sources and etiquette," Human Studies Film Archives, Smithsonian Museum.
---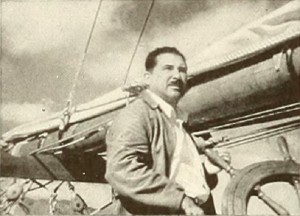 Date produced: 1940
Filmmaker(s):
Description:
"When the schooner yacht Enchantress put out from San Pedro for a five weeks' marlin fishing cruise in the Gulf of Lower California, fortunately James H. McCarthy was on board with camera, Kodachrome and a filming plan. The result was Before the Wind, as happy a movie yarn of a pleasure cruise as we have ever seen. A spirit of jollity and a general good time pervade this chronicle, which is adequately strung on the thread of a series of entries in the ship's log of the Enchantress. This casual continuity is entirely sufficient, for each episode is beautifully sequenced, and the whole film reflects a consistent happy go lucky holiday spirit. Exquisite shots of the schooner in translucent California Gulf waters, numerous studies of ship life, handsomely lighted interior views in cabins and engine room are all technical accomplishments in this picture. The sequences of marlin fishing and of clam digging on the Mexican shore are gems of good film planning and good cutting. The movie is presented with an intelligently planned musical accompaniment that really fits the film, but it is the natural handling of sequences of people on a carefree sea vacation that makes this picture superb entertainment." Movie Makers, Dec. 1940, 577.
---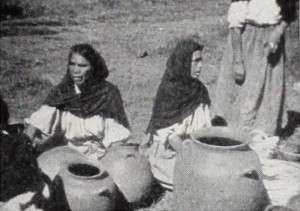 Date produced: 1950
Filmmaker(s):
Description:
"Ella Paul did not try to cover the whole of Mexico, as do so many who visit that fascinating country. In fact she chose to limit her study to one small locale — the town of Patzcuaro and the activities on its lake. This primitive yet industrious community is recorded in pleasing compositions and with sympathetic appreciation of its sunny warmth and charm. The familiar butterfly nets, dugout canoes and the heroic statue of Morelos are all there in Beneath Mexican Skies; but Mrs. Paul's camera gives them a fresh treatment." Movie Makers, Dec. 1950, 466.
---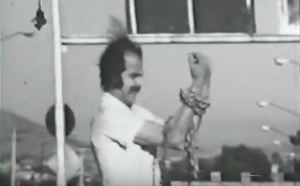 Date produced: 1971
Filmmaker(s):
Description:
"A successful man living in a great metropolis is increasing awareness of the unjust social reality that lives in the absurdity. This immerses him in a uneasiness that sinks into alcoholism and depression. In his wandering through the streets viewer gets to be the unfortunate suicide of another victim of the meaninglessness of life, which will produce a series of dreamlike hallucinations bordering on the madness. In a stroke of consciousness of his misfortune, he does run aimlessly without course. Devastated, to the dawn, with the light of the dawn he sees to be reborn the hope personified in an innocent girl who stretches the hand donating bread" Internet Archive.
---
Date produced:
Filmmaker(s):
Description:
"Highlights of a trip to Cancun Mexico." UCLA Film & Television Archive.
---
Total Pages: 5